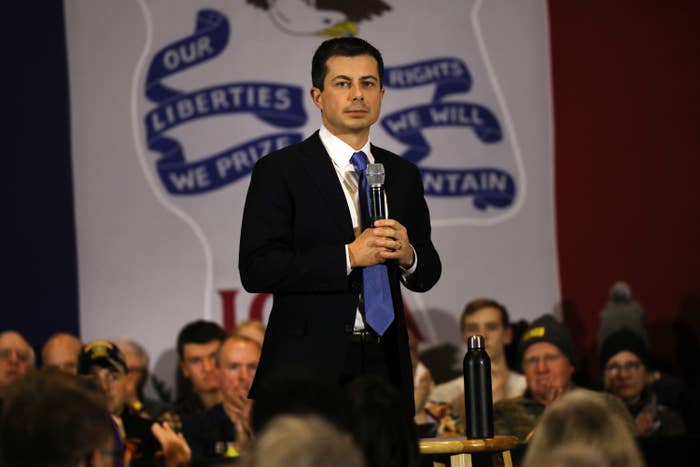 DES MOINES — The white voters who come to Pete Buttigieg's rallies just don't understand.
Many of them fell for the 37-year-old former mayor of South Bend, Indiana, the first time they heard him speak: his calm demeanor, his intelligence, the way he seemed to appeal to progressives and moderates alike.
But his support among Democratic-leaning black voters nationally is stuck in the abysmally low single digits.
"I don't understand that," said Bill Koenig, a physician in Des Moines who said Buttigieg is one of his top choices in the first-in-the-nation caucuses.
"I don't understand it," said Julie Walstrom, a retired teacher in Perry, Iowa, who is deciding between Buttigieg, former vice president Joe Biden, and Minnesota Sen. Amy Klobuchar.
"I don't understand what that issue could possibly be," said Doug Gardner, a retired sales worker in Urbandale.
In nearly two dozen interviews across Iowa this month, white voters struggled to reconcile their affection for Buttigieg with how black voters see the candidate. Some said it simply didn't matter to them. Many more had been grappling with how to think about the disconnect and Buttigieg's challenges: Some were worried, others frustrated.
But not a single person considering Buttigieg said it would affect their vote in the caucuses, which are nearly two weeks away.
"That's not my battle to fight," said Gardner.
Buttigieg is among the frontrunners in Iowa and New Hampshire, the two mostly white states that play an outsize role in deciding the presidential nomination as the first two states to vote. But his standing is lower nationally. In South Carolina, a key early-voting state because of its large black population, Buttigieg has frequently pulled 0% among black voters.
The vast majority of white Iowa voters said they'd heard about Buttigieg's difficulties with voters of color. Many had heard, particularly, of his record in South Bend, where he was criticized for his handling of police relations and housing issues in communities of color.
"I think it's partly because of the incident that happened in South Bend," said Sue Seidenfeld, a retired physician assistant in Waukee who said she was undecided in the race and had come to see Buttigieg in Winterset. She did not specify the incident.
"I think that maybe that black voters feel like he wasn't as empathetic as he could have been, and as on top of the situation as he should have been," she said. "Which is kind of a shame — because he has to be impartial, and he has to take some time to see what really the facts were, and I think people are too quick to judge sometimes."
She paused and added: "But maybe not, you know. There may be something to it."
Still, Seidenfeld said, it wasn't an issue that was going to affect her vote either way. She thought Buttigieg was "more empathetic to minorities than a lot of people. I also think, for what it's worth, that it's a shame that people think that Iowa shouldn't be the first [caucus] in the nation. Because after all, we were the first to go for Barack Obama."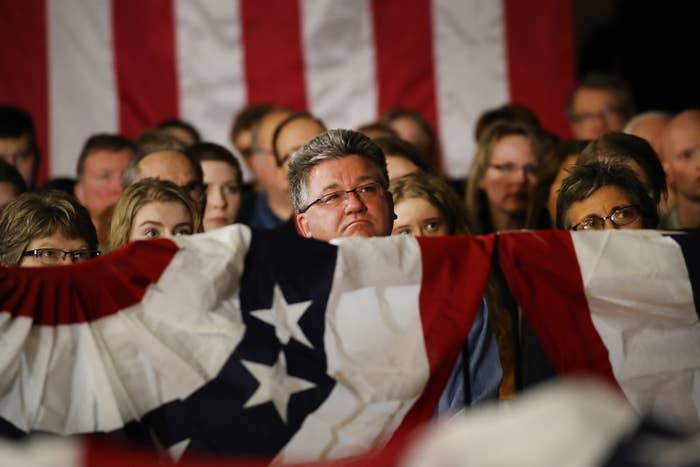 Buttigieg has long acknowledged his deficiencies with black voters, though he and his allies attribute it to his newness on the national scene. He has proposed a plan — named for the abolitionist Frederick Douglass — aimed at addressing institutional racism. Even so, a recent Washington Post–Ipsos poll measured support for Buttigieg among black voters who were familiar with him at 3% nationally. His aides believe strong finishes in Iowa and New Hampshire, white as they may be, will show Buttigieg is for real and that he can convince Democratic voters of color that he's the best choice to defeat President Donald Trump.
"Iowa and New Hampshire, by the pure fact of the primacy rule, have an outsize impact," a Buttigieg adviser told BuzzFeed News. "They're the first demonstrable tests of electability and viability in the primary beyond the polls."
To explain their theory another way: Biden — propelled by decades in public life and two terms as vice president under the nation's first black president — is leading the field among black voters; for the moment, he looks unbeatable in South Carolina, where black voters account for most of the Democratic electorate. If Buttigieg can finish better than or on par with Biden in Iowa and New Hampshire, black voters might reconsider their choices before South Carolina's late February primary.
Buttigieg's voters, too, often echoed this hopefulness, saying they thought he might win over black voters after a strong finish in Iowa.
Rick Smith, a Buttigieg precinct captain from Urbandale, believes Buttigieg's main problem is name recognition. "To me it's no surprise whatsoever that Biden is leading with people of color," he said, adding that Sens. Cory Booker and Kamala Harris, two black candidates who entered the 2020 race with loads of promise, had trouble gaining traction with black voters before ending their campaigns.
"I think it's a matter of Pete showing those folks that he can win, because they really want a winner," Smith said. "I know Iowa is not the most representative state, but winning is winning everywhere. Showing you can win means a lot."
Maria Waters, a Des Moines caucusgoer committed to Buttigieg, wrestled with the candidate's lack of black support as she waited to hear him speak Sunday night at the State Historical Museum of Iowa.
"I look around the crowd, and I think, Why are we not winning them?" Waters told BuzzFeed News. "It is a little discouraging."
No matter what, the subject of Buttigieg and black voters almost always made Iowans uneasy. They said they thought race shouldn't matter — then corrected themselves to add that they knew it often did.
"It gives me a little pause," said Justin Stoffa, a strong Buttigieg supporter who worked in youth ministry in Des Moines, of Buttigieg's polling with black voters. But Stoffa said he didn't think candidates should target specific demographics.

"You should treat everyone as human beings, and don't worry so much about their skin color. Although that plays a role, we can't ignore history and cultural context and the real effect that's played. But ultimately, not to pander, I think that's a thing," he said.
Stoffa had read about Black Lives Matter protesters interrupting Buttigieg's events in Los Angeles. "I don't know," he said. "I don't know how in tune with the African American community at large they are, but I — I don't know. I think it'll be interesting."
Delicately, Stoffa added, "I don't know, though, that he has to have the same coalition that Barack Obama did to win the election."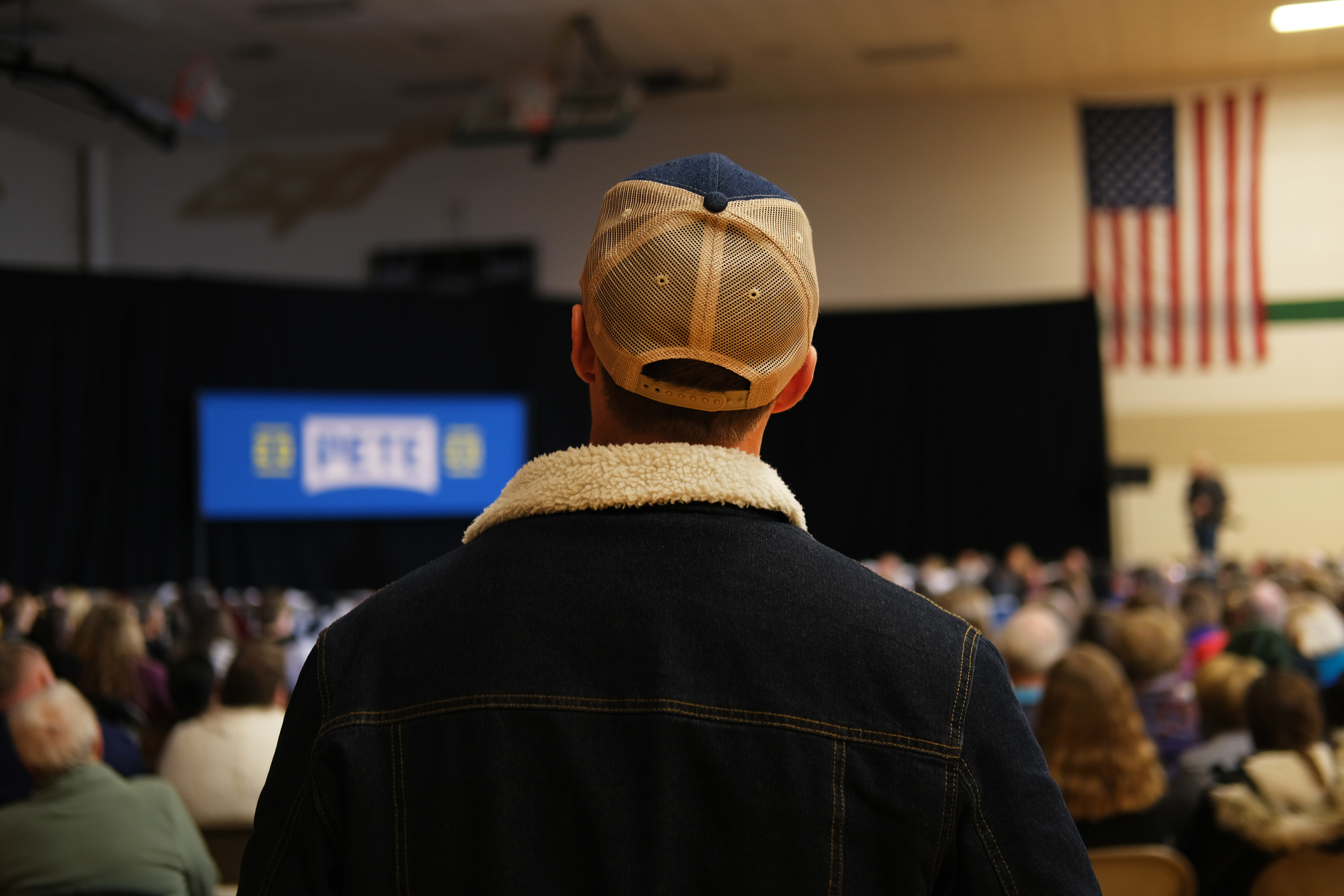 A few minutes later, a group of Black Lives Matter protesters from South Bend disrupted Buttigieg's town hall forum at the museum. One protester shouted at Buttigieg about his failure to address homelessness among veterans. (Buttigieg's campaign has said homelessness in South Bend dropped by nearly a third during his mayoral administration.)
Eventually, the police escorted several protesters out of the hall, their shouts of "Black Lives Matter" mingling with supporters' chants of "Boot Edge Edge" — the phonetic rallying cry for Buttigieg's campaign.
After the town hall, Kathy Koenig, an undecided voter who works with family caregivers in Des Moines, said she thought Buttigieg had handled the situation well.
"I was totally impressed by the way he shut down the disruptive stuff," she said. "I mean, I have a background in mental health. It's not that easy to shut that shit down fast. I was like, wow, good job."
She said she found Buttigieg "very bright" and "authentic."
"Obviously there are deep, deep wounds in this country that need to be addressed but I think he's got the skills to do it," she said. "He's got a very high skill quotient."
Tom Humphrey, an independent contractor in Polk City who said Buttigieg was his first choice, said he'd heard about the candidate's struggles with black voters earlier that day from his wife. "I was kind of busy doing something else, and I didn't pay a lot of attention," he said.
Still, he said, Buttigieg's marginal support with black voters was personal for him: his daughter had married a black man.
"We're a mixed family, and so that's something that my wife and I are very in tune with," Humphrey said. "I want to make sure that we have to look at our grandchildren and what the world's going to be for them as they grow."
He had seen many other candidates in Iowa but kept coming back to Buttigieg. He had also heard the shouts of the Black Lives Matter protesters in Des Moines.
"But I don't believe that, based on the way that he is, that would ever be something he would project," Humphrey said. "He wouldn't project that black lives don't matter. To him, all lives matter."
CORRECTION
Bill Koenig's name was misspelled in a previous version of this post.