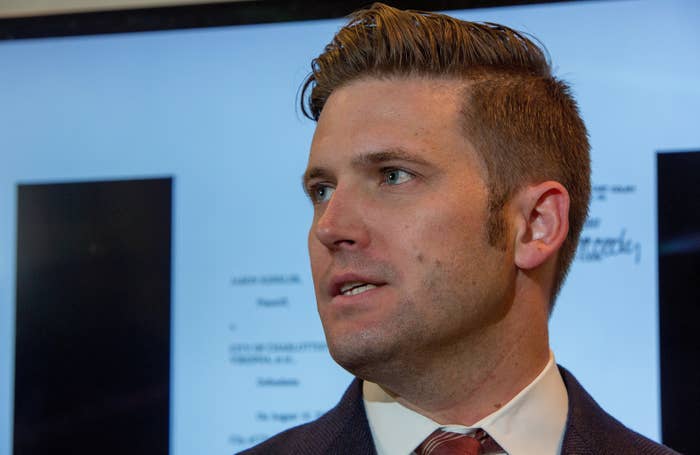 Pennsylvania State University rejected a request from a white nationalist group tied to Richard Spencer to host an event on its campus, saying on Tuesday that it feared for the safety of its students.
Penn State is the fourth public college to cancel or block events connected to Spencer, a white nationalist, in the wake of the violence in Charlottesville earlier this month — decisions that could ultimately throw the colleges into a legal battle with him. The University of Florida, Michigan State, and Texas A&M all blocked Spencer events last week, some after facing intense public pressure to call off the rallies.
The demonstrations by neo-Nazi and white supremacist groups, which ended with three people dead, began on the grounds of the University of Virginia, where marchers carried torches and led chants of "Jews will not replace us."
The decision by colleges to cancel Spencer's events has touched off another debate about the limits of free speech on public campuses, and the thorny balance colleges must strike between protecting students and protecting free speech. Public colleges are typically bound by the First Amendment to allow space to those who request it, though they can set some boundaries such as requiring speakers to be invited by those connected to campus.
In a memo titled "Richard Spencer is not welcome at this campus," Penn State's president called Spencer's views "abhorrent and contradictory to our university's values." But he cited the "likelihood of disruption and violence" because of the events in Charlottesville as the reason behind the cancellation.
In April, Auburn University, another public college, tried to block Spencer for the same reasons, saying it was unsafe for him to speak. But a judge ruled that excuse was not valid, and forced the college to allow Spencer to hold his event.
"There's been a clear legal precedent on this matter, that's recent and it involves me directly is as clear as day," Spencer told BuzzFeed News, saying he was "considering legal action" against the schools.
The move to block him from campus was "a clear suppression of free speech," Spencer said. "The job of a public facility or public institution is to protect the person who's being threatened, whether that's me or an attendee or an employee, and it is not to shut an event down," Spencer said. "I'm not going to be carrying a gun. I'm not inciting anything."
"Generalized concerns" about public safety are typically not enough justification for blocking free speech, said Bob Corn-Revere, a partner at the law firm Davis Wright Tremaine.

"It would take specific statements [from speakers] that they're planning to come and cause violence," Corn-Revere said. "If you're simply reading news and saying it's too dangerous these days to allow free speech, that's not going to work."
Public safety concerns — termed a "heckler's veto" because it can allow free speech to be blocked by those opposed to it — have historically been used as a "powerful weapon" against everyone from civil rights advocates to anti-war demonstrators, Corn-Revere said.
CORRECTION
The University of Florida blocked a white nationalist event from its campus. A previous version of this article said it was Florida State University.