Online Education Provider Reports Loss In First Earnings As Public Company
2U, which partners with universities to offer pricey online degrees, says it plans to focus on adding new programs--which has so far come at the expense of profitability.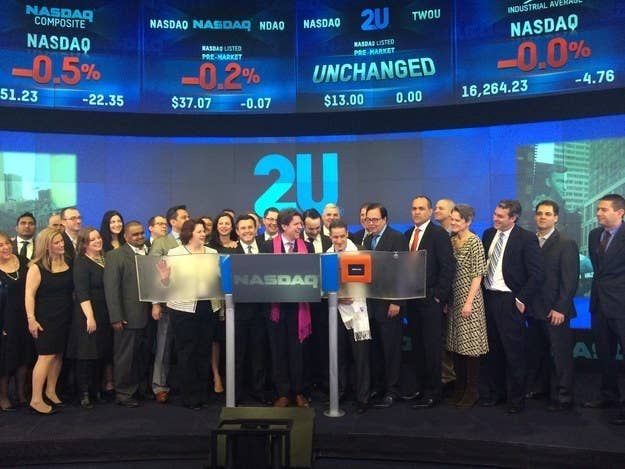 In its first earnings report today, 2U, which operates online degree programs, reported revenue of $26.3 million, up from $19.1 million in the first quarter of 2013. The company's net loss jumped from $3.8 million to $7.1 million.
2U, which went public at the end of March, works with major universities like George Washington University and the University of California to create online degree programs. Universities handle admissions and curriculum, while the company provides backend systems and marketing, bringing in money through a revenue-sharing agreement with its university partners.
2U has put a heavy focus on growth rather than profitability, promising to add four degree programs to its offerings each year. As a result, the company is projecting a net loss for the year of $31 to $33 million that is driven largely by early-stage investments in new programs. Degree programs reach profitability only after they mature, said CFO Cathy Graham on the company's earnings call Monday.
Unlike many online degree offerings, which have traditionally been marketed as cost-saving alternatives, 2U's degrees are just as expensive as those at the brick-and-mortar universities they partner with. At George Washington University, for example, an online master of public health degree costs upwards of $58,000. Some degrees can climb to almost $100,000.
That cost is striking especially considering that many online degree programs, especially those offered by for-profit colleges like the University of Phoenix and DeVry University, have reputations for poor quality and high levels of student debt. And popular massively-open online courses, or MOOCs, are known for their sky-high dropout rates, with just a fraction of students who enroll completing classes offered by providers like Coursera.
The inevitable comparison between those programs and 2U's degrees is "what keeps me up at night," CEO Chip Paucek told BuzzFeed in an interview last month. He acknowledged that that the company's success depends heavily on buy-in from students, universities, and employers.
Analysts seemed to be aware of skepticism over online degree offerings and 2U's pricing. On the company's earnings call, one asked Paucek about whether conversations with potential partners were becoming "easier" as the company's reputation grew. Another analyst asked for an explanation of the company's pricing model in light of a recent degree offered by another online university that costs just $10,000.
"These are degrees from top-notch universities," Paucek responded. "Outcomes matter."