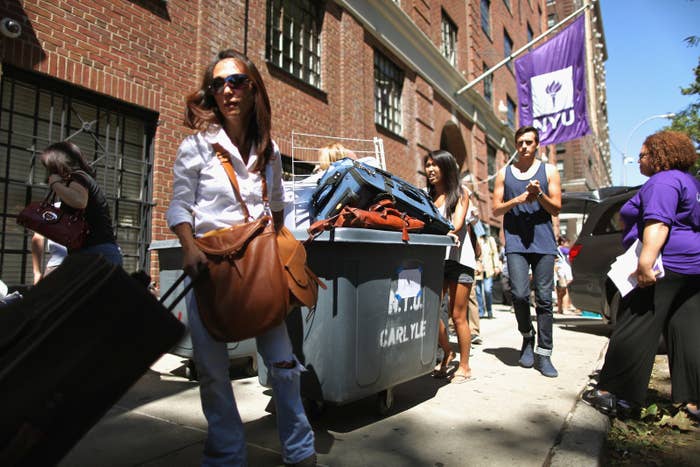 The campus that launched New York University's aggressive global expansion misled students and charged them exorbitantly high prices, according to allegations in a new lawsuit. NYU's Tisch Asia, the suit says, was an "educational scam" that was "not even remotely worth" its $50,000 yearly tuition fees.
The now-defunct Tisch Asia campus in Singapore promised students the same education they'd get in New York, the lawsuit says. But while they forked over the same sky-high tuition charged by NYU's campus in lower Manhattan, Tisch Asia students got subpar faculty, inadequate equipment, limited access to fellowships, and a dysfunctional building, the suit alleges.
Promises of celebrity involvement didn't materialize either: Oliver Stone, the star filmmaker Tisch Asia advertised as its "Artistic Director," stopped coming to the school's campus altogether in 2011.
The plaintiffs in the suit paid as much as $165,000 for their masters of fine arts degrees from Tisch Asia. One film student took a cinematography class with a professor who did not know how to use a modern camera, the suit says; in another class, Tisch failed to find a qualified faculty member and instead had a New York professor teach the class via Skype, an especially awkward arrangement given the 12-hour time difference. Tisch padded gaps in the faculty, the suit alleges, with under-qualified Singaporean adjuncts.

No other American college has been as internationally ambitious as NYU, which has reinvented itself as a "global network university." In just a few years, it has spawned full-fledged campuses in Abu Dhabi and Shanghai and smaller "global academic centers" in eleven cities from Accra to Tel Aviv. The school's former president, John Sexton, cast the expansion as a financial necessity for the school, which — despite its $2.8 billion endowment — is heavily reliant on tuition revenue to survive.
The Tisch Asia lawsuit, which is seeking class-action status, could cast a black mark on NYU's global plans, which hinge on its ability to charge premium prices for tuition on campuses thousands of miles from its central Manhattan location, which it now calls "NYU New York."
Tisch Asia was NYU's first attempt at global transformation, and, by most measures, a failure. It closed for good in 2015, eight years after it opened with support from the Singaporean government, leaving a budget deficit that ran into the millions and a high-profile feud with the school's former president over mismanagement of funds.
The closure of the Singapore campus, which was announced in 2012, raised fears in other cities where NYU is expanding that the school may be unable to sustain its growing global empire. But NYU maintains that failure in Singapore was an isolated incident. Tisch Asia was not, in its early days, a part of the school's "global network," NYU administrators said, because it predated those expansions; instead, it was tied only to Tisch School of the Arts.
The students' lawsuit alleges that Tisch Asia was "a subpar program in practically every aspect, from the quality of faculty, facilities and equipment to exclusion of Tisch Asia students from grants, competitions, and networking opportunities available to students at Tisch New York."
NYU denied the allegations in the students' lawsuit. In a statement, spokesman John Beckman said that "artistically, the school was a success," with "highly-qualified faculty" and a curriculum identical to Tisch's New York campus. "It did not work financially and operated at a steep deficit precisely because NYU was providing the students with an excellent education that cost more than tuition dollars brought in," Beckman said.
The lawsuit paints a different picture. In the hulking black building that the Singaporean government provided to house the campus, the suit alleges, water ran sporadically, air conditioning in the muggy Singaporean heat went off for days at a time, and in the early days of the campus's renovation, even furniture was inadequate.
Stephanie Gardner, a Tisch Asia graduate, said she was "conflicted" about the lawsuit, which she is not involved in. Gardner said she learned a lot, especially from the chance to live and work in Asia, and said she and many of her classmates have had success in the industry.
But, she said, "It was the same amount of money — we were paying as if we were in New York. We were told every opportunity was going to be the same, and it's not even possible. We were on the other side of the world, living in a country that censors artists. There's no way you could compare."