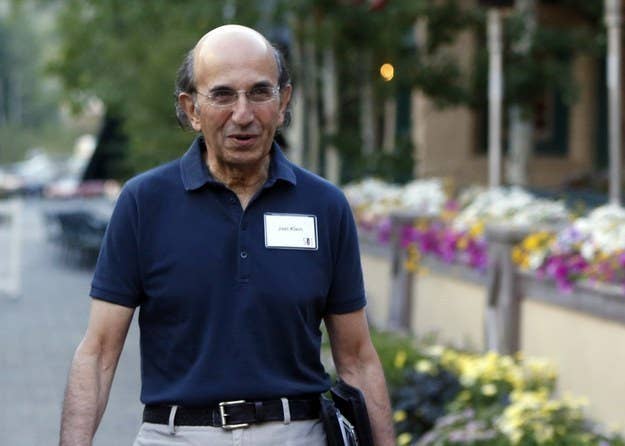 Just four years after it stormed into the education world with talk of disrupting the industry's biggest players, Rupert Murdoch's News Corp is preparing to sell its digital education business, the company said in an earnings call today.
News Corp said it has written down the value of Amplify, its education unit, by $371 million. The company is essentially discontinuing its tablet-making business and is "exploring strategic alternatives" for the rest of the education company, which consists of digital curriculum and assessment tools.
"We are in the final stages of negotiations with a potential inquirer" for Amplify, News Corp CEO Robert Thompson said on an earnings call following the results.
In a letter to Amplify staff seen by BuzzFeed News, CEO Joel Klein said Amplify and News Corp "both believe it is time to explore new and exciting strategic opportunities."
An outside investor is in active talks, Klein's letter said. "We expect that this lead investor would be backed by Amplify's management team, some of whom also plan to participate in the investment."
Klein has long billed the company as a disruptor of both entrenched education giants like Pearson and McGraw-Hill, and tech companies like Apple and Google, which have made significant inroads into education by selling devices like iPads and Chromebooks.
Amplify's product was a hybrid of the two: a rugged tablet built for classrooms, loaded with Amplify's digital curriculum software.
But even with the financial might of News Corp behind it, Amplify struggled to make inroads against any of its larger competitors. It saw a massive and costly setback early in its life, when dozens of tablets' screens broke and chargers overheated at a school district in North Carolina that was early to adopt the company's technology.
In an interview with BuzzFeed News in April of 2014, Klein had high hopes for the company's future. "Exhilaration is the dominant emotional force in me right now," he said. "There's a sense that we're doing something very big and very exciting."
Here is Klein's full letter to Amplify staff:
Tonight, News Corp released its full year Fiscal 2015 earnings results and hosted a call with analysts to discuss the performance of its various businesses. I want to update you on some important information about Amplify that was shared on the call.
First, I want to say that, despite the challenges we've faced, I'm very proud of our progress across the company. We've accomplished a lot and learned even more. What is now very clear to us is that it is time to cease marketing the Amplify Tablet. This was not an easy decision, because Amplify designed a compelling tablet for classroom education. No one put as much thought and know-how into how teachers can work in a one-to-one classroom. But the market has moved in a different direction.
While we will continue to provide our existing tablet customers with service and support, we will no longer accept new tablet customers. This move will allow us to focus our efforts on the growth and success of our digital curriculum and assessment products.
In my view, Amplify's work has been so innovative and transformative that we've been ahead of the market. That, in part, helps explain what has happened with our tablet business. And it has played a role in the adoption of our digital curriculum.
We've been developing the most rigorous and engaging digital curriculum products for ELA, Math and Science. And the forward-thinking districts that have implemented our curriculum in the classroom are proof positive that we are fundamentally changing the way teachers teach and students learn.
However, sales haven't moved as fast as we initially hoped. Too many districts across the country struggle with basic issues like sufficient internet connectivity. And change management in many places has been more difficult than many had anticipated.
Luckily, all of that is changing.The federal government has committed to providing 21st-century connectivity to every K-12 school in America over the next few years. School districts are rethinking what it takes to be successful in digital education. And big states are taking important steps towards replacing dusty old textbooks with a groundbreaking digital curriculum like ours.
Amplify recently completed an important first step towards becoming part of the upcoming California ELA curriculum adoption, which holds the potential to open up opportunities for us across the state in the years to come.
While it took time to get here, in many ways, I believe we are on the cusp of great progress. Our products have tremendous long-term potential. But today, our financials are not where we anticipated they would be. Based on our revised projections, News Corp adjusted the valuation of the business.
I cannot thank News Corp and Rupert Murdoch enough for the boldness of their vision and their commitment to transforming education in America. Their support has provided us with the runway and resources to come as far as we have.
As positive as this relationship has been, Amplify and News Corp both believe it is time to explore new and exciting strategic opportunities, working with partners who share a deep understanding of what it takes to be successful in education.
We are in active conversations with an outside investor regarding the potential sale of Amplify. We expect that this lead investor would be backed by Amplify's management team, some of whom also plan to participate in the investment.
In the meantime, Amplify remains focused and committed to providing new and existing assessment and curriculum customers with the world-class products and service they've come to expect from us.
Our company is at an exciting turning point filled with new challenges and opportunities. I am grateful for everything you have done to make Amplify one of the most creative and forward-looking companies in digital education. I will continue to keep you up-to-date as our strategic conversations with potential partners evolve.
In the meantime, we have a tremendous amount of work ahead of us to get ready for another exciting school year. Thank you, in advance, for everything you will do to make this back-to-school season a success for Amplify and for the students and teachers we serve.
--Joel