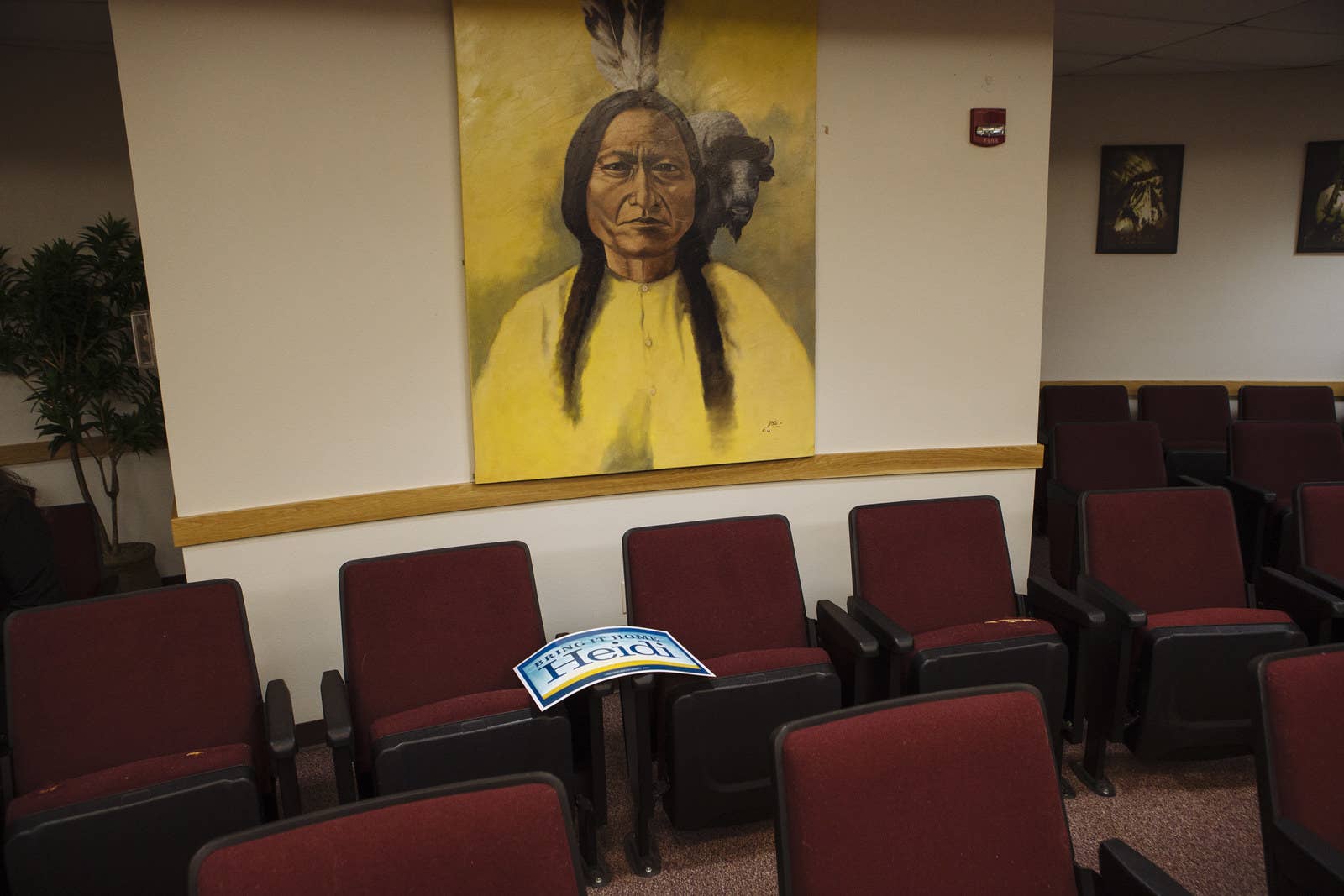 FORT YATES, North Dakota — This time of year is hard for Edmund Fast Horse. It's the beginning of November on the Standing Rock Indian Reservation, on the precipice of winter, when the sky and the river are the same steely gray.
Soon it will be the anniversary of the days when police violence against hundreds of Native Americans protesting the construction of the Dakota Access Pipeline escalated to a breaking point in 2016: water cannons arcing into the frigid air, tear gas and rubber bullets hitting protesters. The videos of the crackdown would make their way across the world.
"This time of year is leading up to the atrocities on the reservation that were the turning point for us," Fast Horse said of the DAPL protests. "And December 15, that's always the hardest. That's the day that my grandma's uncle was killed on the Grand River."
That's Sitting Bull, the Lakota chief who was killed by police at Standing Rock in 1890. December was also the month that 38 Dakota men were hanged in Minnesota in 1862 — the largest mass execution in American history.
Now, Fast Horse said, something is happening again. Again, he thinks, the government is infringing on Native Americans' rights. This November, a voter ID law passed by the North Dakota state legislature is making it far more difficult for Native Americans on reservations across the state to vote than it used to be.
Many people here see the voter ID law — which went into effect 30 days before Election Day, after being tied up in court for years — as nothing short of an explicit effort to suppress the Native American vote. The law requires peoples' identification cards to have a street address, but out here on the reservation, almost nobody has an address on their IDs. They use P.O. boxes instead. And in much of the countryside of the sprawling reservation, there aren't even addresses to begin with.
Just like so many times before, the tribes are fighting back. Native Americans in North Dakota say they want to prove something to the people they believe passed the law to stop them from voting: This election, despite the obstacles in their path, they want to have the highest Native voter turnout ever.
Once again, Fast Horse said, everyone is watching Standing Rock. That's why one morning in November, four days before Election Day, he came to a little yellow house on the outskirts of Fort Yates to get help casting his ballot.
The house is the headquarters of the extensive get-out-the-vote effort underway here, the kind that has been taking place on reservations across North Dakota, thanks to organizing and fundraising by activists who kicked into gear after the law passed. Across the state, an estimated 5,000 Native Americans will need new IDs in order to vote.
They also need addresses to put on the IDs — many simply don't have one. And they need rides to the polls, and help navigating the complicated new rules.
In a state with just 750,000 people, the reliably Democratic Native American vote could tip the scales in one of the country's most closely watched Senate elections: Sen. Heidi Heitkamp, a Democrat, is fighting for her political life against Republican Rep. Kevin Cramer. In 2012, Native Americans helped elect Heitkamp, who won, unexpectedly, by just 3,000 votes. Republicans started the work of passing the ID law not long after.
But to most people here, the election has little to do with Heitkamp, or even the Democratic Party. Many are frustrated with, or even feel betrayed by, both. Instead, it is about something bigger: exercising their inherent rights, rights they think the government is infringing on, and protecting tribal sovereignty.
Activists are also hoping to set an example of organizing for the rest of the country, where voter ID laws in other states have made it more difficult for other historically disenfranchised groups, like African Americans, to vote.
They lost a court case challenging the law, something that may become more common as the Supreme Court tilts to the right. But record turnout, Native Americans fighting the law believe, could deter other states from trying to pass similar measures. At the very least, it could inspire other organizers to fight back after losses.
"There's solidarity for our situation — it's directly related to what's going on in Georgia. It's not an isolated thing," said Judith LeBlanc, the director of the Native Organizers Alliance, who came to Standing Rock to help with organizing the get-out-the-vote effort. "If we can turn out the largest Native vote in North Dakota history, I believe that's sending a message."
The government has long tried to go after Native Americans' rights, Edmund Fast Horse said: "Water rights, land rights, voting rights."
"Standing Rock is always the first to step up and challenge them."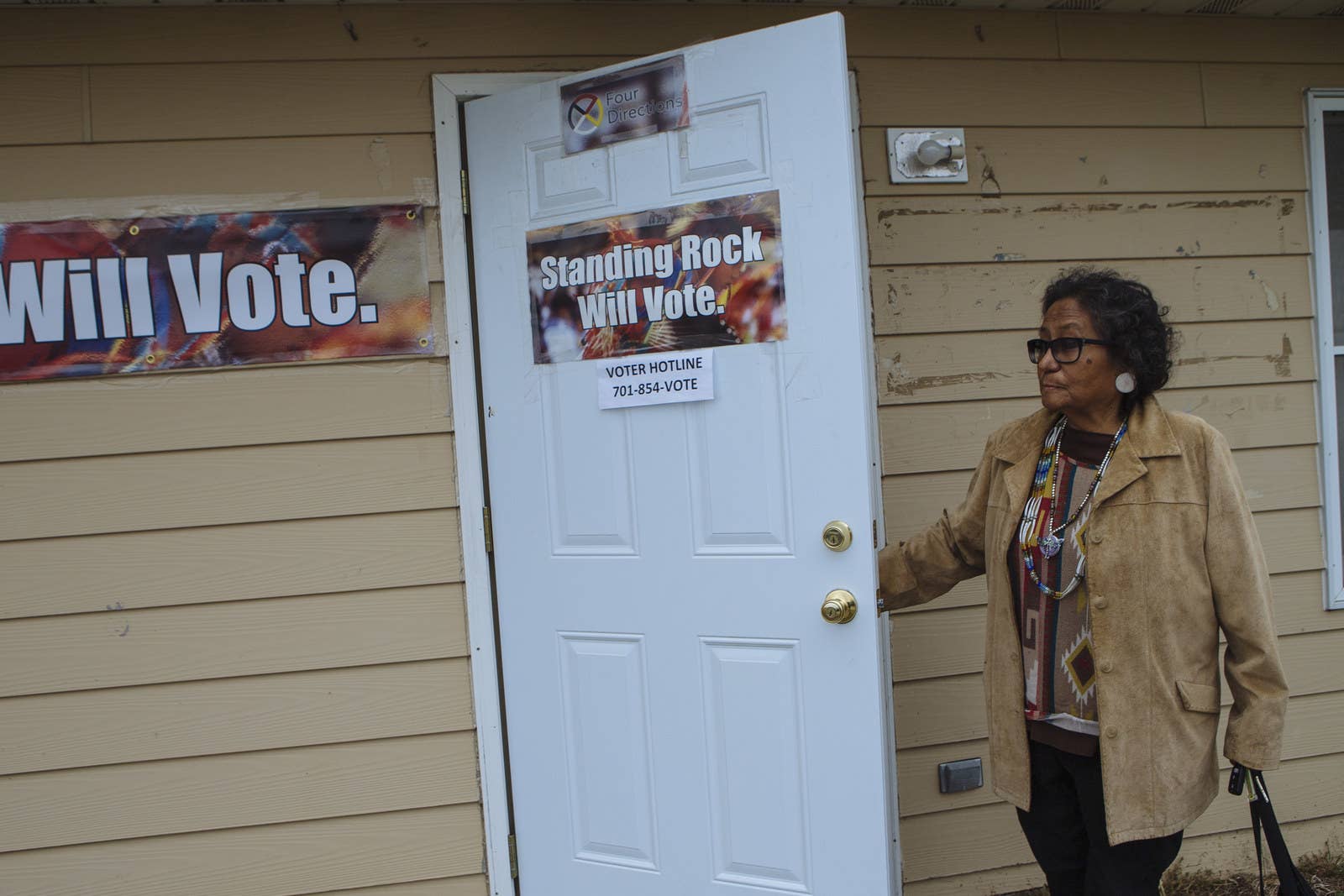 Four days before Election Day, a little army assembled by voting rights activists in Standing Rock stamped out their cigarettes, finished their coffee, and headed out onto the reservation.
Some of them drove out to Family Dollar, the main store on the road down into Fort Yates, to find people in the parking lot outside the cinder block building. They went to the Diabetes Center, where they knew people would be bound to show up.
It was Friday, so a group went to the tribe's Commodity Distribution Office, where food is handed out, figuring that people would want supplies to cook for their families before the weekend. Others simply went to the homes of relatives and friends.
Directed by voting rights activists and funded by an influx of donations that poured in earlier this month, the workers are trying to reach every voter they can on the North Dakota side of the reservation, which straddles both Dakotas, before Election Day.
Like many buildings on the reservation, the house on the edge of Fort Yates that serves as the activists' headquarters has no address — or at least, not one anybody here knows. It's simply called "the yellow house," marked not by street numbers but by a run-down school bus with an image of Sitting Bull and a sign that says "Standing Rock the Vote."
Inside, with the workers cleared out, a group of activists from across the country sat around a pair of folding tables in a linoleum-floored room.
"Today, we're testing out our hack," Matt Samp, who works for the Native voting rights organization Four Directions, told the group. "We're going over the fail-safe plan. Every voter is going to have a remedy and be able to vote in the election."
Four Directions is sending out the army of workers to first get people new IDs — ones that comply with state law, with valid street addresses instead of P.O. boxes or addresses in other cities. Once voters have IDs — the tribe is covering the cost of them — the workers drive them to the polls to fill out absentee ballots, or urge them to vote in person on Tuesday.
The fail-safe plan is for Election Day itself. If someone shows up at the polls without a valid ID, the groups have developed a system: a tribal letter with their address written on it, issued by a tribal official who will be stationed at the polling place Tuesday.
Some people, they know, will show up to vote without knowing their address; they've never had one to begin with. For that, the activists have a plan, too: a series of maps of the prairies and dirt roads of the reservation, developed by researchers at Claremont Graduate University, where people can point out the location of their home and get an address based on rough estimates.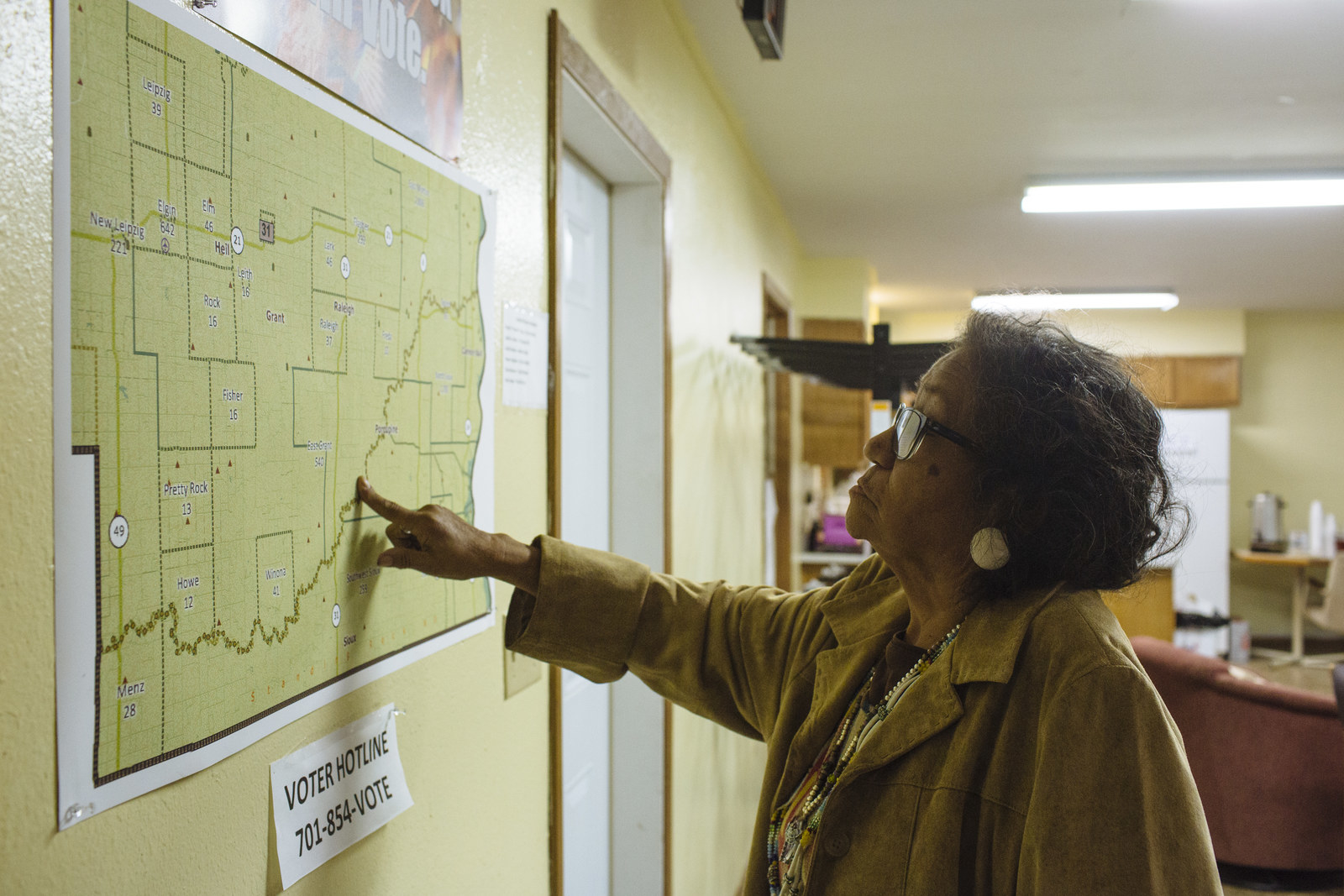 The state has a method of its own for generating addresses, the 911 system. But just one person in each county, the 911 coordinator, can tell people their address, and in Sioux County, where Standing Rock is located, activists say their coordinator has been difficult to get in touch with. Anyway, they're expecting the system to be choked up on Election Day.
The ID law also allows a person to bring in a utility bill to prove their address, but many people on reservations live with family members and friends, or move frequently, and don't have them.
To make the fail-safe work, the activists have tried to think of everything. The tribe voted several weeks ago to make Four Directions' addressing system its official one. On the phone, Bret Healy, a Four Directions consultant, told the group gathered in the yellow house that he thinks the state has no choice but to accept the addresses: Since cities in North Dakota get to make their own system, tribes should too.
Later that day, Four Directions tested the fail-safe on a voter who showed up to cast an absentee ballot without an ID or address. Initially, the auditor rejected the tribal letter with the address, said Dan Nelson, the program director of the Lakota People's Law Project, which has been working with Four Directions. The auditor called the state's attorney. But then, after an hour of discussion, the auditor accepted the voter's ballot.
"It's an exercise in tribal sovereignty," Nelson said. "They jumped through hoops to prevent it from going well." But it worked.
So far, across North Dakota, the tribes have issued at least 2,000 new IDs, according to OJ Semans, Four Directions' co–executive director, including 650 in Standing Rock and at least 1,000 on the Turtle Mountain Reservation. The demand for IDs on Turtle Mountain was so high that the tribe's chair said the printing machine overheated, melting some IDs.

They won't know until Election Day if their work to increase turnout has paid off. But in Standing Rock so far, Nelson said, there have been more than 350 absentee ballots cast. The previous record, Nelson said, was 77.
In Turtle Mountain, there have been more than 700 absentee ballots cast so far, said Semans. On Election Day, Semans said, Turtle Mountain's student council has planned a rally at its high school. The rally will end in a march — all of the school's voting-age seniors, parading through the town of Belcourt behind tribal elders and veterans. Their final destination: the polling place.
The state of North Dakota has repeatedly said that it isn't trying to disenfranchise Native American voters. Instead, it says the law is necessary to prevent voter fraud, ensuring that only people who actually live in the state are voting in its elections. There has been little evidence nationwide of widespread voter fraud.
Dale Ramsey, a get-out-the-vote worker at the yellow house in Fort Yates, doesn't buy the state's explanation.
"You damn well bet they did it to hurt us," he said of the voter ID law. "It's pretty fucking bullshit, is what it is."
"It's not surprising to us in North Dakota that they would have seen our success in the last election and try somehow to hinder us," said Shauna Elk, who lives in Fort Yates. "I don't think a lot of people are surprised by the things they do here. I hope our people see it as a challenge."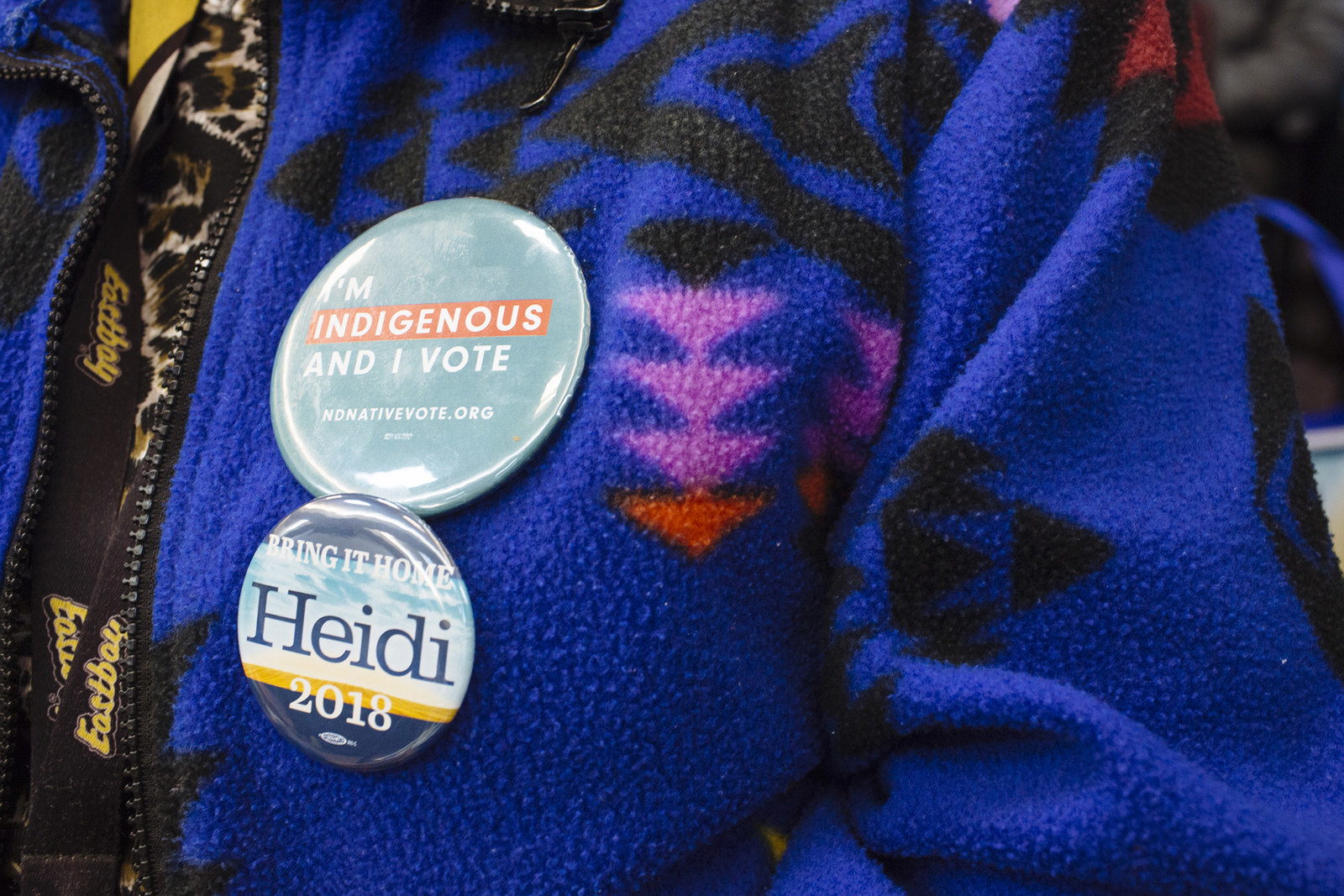 Phyllis Young still remembers how she and other activists in Standing Rock felt after she helped get Sen. Heidi Heitkamp elected in 2012: "Oh, we were elated. It was that exhilarating feeling."
It was shortly after Heitkamp's victory that the state's Republican legislature laid the groundwork for the voter ID law.
Young, who has spent decades as an activist, is working with Four Directions to get out the vote in Standing Rock. From an armchair in the yellow house — most everyone else sits on folding chairs — she helps direct workers and organize efforts until well after dark. But this time, Young says she feels very differently about Heitkamp.
Two years ago, when more than 1,000 Native Americans and environmental activists in Standing Rock were fighting against the construction of the Dakota Access Pipeline, Heitkamp was nowhere to be found, Young said.

Heitkamp mostly stood on the sidelines, refusing to back the Native Americans who said their water rights and sacred grounds were threatened by the construction of the pipeline, which would run under Lake Oahe, a major water source.
Barack Obama's administration halted construction at the site outside Standing Rock after a months-long sit-in, but Donald Trump reversed that almost immediately after he took office. The pipeline was finished in April 2017.
Standing Rock felt Heitkamp's silence. "It was a slap in our face," Young said.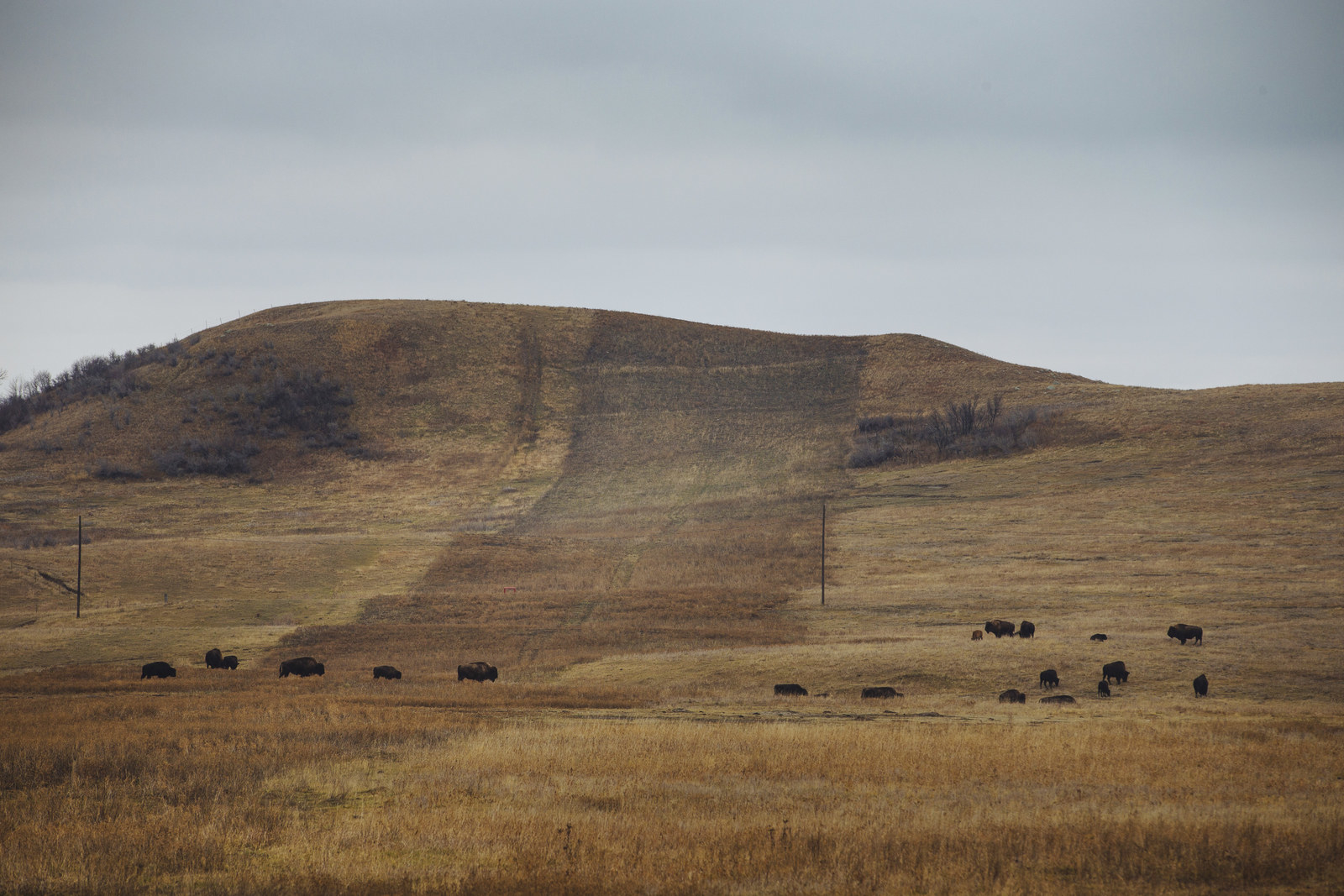 Some people said they weren't going to vote for Heitkamp this time because of what happened. "The Easter Bunny is looking pretty good right about now," one woman joked.
But most people in Standing Rock said they would vote for Heitkamp despite her stance on DAPL. There were more important things at stake, they said. Unlike Cramer, her opponent, Heitkamp has actually shown up at Standing Rock and on other reservations, and she made an effort to engage with them on other issues that the tribe cares about, like health care, education, and the disappearances and murders of indigenous women.
"I'm swallowing the pain and hurt and anger," Young said. "She did come back, and that's why I forgive her."
"At least she's here," said a tribal health care worker named Jana, who said it was important that Heitkamp had visited the tribe's chronically underfunded health center.
"To me, she puts the most effort into coming here," said Chance Eagle, a get-out-the-vote worker. "Most of the other ones don't show. I'd rather have her come down here, at least, and say the truth, rather than come here and say one thing and do another."
This election, people in Standing Rock have serious issues they want Heitkamp to address. The tribal health care center needs better funding, they said, especially to help deal with diabetes, a rampant problem on the reservation. They believe the Trump administration has been steadily infringing on tribal sovereignty.
But most said they were voting this election for something bigger than a party. They wanted to prove to the state legislature that efforts to suppress the Native vote wouldn't work.
"They realized from Sen. Heitkamp's last election that when the tribes stand united, they can swing the vote," said Jerl Thompson, who works at the tribal college in Fort Yates. "It's a perfect time this election to stand united and say, 'We need to be at the table.'"
"I don't care who you vote for — I just care that you vote," Heitkamp told a crowd gathered at the tribal headquarters in Fort Yates Friday. "Because if every person on Standing Rock votes, you will not be invisible."
Driving out of Bismarck, a web of strip malls, billboards, and low-slung buildings, the Standing Rock reservation comes as a breath of relief. Buffalo dot the hills that slope away from the river and domed stone buttes emerge from the multicolored prairie, where this time of year the grass is painted brown and red.
If you know where to look, just before you enter the reservation, you can see a long brown scar in the land, a dark band that crosses the grasses into the horizon: the mark of the Dakota Access Pipeline.
Heitkamp "walked away" from Native Americans during the DAPL protests, said Loretta Bad Heart Bull, a tribal elder. "That was it for me. But I still voted for her. We're still going to be here anyway — we're not going to lay down and die."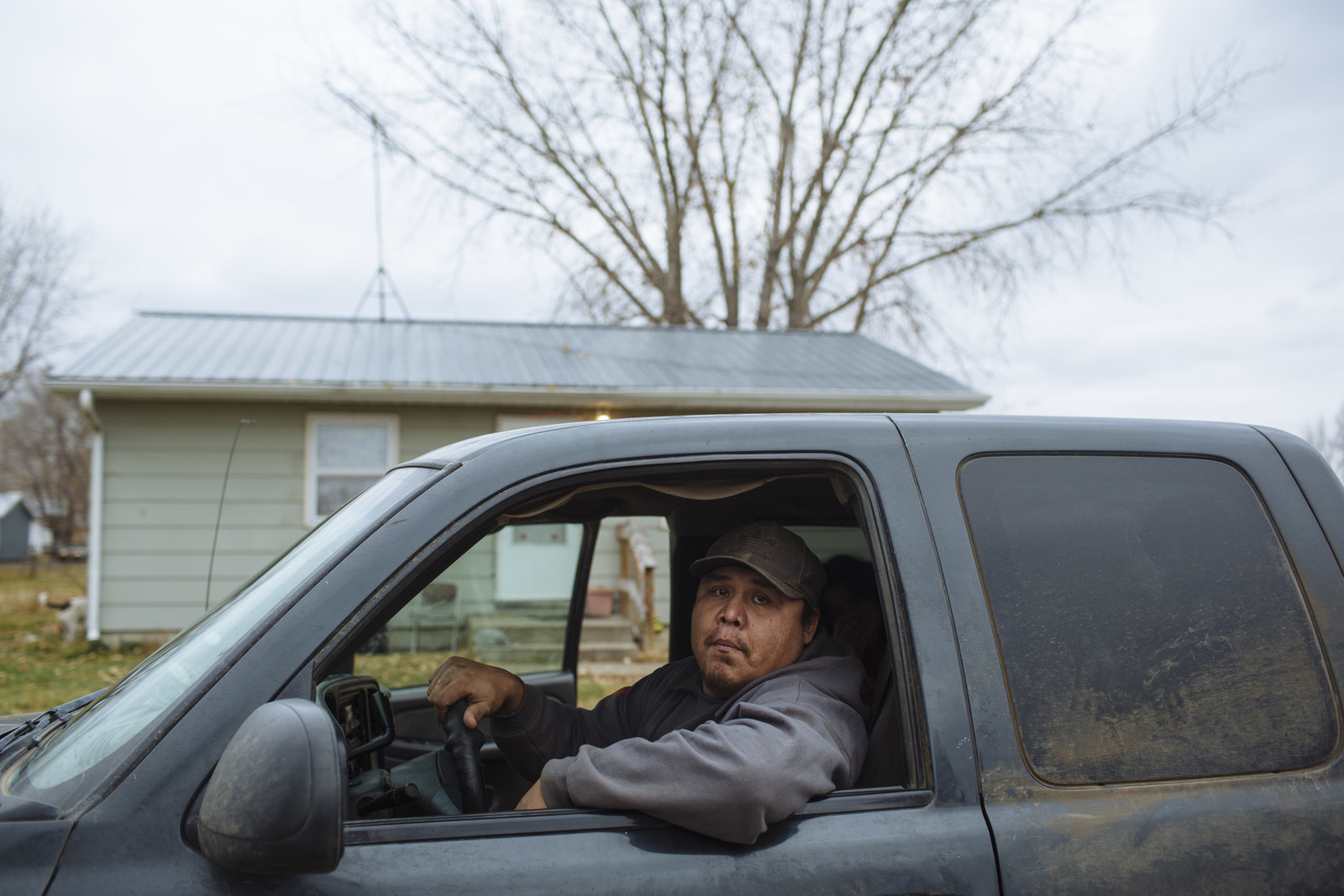 Chance Eagle had spent his Friday morning driving out into the countryside to pick up voters. He got "pretty far out there," he said — out where many streets don't have names and almost no one has an address.
Now he was on another mission: get his sister to vote. Eagle jumped into his pickup truck and set out from the yellow house to his sister's place in Fort Yates, his young son sitting in the backseat, playing with a blue, stuffed toy.
A woman named Stevie Gray Bull met Eagle in the driveway. Eagle's sister, Lillian, wasn't there — she'd gone to another house. There was, of course, no address that they knew of, so Gray Bull pointed out the house to him: just there, around the corner. The green one.
Before Eagle left, Gray Bull gestured to her truck: It hadn't been running well.
"I can help you fix it," Eagle told her. "If you vote."
That had been his strategy lately, with the days ticking down to the election: trading favors for votes. "They say, 'Bro, can you come put up this fence?' I say, 'I can if you vote.'"
Eagle helped his cousin give his horse tranquilizer shots. His cousin was hanging around his house with coworkers, and he got them all to go fill out absentee ballots. "That was nine all in one shot," Eagle said.
Eagle got back into his truck and drove around the corner, maneuvering around a pair of rez dogs running loose in the streets, past a low house with its windows boarded up. The leaves had fallen off the trees, and their spiny branches were bare. His sister wasn't at that house, either, so he tried a third. She wasn't a regular voter, but she promised Eagle she'd vote today.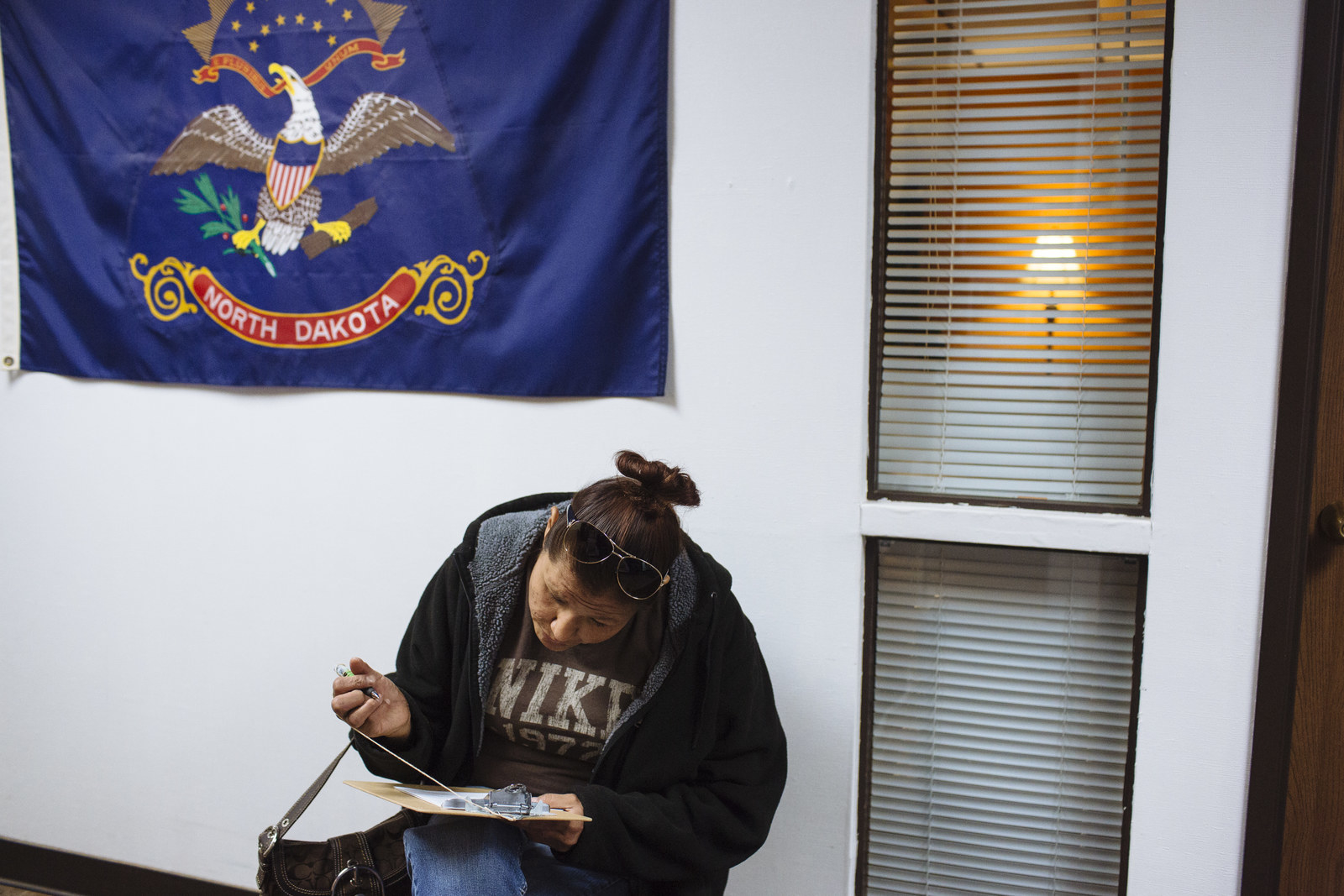 When Eagle finally brought his sister into City Hall, Mary Jo Brave Bull, another Four Directions worker, exclaimed in excitement.
"That's 39!" she said. "Thirty-nine people today, forty yesterday."
Back at the yellow house, many of the Four Directions workers finished the day by smoking cigarettes in the yard, in front of a banner that read, "Standing Rock Will Vote." Signs like that were up all over the reservation — on a roadside, in front of the casino. The period was important: It felt like a declaration.

Many of the workers said they hadn't voted before, at least not often.
Casey Dogskin, who works at the casino, said she didn't follow politics; besides Heitkamp, she hadn't recognized any of the names on the ballot when she voted absentee.
So why vote?
Dogskin thought about that. "'Cause it counts," she said. ●