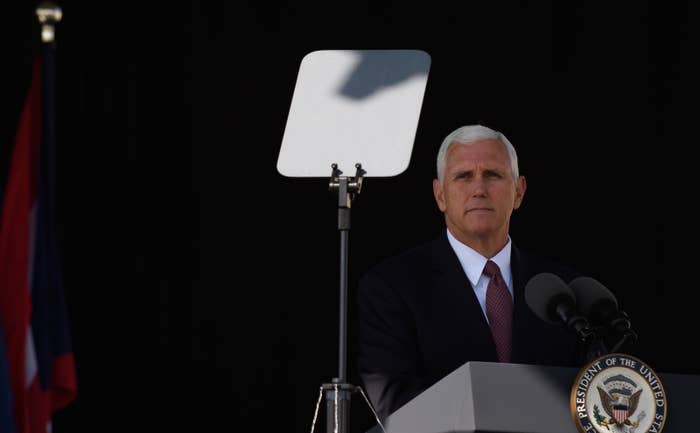 One of Vice President Mike Pence's closest allies advised a cadre of student debt relief companies — some of which are facing an unprecedented nationwide crackdown for preying on vulnerable borrowers — on how to lobby Washington and fend off regulators.
Marty Obst, a longtime adviser to Pence and operative closely aligned with Trump's outside political operation, was a marquee speaker at an industry conference last week, where student debt relief companies gathered in Las Vegas to learn how to gird themselves against investigations, defend class-action lawsuits, and reach millennials through mass text-messaging campaigns, according to the conference agenda.
Obst's address was to the annual meeting of the Association for Student Loan Relief, a trade group whose members have been widely criticized by consumer advocates and, in some cases, sued for repeated consumer violations. His presentation was called "An Industry Under Fire By Regulators And What Can Be Done To Help Save Our Businesses!"

Introduced to the crowd as "Mike Pence's best friend," Obst told the group that he had personally spoken to legislators about the industry and what he characterized as the "good work" that debt relief companies were doing for students, according to two people who attended the panel.

He advised the companies to set up a political action committee, an arm that would allow them to build relationships with legislators, funneling money into efforts to ease the regulatory crackdown, and lift roadblocks set up by the Education Department. Though he didn't promise results from the PAC, Obst touted his own connections to Pence, those attendees said.
In a statement, Obst told BuzzFeed News he had been "invited to participate in a panel discussing the political environment in Washington, D.C. and the potential benefits of forming a Trade Association PAC."

"While there are certainly bad actors in the student debt relief industry, there are also companies performing good work," Obst told BuzzFeed. They "have a right to engage in the political process, to have a hearing and tell their side of the story." He said he was not personally paid to appear at the conference or by any debt relief companies. Obst, who is not a government official, runs a strategic consulting firm in Indianapolis.
Just days before the trade group's conference, on Oct. 13, the Federal Trade Commission and 11 states announced a massive operation to take down dozens of student debt settlement "scams" — including several current members of the Association for Student Loan Relief.

Opposition to large swaths of the student debt relief industry is widespread and often bipartisan. Under Betsy DeVos, the Education Department has indicated it wants to prioritize curbing student debt relief scams. And Republican attorneys general from states like Florida, North Dakota, and Texas joined the FTC crackdown on shady debt relief companies.
Debt relief companies charge consumers fees for doing paperwork that advocates say borrowers can easily fill out themselves or with the help of student loan servicers, whom the government pays to help borrowers. People who use student debt relief companies can pay hundreds or even thousands of dollars to enroll in income-based repayment or student loan consolidation plans that they could otherwise get free. These customers are also frequently persuaded to pay monthly fees to maintain their accounts.
The companies' practices, agencies like the FTC assert, frequently include misleading borrowers into thinking their loans will be completely forgiven, falsely claiming connections to the Education Department, and illegally accessing borrowers' personal information and government systems.
American Student Loan Consolidators, listed as a member of the trade group Obst addressed, "bilked" consumers out of more than $11 million, according to allegations from an action filed in the FTC's crackdown, while pretending to be affiliated with the Education Department. Consumers paid the company as much as $799 to fill out paperwork, the FTC alleged in an ongoing suit — money consumers thought was going directly toward their loans.
The Association for Student Loan Relief and its president did not respond to requests for comment. On its website, the group describes itself as "the leading association of professionals associated with the sole purpose of assisting Americans burdened with student loan debt." Its ethics code avows its members are honest and charge "reasonable" fees.
In his presentation, Obst urged the group to remake its image with Congress, saying he believed student debt relief companies had been inaccurately represented in the media, the two people said. Legislators he'd already spoken with, Obst said, had been convinced of the industry's good work.

Obst has long been part of Pence's inner circle as a fundraiser and adviser, running both Pence's 2016 gubernatorial and vice presidential campaigns, and serving as deputy CEO of Trump's inaugural committee. At the helm of Great America Committee, a PAC registered to Pence, Obst has raised money from dozens of corporations — money that will be directed toward the administration's foes, and support the administration heading into 2020.
Obst is representing a "scandalous and sometimes illegal" industry, said Craig Holman, a governmental ethics lobbyist at Public Citizen.
"As director of the Vice President's ... PAC, Obst has Pence's ear and is in a key position to influence the Trump administration," Holman said.
Obst spoke on the panel alongside Adam Owens, whose own student debt relief company, the Student Loan Assistance Center, was sued by the Washington Attorney General. Owens' company was accused of charging excess fees, false advertising, and failing to deliver promised services; the AG's office says it recovered $248,000 for consumers from the company in a settlement in which SLAC did not admit wrongdoing. SLAC did not respond to a request for comment.
The Association for Student Loan Relief's president, Robby Birnbaum, said at the conference that the industry had been tainted by a few bad actors and that the vast majority of debt relief companies act in good faith on behalf of students, according to the two people who were in attendance.
Birnbaum, an attorney who represented a fraudulent debt relief firm shut down by the CFPB, gave a presentation on compliance that repeatedly mocked the FTC, according to two people at the speech. Birnbaum's presentation, the group's agenda said, advised companies on following federal laws that also helped companies identify "problem states" and "how to avoid being that 'low-hanging fruit.'"