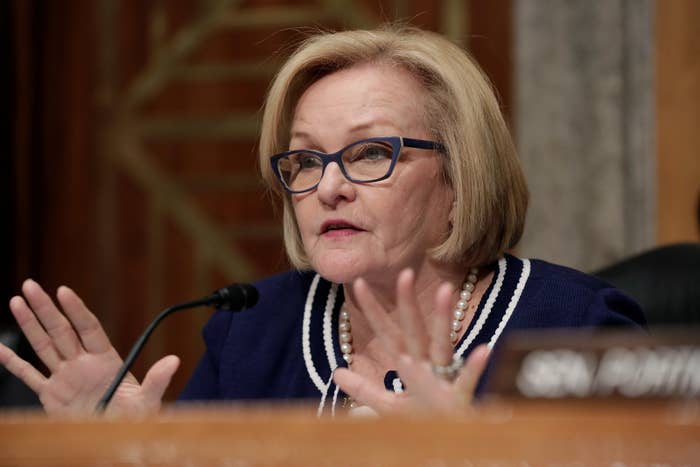 In battleground states in the middle of the country, some Democrats watched with frustration as their party grabbed headlines last week with a splashy new lawsuit alleging a vast conspiracy between President Donald Trump and Russia.

The Democratic National Committee's drumbeat of messaging on Trump and his relationship with Russia is wearing thin with some Democrats in purple states — particularly in the Midwest, where people on the ground say voters are uninterested and even turned off by the issue. The suit exposes a gap, they say, between the party's strategy nationally and what Midwest Democrats believe will win elections in their state.
"The DNC is doing a good job of winning New York and California," said David Betras, the Democratic county party chair in Mahoning County, Ohio, home to Youngstown. "I'm not saying it's not important — of course it's important — but do they honestly think that people that were just laid off another shift at the car plant in my home county give a shit about Russia when they don't have a frickin' job?"

Trump and Russia, Betras said, is the "only piece they've been doing since 2016. [Trump] keeps talking about jobs and the economy, and we talk about Russia."
For some people working to elect Democrats in Midwestern swing states, the suit — which threads evidence of a conspiracy between Trump's campaign, WikiLeaks, Russia, and Trump family members — prompted something akin to an eyeroll.
"I'm going to be honest; I don't understand why they're doing it," said one campaign strategist in the Midwest of the DNC's suit. "My sense was it was a move meant to gin up the donor base, not our voters. But it was the biggest news they've made in a while."
Though he doesn't see it hurting his campaign now, the strategist said, "I wouldn't want to see something like this coming out of the DNC in October."
The suit is "politically unhelpful," another strategist in the Midwest said. "I haven't seen a single piece of data that says voters want Democrats to relitigate 2016. ... The only ones who want to do this are Democratic activists who are already voting Democratic."
A DNC spokesperson, Adrienne Watson, argued that the Democrats' focus in the midterms was far from Trump and Russia. Instead, she said, the party was "laser-focused on what matters most to Americans – good-paying jobs, affordable and accessible healthcare, and opportunity for all."
The party, Watson said, had been making "unprecedented investments in state parties, our tech infrastructure and base & rural communities — all things that haven't been done by the DNC in almost a decade. This is our strategy for 2018 and it's working."
Senator Claire McCaskill, fighting a tough reelection battle in Missouri, which Trump won by almost 20 points, called the DNC's Russia suit a "silly distraction" through a spokesperson.

In places like Minnesota, for instance, where Trump lost only narrowly and his approval numbers have stayed flat, the state party says it plans to steer clear of him altogether with two Senate seats and an open governor's race on the ballot. Messaging on Trump doesn't do anything to move the needle, strategists there say.
And the Democratic Party's attacks on Trump, especially when it comes to Russia, could even backfire in states Trump won handily — like Ohio, where the focus on taking the president down has kept some voters on the president's side.
"Somehow we've made him into a blue-collar underdog billionaire," said Betras, of Youngstown. "And people are rooting for him because he's the underdog."
Tom Perez, the DNC chair, defended the lawsuit as necessary and non-political, telling Meet the Press that "it's hard to put a price tag on preserving democracy." It would be "irresponsible," Perez said, not to file the suit.
"I don't think it hurts," said David Pepper, the chair of the Ohio Democratic Party. "If you have credible claims, you have a responsibility to pursue legal action. I think you have a day or two where [the suit] is the story, but that's different from your overall message."
In his state, at least, that message should stay far away from Russia, Pepper said — something he thinks the DNC understands.
"I wouldn't have our candidates spending the fall talking about Russia or the suit or anything like that," Pepper said. "They should be focused on health care, education, student debt. We shouldn't divert the message from those topics to talk about Russia."
As another Midwestern strategist put it: "I would say it's a nice stunt — should raise a lot of money. Doesn't do much to change the calculus in the heartland."
UPDATE
This story has been updated with comment from the Democratic National Committee.