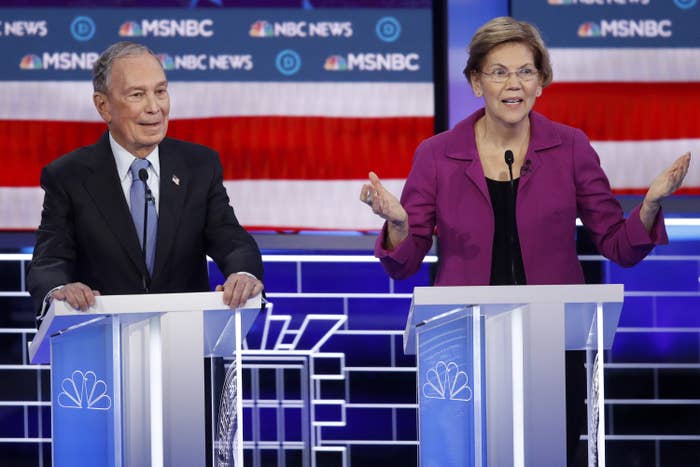 Democrats grilled Michael Bloomberg on the debate stage Wednesday over his refusal to release employees of his company, including women who accused him of sexual harassment, from nondisclosure agreements.
"None of them accuse me of doing anything other than maybe they didn't like a joke I told," Bloomberg said.
When Elizabeth Warren asked Bloomberg point-blank if he would allow women to break the agreements, he refused.
"If they wish now to speak out and tell their side of the story about what it is they alleged, that's now okay with you?" Warren asked. "You're releasing them on television tonight?"
"Senator — no," Bloomberg said.
Later, he added, "They signed those agreements and we'll live with it."
Nondisclosure agreements have come under fire in recent years with the rise of the #MeToo movement. They bound women sexually harassed at places like Fox News, the Weinstein Company, and NBC from speaking up about their treatment — usually in exchange for financial payments. Many companies have ended the use of the agreements for sexual harassment and discrimination settlements.
Bloomberg has long faced allegations of sexist comments in the workplace, and lawsuits have accused him of fostering a hostile work environment for women at his company, including comments like "I'd like to do that piece of meat," according to court filings. He has said previously that he would not release the women from the NDAs they had signed.
Warren and Biden both argued that Bloomberg could release any employees from the agreements, allowing them to speak up if they wanted.
"Look, let's get something straight here. It's easy: all the mayor has to do is say, you are released from the nondisclosure agreement. Period," Biden said.
Bloomberg pivoted the question about his treatment of women employees to a defense of his company's hiring and promoting women, including the fact that his deputy mayor in New York City was a woman.
"I hope you've heard his defense: 'I've been nice to some women,'" Warren said.
Bloomberg rolled his eyes.