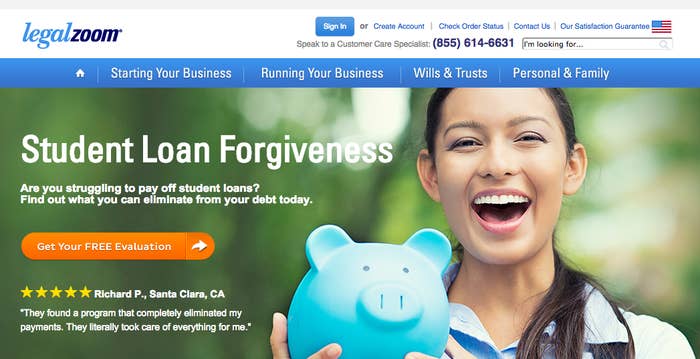 LegalZoom, one of the country's largest online legal services companies, is wading into the shadowy world of student debt relief, a sphere dominated by fly-by-night operations that have frequently been accused of defrauding students.
The company, which says more than two million Americans have used its services for everything from establishing a business to writing wills and filing for bankruptcy, sees an opportunity in the growing pile of student debt that is quickly souring. Many former students are looking for advice on dealing with crippling student loan bills, and finding an online landscape filled with scammers.
"We want to be the good guys in this," said Ed Hartman, the company's co-founder. "Student debt is a huge problem that's holding back so many people. We want to provide a great, transparent product that will help them."

Most players in the student debt relief industry are far cry from LegalZoom, a 14-year old pioneer of online legal advice that was valued at $425 million in early 2015. Other debt relief companies are bit players that often change names and addresses and ask borrowers to send money orders, rather than paying by credit card, so that they cannot be tracked. They reel in borrowers with robo-calls and social media campaigns that promise "debt forgiveness" — a clean-slate dream that is both alluring and unobtainable for almost all those carrying student loans.

Such firms have come under fire for sketchy practices like claiming they are affiliated with the Education Department and refusing to disclose their fees until after students have signed paperwork. They charge exorbitant prices, up to $1600, for services that often amount to simply filling out a few publicly available forms. Just today, New York Governor Andrew Cuomo announced he had shut down a debt relief provider, Interactiv Education, for misleading borrowers.
As the "good guys," LegalZoom are still extracting large fees for work that, at least in theory, does not require professional help. The company charges $699, or 7 payments of $99.85, to consult on borrowers' debt situations, then file paperwork on their behalf with the Education Department to enroll them in one of a variety of federal programs designed to lessen the burden of student loans.
The forms LegalZoom fills out are available online for free, and are intended to be filled out by students themselves. The consultation they provide is supposed to be offered, for free, by student loan servicing companies, who are paid by the Education Department to counsel borrowers on their repayment options.
"The practice of charging so much for this service, in and of itself, is troubling," said Deanne Loonin, an attorney with the National Consumer Law Center, which has carefully tracked the debt relief industry.

Hartman, LegalZoom's co-founder, said his employees are supposed to disclose to customers that they can complete the forms for free themselves, though in a 3-minute phone call with a reporter who asked questions about LegalZoom's services, a representative never independently mentioned that fact.

LegalZoom helps customers navigate a confusing and time-consuming process, Hartman said, doing the legwork for people who don't understand the complexities of student debt, or who don't have the time to invest in understanding it.
"If you're confident in what you want to do, this isn't the service for you," Hartman said. "We're working with people who aren't confident that they can do this themselves. We provide guidance and consultation."
If that kind of guidance is needed, it's not what the Education Department intended when developing college debt relief programs. Ted Mitchell, the United States undersecretary for higher education, told BuzzFeed News there should be "absolutely" no need for borrowers to pay outside fees to deal with the process.
"This is something student loan servicers are fully equipped to help with," he said, adding that the forms borrowers use to enroll in income-based repayment programs, are "designed to be as easy as possible."
Government officials, of course, claim all sorts of federal paperwork and processes are easy to navigate, despite the existence of entire industries built to help people and businesses through the labyrinth. Hartman said LegalZoom is meeting an "overwhelming demand" for such services — even its own employees need help sometimes. "They're not clambering to have us write their wills," Hartman said, "but they do want this. This is what they really need."
And the student loan servicers who are tasked with helping borrowers avoid default, like former Sallie Mae subsidiary Navient, are not always reliable sources. In February, the Education Department terminated contracts with a number of debt collectors — to whom loan servicing is passed once borrowers are go into default — because they had inaccurately informed borrowers, mostly by failing to help people enroll in programs like income-based repayment.
The company is working to avoid the debt industry's shadier practices, Hartman said. LegalZoom has worked to provide "transparency" in the process, disclosing fees upfront, training employees "extensively" and constantly monitoring calls to make sure borrowers are not being misled. It returns consumers' money if they are not enrolled in a program.
A damning report last year by the National Consumer Law Center found that all of the student debt relief companies it surveyed simply enroll customers in income-based repayment — without advising borrowers on the programs that best fit their needs. Hartman said LegalZoom, by contrast, counsels borrowers about which of six federal programs is their best choice.
Still, LegalZoom said that more than 80% of their customers are ultimately enrolled in income-based repayment.