This Company Just Started Offering Free, Customized Tutoring Online
The tech company, which has powered some of the largest education companies, breaks out on its own with a free online learning service, Knewton.com.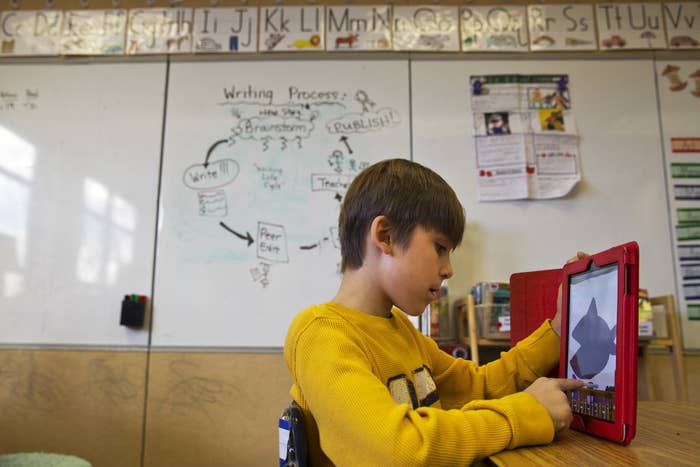 For years, the ed-tech start up Knewton has been content to stay behind the scenes, lending its adaptive-learning technology to big-name education publishers like Pearson and Houghton Mifflin. But Knewton is stepping out of the shadows with a plan to take its technology to the masses.
Today, the company is launching Knewton.com, a free online tutoring platform that creates personalized lessons for learners out of completely "open" content — videos, readings, and test questions that are uploaded onto the platform by users. Though it is starting with kindergarten through high school, the plan, the company said, is to eventually move into college-level subjects and beyond.
Jose Ferreira, the company's CEO, calls Knewton.com a "robot tutor in the sky."
Knewton, founded in 2008, has made its business out of providing technology to many of the world's largest education companies, allowing them to build curriculum that adapts to individual students. Knewton software collects millions of data points about what students know and how they learn, then translates them into customized lessons, questions and quizzes.

The new platform launching today brings the same technology to teachers, parents and students, formulating custom lessons for students by stitching together the best videos and quizzes from a library of user-created content. Working within a topic like "exponential equations" or "cellular respiration," each student will see a different lesson, with different quiz questions and videos, stitched together based on the student's strengths and weaknesses.
In a classroom, Knewton.com might function as a replacement for a worksheet on a topic like the Pythagorean theorem — rather than giving every student the same questions, teachers can have students working at their ability, with some reviewing the basics of the concept and others solving advanced problems.
For the first time, rather than using a textbook company's curriculum, Knewton has put its software to work on "open educational" resources like Youtube videos and teacher-written lessons. The idea is to use Knewton's technology to pick the best of those resources, then serve them up to thousands of students. Knewton's algorithms test the effectiveness of every piece of content that's uploaded to the platform. Materials that work well will be "floated to the top," with the potential to be shown to thousands of students; if it proves ineffective, it will be sifted out in favor of better curriculum.
"There's so much good stuff out there, and only a small percentage of it is on the web," said David Liu, Knewton's chief operating officer. "So much is trapped on teachers' desktops, so we're really trying to open up great content that would normally only be seen by maybe 30 students."

Knewton said there are no plans to charge users for the platform; its moneymaking business, Liu said, is its back-end work with curriculum companies like Pearson. But the company still has a lot to gain from offering the service.

Knewton's business is built on understanding how students learn. As the platform grows, Knewton will learn more about what makes good content, how students move through subjects, and what teachers want out of tutoring resources. That knowledge will be a boon to Knewton's moneymaking business, too, allowing it to provide better technology to the companies it works with.
Knewton will also amass detailed "learner profiles" of students — profiles that can, ideally, follow students into classrooms and outside of them. These, too, will enhance the quality of the company's technology.
It also won't hurt that the service will give Knewton a foothold in many schools where it doesn't currently have a presence, showing teachers and school districts the value of buying curriculum that uses Knewton technology.
Knewton last raised money in 2013, when it brought in $51 million in Series E round. In 2011, when it raised $33 million, it was reportedly valued at well over $150 million.
For now, the content on Knewton.com is focused around K-12. In this early stage, Knewton is making a big bet on elementary school teachers, relying largely on them to upload the content — and to populate the platform with their students.

There's already a huge demand for content and lesson-sharing among teachers, said Liu, though much of it is decentralized. Knewton hopes to create a place not just to upload that content, but a way to judge whether it works, and for what types of students.
"Every other site is putting out what experts think is best," Liu said. "We're doing something very different. We're finding the content that is shown to be the most effective, at that point in time, for that student."
Many ed-tech companies have had huge success by going directly to teachers to distribute their free products — like Remind, an app that allows teachers to communicate with parents and students that neared the top of the Apple app store last year, or ClassDojo, a behavior-tracking app that has become enormously popular among teachers.

But working directly with teachers to spread its product will be new territory for Knewton, which has so far dealt only with large companies like Pearson. That could prove a challenge for the company. Though it has pre-loaded the site with a stock of educational content, Knewton.com will only thrive if it has users to populate the site and students to learn from.