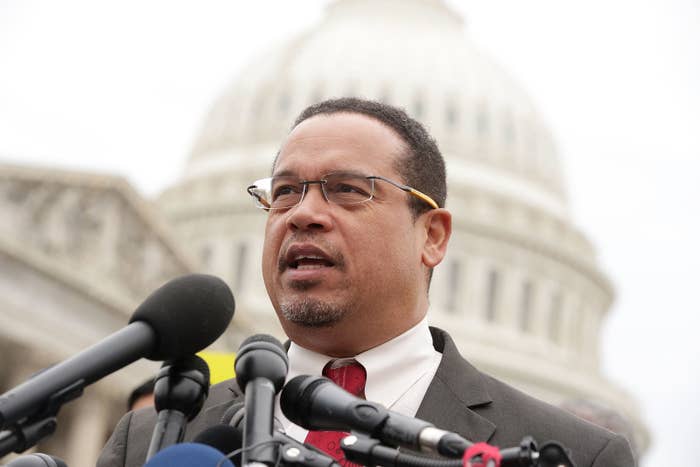 A chaotic situation for Democrats in Minnesota, an epicenter of the 2018 elections, just became a bigger headache with a pair of late entries into statewide races — including DNC vice chair Keith Ellison, who announced he planned to run for state attorney general.
"It's a shitshow," said one Democratic strategist in the state of Ellison's decision Tuesday.
In the governor's race, Tim Walz, who in 2016 managed to win a rural district that Donald Trump also carried, was far ahead in fundraising and had won many straw polls. But last week, the party unexpectedly backed Erin Murphy, a more progressive woman from the Twin Cities, over Walz — setting up a contested primary between Walz and, at the last minute, current Attorney General Lori Swanson, who jumped into the race.
Ellison used Swanson's entry into the governor's race to announce his plans to run for state attorney general, setting up a competitive primary there as well.
Minnesota Democrats were hoping to come out of the state's convention — part of a complicated nominating process that comes before the August primary — with the party's biggest races settled and primaries uncontested. Instead, they got something of a frenzy, with unexpected endorsements and late entries mucking up the race for both governor and state AG — developments that are likely to suck precious money and energy out of the state's half-dozen other important races.
Ken Martin, the state Democratic Party chair, said in a press conference Tuesday that the party was in a strong spot for the general election. Their nominations, he said, came out of "people who were inspired and energized by our candidates. Their very successful endorsement is a sign of great things to come."
Meanwhile, state Republicans — who see Minnesota as one of their few potential bright spots in the 2018 election — trumpeted a party in "disarray." (The Republican Party, too, is in something close to disarray, with frontrunner Tim Pawlenty skipping out on their endorsement and forcing a primary.)
The stakes in the state couldn't be higher for state Democrats, who are defending the only two Democratic-held House seats in the country considered "toss-ups," while also trying to claim two more from a pair of the country's most vulnerable House Republicans. They're also likely facing a formidable Republican opponent for governor in the state's former governor, Pawlenty — all in a once-blue state that appears to increasingly be leaning to the right. Losing the governor's race would mean ceding the state government entirely to Republicans for the first time in half a century.
Then there's the Senate, where both seats are unexpectedly up for reelection after the resignation of former senator Al Franken in January.
Some Democrats are skeptical that Ellison, despite his popularity in the ultra-liberal district he represents, can win a statewide race, said one party strategist. Ellison is further to the left of many in the state, which Hillary Clinton won only narrowly in 2016.
"Watching what's going on in their party right now is like watching an episode of Survivor, with the tribal council where everything goes crazy, and everyone goes home," said Minnesota Republican Party chair Jennifer Carnahan. "Get out the popcorn and peanuts and decide what you're going to eat first."

Henry Gomez contributed additional reporting to this story.