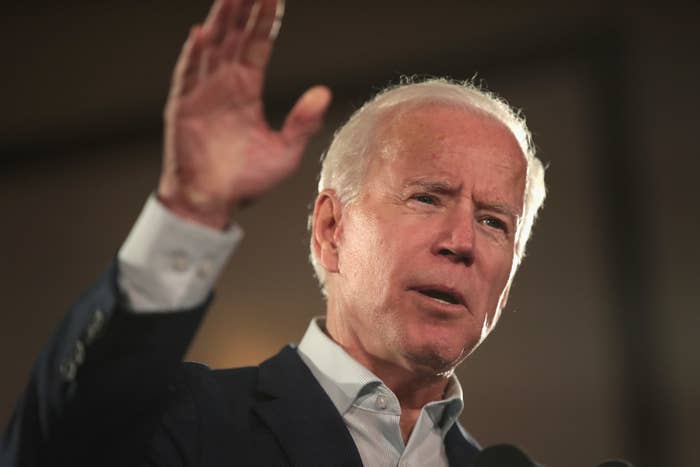 FARGO, North Dakota — Joe Biden is one of the only Democrats in the country who could help a Democratic senator win reelection in North Dakota, a state Donald Trump won in a landslide. This sounds like it would bode well for Biden's potential 2020 presidential campaign, but there's a hang-up: Voters here are worried he's too old.
In Fargo, the crowd of people who came to see Biden campaign alongside Sen. Heidi Heitkamp on Thursday found a lot of ways to say the same thing about the former vice president. Rick, a retired warehouse worker in Center, put it simply: "He's kind of like one of us."
Others put it differently. Joe Biden would rather wear blue jeans than a suit. He showers at night, not in the morning, to wash off the grime of a long day's work. He sits down to supper, not dinner. He's a hometown guy, even though he's from halfway across the country. He says it like it is.
Many of the people here also had the same question: "How old is he?"

The answer — 75 — "Certainly gives me pause," said Sandy Martsching, an emergency room doctor in Fargo. She's a longtime fan of Biden's: "He came up the same way I did," Martsching said. But still. "I'm not sure."
"He's a cool guy, but I do wish he was 20 years younger," said Amber, a city employee in Center. "That might be an issue."
Biden was on a ticket that lost the state of North Dakota by 20 points in the 2012 presidential election, but as Heitkamp fights for reelection against the steepest of odds, he is one of the few Democrats whom the embattled senator has invited to campaign alongside her.
"I told Heidi I'd campaign for her or against her — whichever helped her most," Biden joked to the crowd.
In a packed airplane hangar turned museum on the outskirts of Fargo Thursday, the reason why Heitkamp wanted Biden alongside her was clear: In a state where everyone seems to know their politicians personally, it was about the kind of person Joe Biden is.
"I love him! He's Uncle Joe. He's a straight talker," exclaimed Keitha McLeod, of Horace, a retired nurse.
But as Biden weighs whether or not to run for president in 2020 — a decision he's said he'll make by next January — one of his biggest potential challenges was also obvious: Even many of his biggest fans say without prompting that his age, for them, is a problem.
Asked if she would want Biden to run for president, McLeod was adamant: "No. He's too old."
"We need younger people," McLeod said. "We need young blood. I like Amy [Klobuchar] or Kamala [Harris]. They could do a spectacular job. I like Bernie, too, but he's got the same problem as Joe — he's too old."
If Biden is going to run against Trump, there is perhaps no better indication of his energy than his breakneck travel schedule, which included a stop in Iowa this week. He has crisscrossed the country at a punishing pace, appearing alongside many of the country's most endangered Democratic senators and in its reddest House districts, from rural Kentucky to rural Illinois.
After he was introduced by Heitkamp Thursday, Biden immediately took off his jacket, rolled up his sleeves, and gave a speech lasting more than 40 minutes and with at least a dozen uses of the word "folks."
Emphasizing optimism and American exceptionalism in the face of the "forces of hate," Biden echoed a message that has been common among several Democratic presidential hopefuls, including Sen. Kamala Harris: "We are so much better than this."
But more than other Democrats mulling a run for president on the campaign trail, Biden also struck a voice of moderation, quoting the conservative columnist David Brooks on the moral fabric of society. "Folks, this is not your father's Republican Party," he said, praising North Dakota's former Republican senators. "Can you imagine them engaging in this type of race-baiting?"
Biden said he believed that voters, more than in past elections, were "desperately looking to vote for women and men of character." They still care about issues, he said, but they're looking for politicians with integrity.
"There's no better example of character than your senator," Biden told the crowd.
It was an argument for Heitkamp, whose opponent, Rep. Kevin Cramer — who holds a commanding lead in the polls — once cut an ad that began, "Everyone likes Heidi." But many in the audience made clear that it was also an argument for Biden himself, whose personal history — a wife and daughter lost in a car accident, a son to brain cancer — was known to many in the room.
Biden left Kendall Kehres, an aesthetician from Fargo, in tears after his speech. "He gives me hope," she said. "Just the fact that he's gone through so much adversity and he's still optimistic. He's for the people."
"I've always loved him. He knows us," said Michaella, a retired teacher in Fargo. On his presidential run, she said: "It just depends on whether he's strong enough."
After Biden's speech, he and Heitkamp spent another 20 minutes with supporters, shaking hands and taking pictures. Biden worked his way slowly down the line, his voice, as it had been throughout his speech, soft and raspy: He had laryngitis. He turned away occasionally to cough. Finally, he pulled away from the crowd. In just a few hours, he would be at another rally in Michigan.