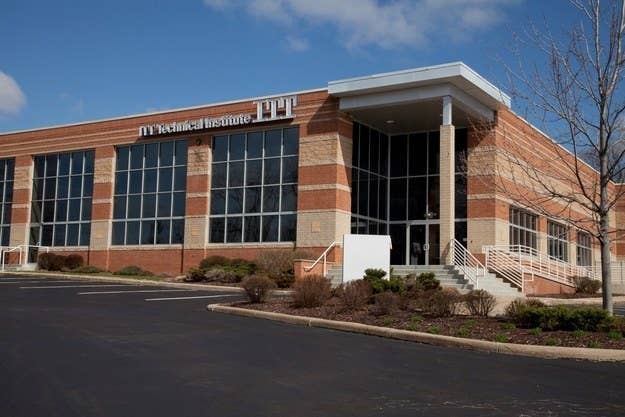 ITT Technical Institute will abruptly close all of its campuses, the for-profit college chain announced today, displacing some 35,000 students in the largest college shutdown in US history. The massive closure could lead to $500 million in discharged loans for ITT students, the government said, though some of that cost would defrayed by the company itself.
After a slew of federal and state lawsuits against the company, it was the Education Department that dealt ITT Tech a fatal blow last month, barring it from enrolling new students and imposing stringent new financial requirements that analysts said would be virtually impossible to meet.
ITT blamed the Education Department for "a complete disregard...for due process," saying in a statement that the government's actions would leave its students, and 8,000 employees, in the cold.
The Education Department said that the decision to bar ITT from enrolling new students was the result of mounting evidence against the company, including lawsuits by the Consumer Financial Protection Bureau and the Massachusetts attorney general. The SEC has also indicted the company's current CEO and another executive for fraud. Most recently, the college's accreditor had said the schools were "no longer in compliance" with its requirements and had not been making significant progress.
The sudden shutdown of ITT is unprecedented in size and scope. Two years ago, the Education Department caused the closure of the massive for-profit Corinthian Colleges. But in the case of Corinthian, most of the school's campuses were sold off to a nonprofit, allowing most students to finish out their educations. It was only in California, which refused to permit a sale, that 16,000 students were forced to abruptly end their educations.

There will be no sale for ITT, which said it had "exhausted the exploration of alternatives, including transfer of the schools to a non-profit or public institution." Instead, the college's students — 43,000 at last count, scattered all over the country — will have to either find a school that will accept their transfer or finish without a degree.
If they do not transfer their credits, current ITT students will have their loans cancelled, a right that the Education Department offers to students at shuttering colleges.
ITT's stock has plummeted to just 30 cents a share, a massive plunge for a company that was worth $45 a share as late as January of 2014. The company is now worth less than $10 million.