In Schools, Google's Laptops Will Soon Outnumber All Other Devices Combined
The company's Chromebooks have already overtaken iPads as the most popular classroom device. But that gap now appears to have widened.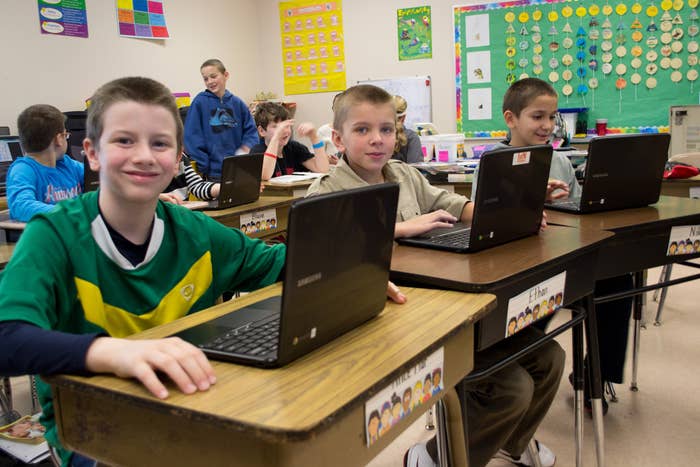 There will be more Google Chromebooks in American classrooms by the end of the year than all other devices combined, Google said today at a company event in San Francisco.
The figure is a striking indication of how quickly, and thoroughly, Google has come to dominate the massive education technology market. In 2012, Chromebooks made up just 1% of devices in American schools; iPads had a more than 50% market share. But by 2014, according to market research firm IDC, Chromebooks were outselling iPads in education.
About 30,000 Chromebooks have been activated every day since the beginning of the school year this September, mostly in schools, Google CEO Sundar Pichai said at the event. In schools, "by the end of this year, there will be more Chromebooks than every other device combined," Pichai said.
Chromebooks were able to overtake iPads in education because they're far cheaper — sometimes under $200 — have keyboards, and don't require additional software because they only run Google's Chrome browser.
When it began to make a push to sell its devices in schools, Google already had a strong foothold in many classrooms thanks to free apps like Google Drive and Docs. It also rolled out Google Classroom, a learning management tool that lets teachers collect assignments and give feedback using the company's cloud-based storage and word processing tools.
Google is also making a push to get its low-cost virtual reality viewing device, Google Cardboard, into classrooms. The cardboard viewers will allow students to go on simulated field trips and will be provided free to schools.