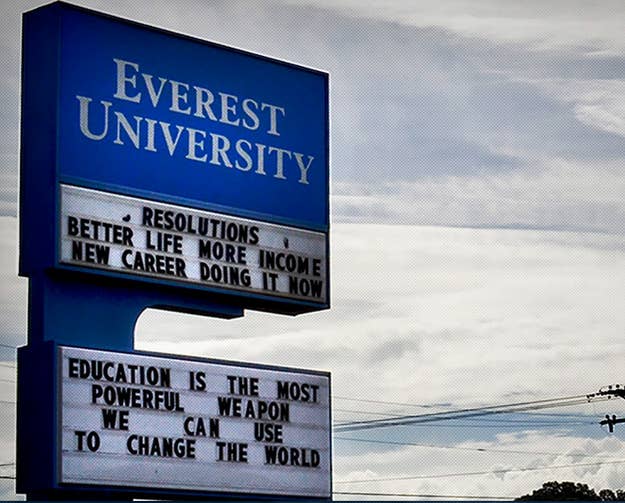 Activists have turned to state governors in a battle over the fate of students at Corinthian Colleges, the massive for-profit college chain that is in the process of being shuttered by the federal government.
In letters written to six state governors, released today and provided exclusively to BuzzFeed News, the Center for American Progress' Higher Ed Not Debt Campaign encouraged states to take matters into their own hands regarding the controversial sale of 56 Corinthian campuses to ECMC Group, a nonprofit student loan guarantor that many say is unfit to handle the struggling schools.
The Education Department has endorsed the sale, leading many to criticize the federal government for not doing enough to provide recourse to students. "We haven't gotten what we needed from the federal government," said Maggie Thompson, Higher Ed Not Debt's campaign manager. "So we're going directly to the states."
The letters ask the governors to refuse to release buyers of Corinthian campuses from legal liability in lawsuits and investigations against the company, an agreement that many regard as necessary to sell off the schools. The Education Department agreed to release ECMC Group from liability, but Kamala Harris, the California Attorney General, refused, which will likely lead to the closure of Corinthian schools in California next year.
Thompson praised Harris' actions, saying that allowing Corinthian's schools to close, rather than being bought up by ECMC, will likely leave students better off, because the federal government is obligated to forgive the loans of current students at shuttered schools.
"It'll allow students to have some element of choice," Thompson said. "They can start over with a clean slate."
California is the only state with campuses up for sale that is currently suing Corinthian, but thirteen states have open investigations against the company, which could eventually result in lawsuits and fiscal penalties.
Higher Ed Not Debt is also asking state governors to consider taking out "surety bonds" against Corinthian's closure, bonds which would ensure refunds for indebted Corinthian students in the case of the school's closure; cash-strapped Corinthian is unlikely to be able to offer significant financial relief. Oregon took out a surety bond to ensure refunds for its 900 students.
Activists are also appealing directly to Corinthian buyer ECMC Group today. Higher Ed Not Debt, along with other activist groups, plan to hold a protest in front of ECMC's headquarters in Minnesota. The campaign also released a letter to Dave Hawn, ECMC's CEO, asking him to consider offering a refund to students and to stop pursuing a bankruptcy exemption for Corinthian, and a petition of signatures of current and former students.
ECMC's CEO released a statement saying, "As we have said from the beginning of this process, ECMC's motivation for acquiring these campuses is to try to make a real difference in the lives of thousands of students who are striving for a better future... As for our record, ECMC is proud of our work over the past 20 years helping students succeed."
ECMC, which has previously come under fire for "ruthless tactics" pursuing student loan debtors who try to discharge their federal loans in bankruptcy, is asking the Education Department to exempt Corinthian from bankruptcy penalties that would prevent schools under Chapter 11 from receiving federal financial aid.
This story has been updated to include a statement from Dave Hawn, CEO of ECMC Group.