How Wall Street Tactics Are Showing Up In The Classroom
From performance-based pay to emerging markets, the classroom is looking more and more like the boardroom.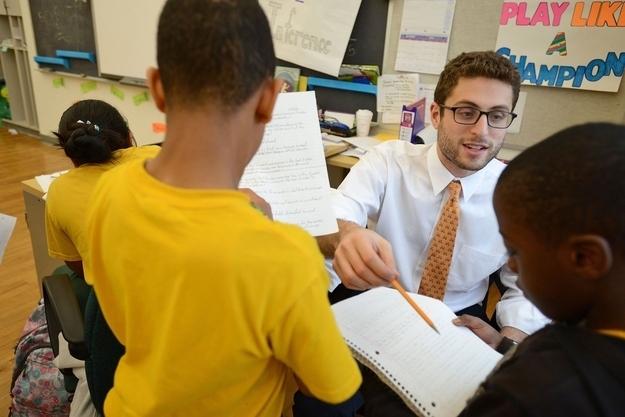 From expanding into emerging markets to chasing after the same fresh-faced young graduates, Wall Street tactics are increasingly finding their way into the world of education.
More and more CEOs are having to adjust to the idea of performance-based pay as their boards push to tie bonuses to company stock. That same trend has been playing out in the classroom: Merit pay for teachers, which links teachers' salaries to their performance, is a big talking point among some education reformers. It's become a popular initiative especially as new, more complex ways of looking at data make more accurate evaluations possible.
Politicians, especially, have embraced the performance-based pay push for teachers. New York Gov. Andrew Cuomo borrowed from Wall Street's book when he proposed offering (relatively) big bonuses to teachers who get the top rating on their annual evaluations, and in New Jersey, the bipartisan team of Gov. Chris Christie and Sen. Cory Booker won praise from some reformers for implementing merit pay for teachers in Newark.
But the proposition has so far been a tougher sell in the classroom than the boardroom, and so far, it has only been implemented in a small number of districts. Teachers' unions and others argue that test scores don't accurately gauge student learning, and that merit pay is ineffective in actually creating better teachers.
Tactics borrowed from Wall Street have been more effective when it comes to recruiting teachers. Banks have long been known for luring young, fresh-faced college grads to work grueling hours as junior analysts. Lately, spurred by a push from reformers for better teachers who are willing to work longer hours, organizations like Teach for America have been getting into the recruiting game, targeting high-achieving students from top universities to work in rural and inner-city classrooms. Last November, the Department of Education unveiled a series of PSAs encouraging young people to become teachers. Unlike Wall Street's main draw, though, the Department of Ed's slogan, "Make more. Teach," did not refer to making more money.
Wall Street and the education world are even going after the same students: The New York Times reported that in 2012, almost 200 new TFA teachers were refugees from high-paying jobs and internships in the financial industry.
The education reform sphere isn't the only place that has brought in some of Wall Street's tactics. In higher education, just like at investment firms, universities have been paying more and more attention to emerging markets. State schools see big potential in wealthy foreign students, who pay higher tuition than those in state and are a big boon in an era of shrinking budgets. Prestigious universities like Yale and NYU have caught on to the demand by opening campuses in Asia, and massive open online course (MOOC) providers like Coursera, recognizing a demand for American degrees, have been stepping up international partnerships.
Wall Street has never exactly been friendly to regulation, and recently, universities, too, have been bristling at efforts by the Obama administration to increase federal oversight. Obama's proposal for a federal rating system for colleges was met with skepticism by higher ed insiders worried that the ratings could cast unfair burdens on community colleges and state university systems. A poll by Gallup and Inside Higher Ed found that most university presidents thought the system would be ineffective.
Of course, the Obama administration is largely responding to what might be the biggest Wall Street trend that's found its way into education: a concern over consumer debt levels, which helped push the country into a financial crisis in 2008. The world of higher education is in a crisis of its own when it comes to student loans: Delinquencies on student loans were at record-breaking highs in 2013, and total student loan debt, according to the New York Federal Reserve, is above $1 trillion.