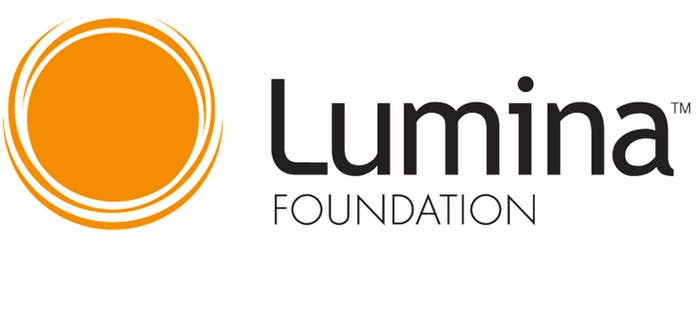 A private foundation with roots in the student loan industry is quietly emerging as a dominant force in higher education policy.
The Lumina Foundation, a 14-year-old organization based in Indiana with a low profile outside higher education circles, says it is the country's largest private foundation focused solely on improving higher education. In 2012, the last year for which records are available, the foundation had over $1.1 billion in assets, ranking it among the nation's top 40 private foundations.
While other foundations that work in the arena have much higher name recognition and deeper pockets — the Gates Foundation, for example, has over $37 billion in assets — Lumina has a unique focus on a single goal: to see 60% of Americans hold a college degree, certificate, or other "high-quality" postsecondary credential by 2025.
That focus puts Lumina ahead of larger foundations in terms of setting the higher education agenda, said Victor Kuo, a philanthropic evaluation expert at the National Committee for Responsive Philanthropy, which released a report this month examining the Lumina Foundation's work.
Lumina "has the clearest agenda of any organization I've seen in a long time," said Scott L. Thomas, dean of the School of Educational Studies at Claremont Graduate University, who has tracked mega-foundations' advocacy efforts. "And they're not going to fund research that's not going to inform that agenda."
Lumina was primarily a grant-making organization that funded research with a broad but nonspecific goal of increasing college access. In 2009, Lumina officially shifted its focus from philanthropy to policy when it adopted its degree-attainment goal, which it calls "Goal 2025." Lumina's board of directors selected Jamie P. Merisotis to run the foundation in 2008 in part because its members hoped his background in public policy would take Lumina beyond grant-making. "We see public policy as important to move the needle," then-Chairman John Mutz told the website Philanthropy Roundtable.
Now, Lumina makes significant grants to think tanks — in 2012, it made 70 grants totaling more than $30 million, with a median amount of $435,761. Two of its largest grants in 2012 were $1.6 million to Excelencia in Education, which supports completion goals for Latino students, and $1.5 million to the Education Trust, which is focused on closing the achievement gap.
Lumina has also worked with lobbying organizations, including the conservative and controversial American Legislative Exchange Council, with whom Lumina partnered to draft legislation in statehouses, and nonprofits like Complete College America, which helps states set college-competition goals.
Lumina is well-regarded among higher education experts; the National Committee for Responsive Philanthropy report noted that "the foundation's clarity around achieving an ambitious goal and its commitment to addressing systemic inequities are highly praised."
"Lumina has done an outstanding job in terms of getting college completion rates onto the national policy agenda," said Kuo, who wrote in his report that Lumina had "extremely savvy policy advocacy strategies."
But others are skeptical of its roots in the private student loan industry. Lumina was born in 2000 when USA Group, then the country's largest private guarantor of student loans, sold its assets to student-loan behemoth Sallie Mae. With the proceeds — $400 million in cash and $370 million in Sallie Mae stock — USA Group launched Lumina. Lumina's founder, Ed McCabe, also founded Sallie Mae. James Lintzenich, the current chair of Lumina's board of directors, is Sallie Mae's former president and chief operating officer; he was also CEO and vice chairman of USA Group.
Two professors at Seton Hall University, Frank Pasquale and Michael Simkovic, have been tracking studies released by Lumina-funded think tanks that criticize federal student lending, which is Sallie Mae's direct competitor.
For example, Lumina has given the New America Foundation, a nonpartisan think tank that focuses on issues ranging from national security to technology, nearly $3 million since 2008, with many grants specifically concerning policy change. The Lumina Foundation is one of the New America Foundation's four largest funders.
The director of the New America Foundation's Federal Education Budget Project, Jason Delisle, has testified in Congress in support of curtailing some federal lending programs. The New America Foundation has released three studies since 2012 criticizing those programs. Sallie Mae acknowledges that the programs pose "significant competition" to its private credit loan products in its annual filing from 2013.
"It's hard to make sense of a lot of what Lumina is advocating on student loans unless you think of how it would benefit Sallie Mae," says Michael Simkovic, an associate professor at Seton Hall.
Both foundations heatedly deny any link between the lending industry and the policy.
There is "no connection at all" between Sallie Mae and The New America Foundation, said Kevin Carey, director of the Education Policy Program at the New America Foundation, who said two of the three studies that criticized federal student loans were funded exclusively by the Gates Foundation. The Gates Foundation confirmed that it had funded the studies.
Lumina has a "proven track record" of "being a credible resource on higher education issues by supporting and providing nonpartisan research and analysis," said spokesperson Lucia Anderson Weathers, who said the foundation has no official stance on student loan policy.
And the foundation has long been independent of Sallie Mae: Lumina sold its 7.2 million shares of Sallie Mae stock in 2001.
Email the authors of this article at katie.baker@buzzfeed.com or molly.hensley-clancy@buzzfeed.com.