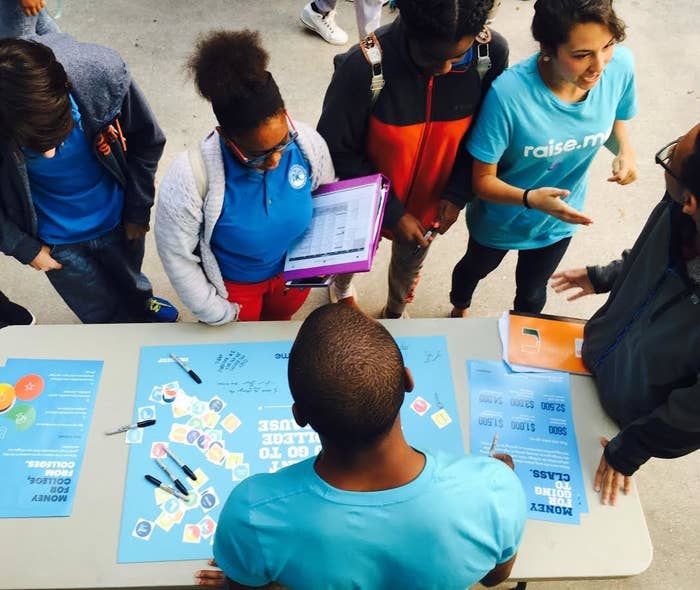 On the website Raise.me, high school students can rack up scholarship money for a laundry list of activities found on almost every college application: good grades, community service, advanced placement classes.
Starting this week, they will also be able to earn hundreds of dollars for taking a job making sandwiches at at Subway or babysitting a younger brother after school. A job running the cash register at a family corner store could be worth as much as $2,000 — similar to the amount that a student would earn for a year's worth of straight A's.
Raise.me says it now has almost 400,000 students signed up to use its services, and has made deals with 200 colleges ranging from Arizona State University to Michigan State to Tulane. It generates revenue by charging colleges to use its platform.

With its new "family assistance scholarships," Raise.me is hoping to enable a growing movement among selective colleges to recognize contributions by low-income students — those who are often shut out of the traditional college admissions horserace because of family obligations and limited opportunities. In addition to focusing on typical extracurricular activities like debate club and service trips, the schools say, they want to reward students who work jobs for pocket money and help their families out at home.
A group of selective colleges joined forces earlier this year to release a report, "Turning the Tide," that recommended reshaping the admissions process to emphasize "ethical engagement" over personal achievement — rewarding students for helping their families and communities. The idea, in large part, was to recognize the achievements of low-income students and students of color.

Raise.me is hoping to help facilitate that shift. The San Francisco startup allows colleges to offer small, incremental grants — it calls them "microscholarships" — to students for accomplishments like getting A's or leading school clubs. Students can begin to accrue money as high school freshmen, giving them thousands and even tens of thousands of dollars — conditional on their acceptance — before they even apply to a college.
Until now, though, the scholarships had been limited to rewarding students for traditional extracurriculars — those that the "Turning the Tide" report said too often amounted to an attempt to check off boxes, rewarding quantity over quality.
Raise.me scholarships are meant in part to serve as a guidepost, allowing students to see what things colleges value. Schools pick what they want to offer money for: a liberal arts school might encourage a student to take an extra year of a foreign language by offering a $300 scholarship; an engineering school, to pick AP calculus instead of a less rigorous class.
"It can be really intimidating to figure out what you need to do to become better prepared for college," said Preston Silverman, Raise.me's co-founder and CEO, particularly for students who don't have access to counseling.

Penn State University offers Raise.me to a small group of Pennsylvania public schools — a mix of urban and rural — that have large number of low-income and first-generation students. Jacqueline Edmondson, the school's associate vice president, said they were eager to add the "family assistance" scholarships, hoping both to reward students for non-traditional extracurriculars and to signal to them that Penn State prioritizes their contributions.

"We have students coming from low-income families who might have won money for participating in community service, for example, but they can't afford that time," Edmonson said. "They weren't just working for themselves, they're working for their families."
The first class of Raise.me students at Penn State just finished their freshman year, Edmonson said, with higher average GPAs than students from their high schools who came without the scholarship money.