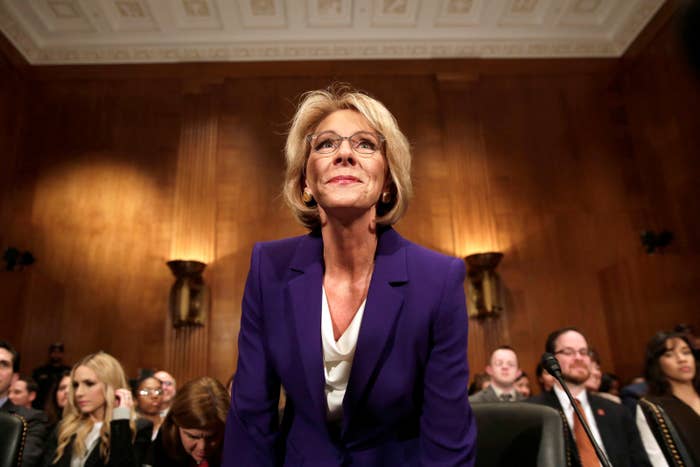 WASHINGTON — Betsy DeVos's nomination for education secretary has become a firestorm that former education officials and observers say has no precedent in the world of education.

Every past education secretary has been confirmed with bipartisan support, a blip on the radar in the midst of fights over far more contentious nominees. But DeVos has improbably become one of the Democrats' biggest targets in the Trump administration. More than any other Trump nominee so far, her confirmation has been thrust into peril, with two Republicans declaring Wednesday that they will not vote for her.
It could spell the first time in history, congressional aides say, that a vice president is forced to step in and break a tie on any cabinet position.
The phone calls decrying DeVos's nomination have flooded into Senate offices in such volume that Republican Sen. Tim Scott said he has taken to answering some of them himself, hoping to explain "the truth" to his angry constituents. Sen. Richard Burr, another Republican, said that even his wife and son have received calls on their cell phones.
And DeVos has even become a running joke on nightly shows and on Twitter, where a confirmation hearing that was expected to be relatively low-key turned her into an Internet meme.
"I don't remember anything like this," said Tom Corwin, who worked in the Education Department for 25 years. "There have been 10 previous education secretaries, and they've all had bipartisan support. I don't ever remember this kind of opposition springing up across the country."
There may not have ever been an education secretary nomination quite like Betsy DeVos's, but both Republicans and Democrats agree there has also never been a nominee quite like DeVos.
"Betsy DeVos doesn't have a typical Washington résumé," said Nina Rees, a former Bush administration official and DeVos supporter who now helms the National Association of Public Charter Schools. "She's spent her career in the field, helping give families better choices, and not [on] Capitol Hill. New ideas and new approaches are often met with mistrust."
While the right has touted it as a positive, positioning her outside what they call a broken education establishment, Democrats and the Republicans opposing her have tried to turn DeVos's lack of experience into a black mark on her résumé. No other education secretary, they say, has combined a lack of experience in public education — such as working as a superintendent or principal — with a lack of experience as a public official, like a governor.
DeVos checks off boxes that individually may not have stirred much controversy, but taken together, they're a recipe for a perfect storm, said David Bergeron, a 35-year Education Department employee and former Obama administration official who now works for the Center for American Progress, a left-leaning think tank.
"Her nomination is unprecedented in terms of her lack of experience," Bergeron said. "It would be one thing if she had a lack of experience and was noncontroversial — there have been political appointees that were inexperienced before, who were big contributors to the campaign. But generally in those instances, they're not controversial figures. And then the hearing didn't help."
DeVos is controversial in part because she is a billionaire Republican megadonor in an election in which "drain the swamp" was a rallying cry; Sen. Bernie Sanders asked her pointedly in her confirmation hearing if she thought she would be nominated if she wasn't a billionaire, prompting glee from Democrats.
But it is DeVos's decades of fierce advocacy for school choice — and school choice alone — that many on the right blame for the unprecedented nature of the opposition. It has inflamed teachers' unions and Democrats, who accused DeVos of wanting to "privatize" public education: She has pushed not just for the expansion of charter schools, including for-profit charters, but also for a voucher system that allows students to attend private and religious schools with taxpayer money.
Though Ben Carson, Trump's housing secretary nominee, also has little experience in the department he is set to lead, "there's no teacher's union in the housing world," said Michael Petrilli, a former Bush administration official who is now the president of the right-leaning education think tank the Fordham Institute.
The opposition to DeVos, Petrilli said, "is mostly about Democratic Party politics, and that's union politics," Petrilli said. "It's a reminder that unions are enormously influential and powerful in the Democratic Party."
Unions, often seen as the mortal enemies of charter schools, do appear to be bankrolling some of the fight against DeVos, urging their members to overwhelm congressional phone lines because of what they say is DeVos's opposition to traditional public schools.

Some of the opposition to DeVos's sole focus on school choice and vouchers, however, has also come from the right — including from one Republican senator to whom DeVos and her family have given more than $40,000. Lisa Murkowski and another Republican, Susan Collins, both said Wednesday that they could not vote for DeVos, putting her nomination in serious doubt.
Both senators come from rural areas where charter schools are not typically an option and enrollment is already so low that losing a few students to a voucher program can dramatically impact a public school.
"I think that Mrs. DeVos has much to learn about our nation's public schools, how they work, and the challenges they face," Murkowski said on the Senate floor Wednesday. "And I have serious concerns about a nominee to be secretary of education who has been so involved on one side of the equation, so immersed in the push for vouchers, that she may be unaware of what actually is successful within the public schools and also what is broken and how to fix them."
Though she has won over some Democrats who favor school choice, like Eva Moskowitz, DeVos is also facing opposition from some of the country's foremost advocates for charter schools. Democrats for Education Reform, a strongly pro-charter group, also said they would not support DeVos despite her position on school choice. And late Wednesday, the billionaire Eli Broad, perhaps the country's largest pro-charter philanthropist, announced that he, too, opposed her nomination.
It was DeVos's confirmation hearing that appeared to catapult her from a relatively fringe Trump nominee — overshadowed by more well-known picks such as Sen. Jeff Sessions and Carson — into one of the Democrats' biggest targets in the proposed cabinet.
In the hearing, DeVos made several fumbles that immediately brought her into national news. There was the moment where she said she was "confused" over the Individuals with Disabilities Education Act, and an instance when she seemed not to know the difference between two ways to judge student performance — growth and proficiency — a common debate in education circles.
"The hearing made it clear there were issues around her qualification for the job that weren't on the record," Bergeron said.
Then there was the most viral moment of the night: a clip that showed her telling Sen. Chris Murphy, a Connecticut Democrat who later noted he represented Sandy Hook, that she would not support a ban on guns in schools because rural schools might need them "to protect from potential grizzlies." The moment was played repeatedly on CNN, and even landed her on late-night talk shows; Jimmy Kimmel joked that Trump should have come into the room after the grizzly line and said, "You're fired."
Since she'd spent so little time in the public eye, little was known at the time of the hearing about DeVos's positions on issues besides school choice. When she aired those thoughts in the hearing, she alienated some centrist groups by taking positions on federal oversight that broke from the norm. She said she wanted to let states decide how they reported their students' test scores to the government, for example, rather than mandating that they break out scores by race and gender, as the law currently requires. She also remained vague when asked repeatedly if she wanted to hold charter and private schools to the same accountability standards as public schools.
The hearing led the Education Trust, a group that has previously remained neutral on federal education appointees, to come out in opposition to DeVos. "We make all our decisions based on what we believe will be in the interest of low-income student and students of color," said Daria Hall, the group's vice president of government affairs. "And following the hearing, we could not get to 'yes'" on DeVos.
It appears that the public furor stirred up in the wake of the hearing — which Democratic Sen. Al Franken called "the most embarrassing I've ever attended" — may have ultimately tilted Murkowski and Collins against DeVos.

During the hearing itself, Collins and Murkowski both sounded at least neutral on DeVos's nomination, though Murkowski pressured her about her stance on school choice. Collins defended DeVos against Sanders' attack on her family's donations.
But more than a week later, saying she would not vote for DeVos, Murkowski cited the "thousands of Alaskans" who had come to her offices, emailed and overwhelmed her phones in opposition to DeVos.
Regardless, it still appears that DeVos will be confirmed. Given the current outlook, it's likely that the vote will end in a 50–50 tie, broken by Vice President Mike Pence, a major DeVos backer.
Education Department officials also say that the maelstrom of her confirmation isn't likely to affect her job at the department.
"I don't think in the end it's going to matter a whole lot," said Petrilli, of the Fordham Institute. "The people she's going to want to work with are primarily the Republican members of Congress."
Still, DeVos will face an uphill battle against public perception, particularly on the left. On Twitter, her perceived lack of qualification or understanding has become a meme. One popular tweet during the television show The Bachelor: "Corrine is about as qualified to run a multi-million dollar company as Betsy DeVos is qualified to be Secretary of Education."
At the committee vote on DeVos's nomination, after Republicans had presented opposition to DeVos as mostly the work of teachers' unions, Franken said that a broad swath of the public was opposed to her. He told a story of one night when he had eaten at a restaurant and gone into the kitchen to greet the staff. One of the manual laborers there told him immediately to vote against DeVos. Franken said, "He wasn't a teacher."