In the shadowy world of the student loan debt industry, even the companies that call themselves the good guys sometimes deal in the darkness.
The Student Loan Assistance Center has positioned itself as a model actor in the country's troubled tangle of student debt settlement companies. But for years, it misled and overcharged desperate student loan borrowers, mishandled accounts, and sometimes lied on federal documents, according to four of the company's former employees.
The employees, along with documents and legal filings from a consumer protection lawsuit, paint a picture of a business with a cutthroat, Wild West sales environment that fostered the mistreatment of some of the company's more than 30,000 customers — while spinning a broken student loan system into pure profit for its owners.
At the same time it was engaged in many of those practices, the company, known as SLAC Inc., and its CEO, Adam Owens, were busy making a case to Congress and Washington that it was the face of a legitimate and unfairly persecuted industry.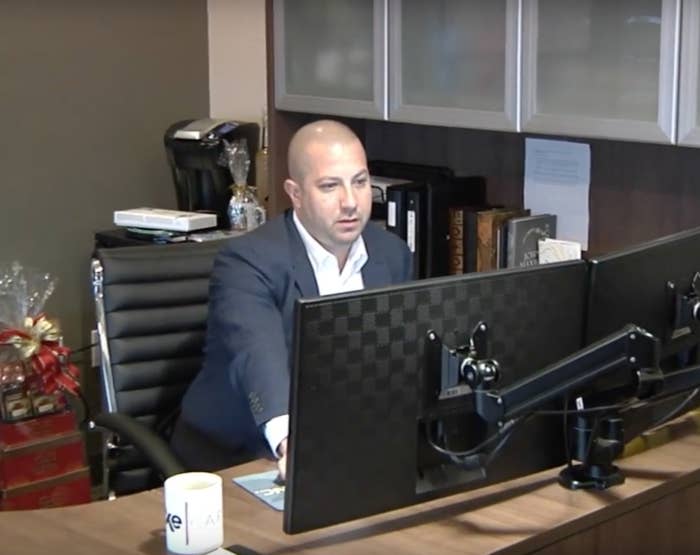 The world of debt settlement firms — the companies behind the onslaught of calls promising loan forgiveness that beleaguer many consumers — encompasses hundreds of small- and medium-size companies across the country, as well as hundreds of thousands of consumers and millions of dollars of federal loan money. Most companies have made a business out of charging consumers to fill out consolidation and enrollment forms that are available, for free, on government websites.
Reviled by people on by both sides of the political aisle, the industry has been beleaguered by years of regulatory crackdowns and even government ad campaigns to steer consumers away from their businesses.
But Owens sought to bring SLAC, and other debt relief companies along with it, into the bright light of day. He thought he could convince Washington that the industry had been unfairly tarred by a few bad actors — winning them favorable treatment from regulators. Most debt relief companies, he argued, were like SLAC: doing good and legal work on behalf of students who were otherwise being abandoned by the system.
Owens told BuzzFeed News that SLAC is a necessary piece in a broken government student loan system.
Owens wanted to "educate Congress" and "open up a dialogue with regulators," he told BuzzFeed News. He was hoping, he said, to "promote the message that there are good companies out there who provide a useful service and value to the American people."
Owens and SLAC hired the Penn Hill Group, an education lobbyist whose clients included the College Board and many of the country's largest college accreditors, and met with members of Congress. He enlisted one of Mike Pence's closest allies, Marty Obst, to stand next to him onstage at an annual industry conference, where Obst and Owens argued together that the companies should form a PAC that would fight regulatory overreach. Owens even took SLAC's case, he claimed, to White House staff and Washington regulatory agencies. He went to the Education Department, where he spoke with staff who helped run the massive federal student aid program.
SLAC is a necessary piece in a broken government student loan system, Owens told BuzzFeed News, filling a yawning gap that government loan servicers, because of time and financial constraints, cannot. Only a small fraction of the nation's borrowers are enrolled in the government's income-based repayment plans, Owens pointed out. Many of SLAC's customers have never heard of programs that were designed to help them until they come across one of the company's ads.
For financially unsophisticated borrowers, some government forms are confusing and can be time-consuming. Servicers are supposed to help, but usually don't: The government pays hundreds of millions to companies like Navient and FedLoan, which have been accused by government watchdogs and state attorneys general of mishandling loans in the pursuit of profit.
The debt settlement industry is often criticized for charging people for things they could otherwise do for free. But that's not always the way it works, Owens pointed out. "The numbers show it's undisputed that customers are not actually getting these services for free." SLAC performs a vital service, Owens said: "No one, other than companies like ours, is advertising these programs. Almost no one but the people in our industry is helping consumers accurately complete their applications. No one but us is following up with the loan servicers."
But behind the scenes of its attempt to woo regulators, according to former employees and a consumer protection lawsuit, SLAC was engaged in shady business practices that hurt scores of the country's most desperate student loan borrowers.
SLAC's customers, the former employees said, were often people who lived on the margins: financially unsophisticated, drowning in student debt, many unemployed or disabled. The borrowers came to SLAC because of emails, letters, and texts the company and its third-party advertisers blasted out, promising loan forgiveness or lower payments through special, supposedly limited programs that were sometimes advertised as "Obama loan forgiveness." In online reviews, people complained that they'd been steered to SLAC by letters claiming to be "final notices" on their loans and online ads saying they had only days to act before programs expired.
The phone calls from SLAC and its salespeople could be incessant: The company has been sued at least three times by people who allege SLAC called and texted them repeatedly, violating consumer protection laws.
Jennie, a former SLAC customer, was in "a very hard place" when she picked up the phone to call SLAC in 2015: struggling to get by on a series of temporary jobs, often unsure of how she would pay for rent or what she would eat at night. She'd seen an online ad, she said, that told her she might be eligible for loan forgiveness and $0 monthly payments. She was skeptical, but the ad told her she had to "hurry" and enroll before a federal deadline passed, so she managed to come up with the 600-some dollars that the company told her the program would cost. She expected to have her loans consolidated, and eventually forgiven, she said, within a matter of months.
Salespeople could essentially charge as much as they judged someone would pay.
The prices were steep, but the service SLAC offered was in fact quite basic. SLAC, like most debt settlement companies, would fill out forms to consolidate borrowers' student loans, then typically enroll them in a plan, called income-based repayment, where monthly payments were based on what they earned. The forms were already available, for free, on the Education Department's website, and through student loan servicers, who are paid to help students with the paperwork. The "loan forgiveness" advertised was available to anyone who'd made monthly payments on the income-based plan — but only after 20 or even 25 years, a detail SLAC salespeople often omitted, two employees told BuzzFeed News.
SLAC's salespeople, who were paid a 20–30% commission, had a minimum fee they were supposed to charge borrowers for the company's debt settlement services — but exactly how much they charged was up to them, according to all four of the company's former employees. Salespeople could, essentially, charge as much as they judged someone would pay, up to a limit of 1% of the person's loan balance, and the more money they charged, the more money they took home. Customers had no idea. They were told the money was a set "enrollment fee," said one former salesperson, Doug — frequently giving them the impression that the money was required to enroll in the free programs.
Naming a price was a careful calculation, said Z., one former salesperson, based not on the services SLAC provided but on the sales agent's judgment about how much the borrower would be willing to pay. A good salesperson, said Z., could try to coax anywhere from $799 to $1,199 in fees from someone with a high income and loan balance.
"It didn't stick well with me," said Z., who worked at the company for two years. Z. and the other three employees in this story asked not to be identified by their full names because they feared their current employment might be jeopardized.
At the core of everything done at SLAC — on the company's sales floor and in its top ranks — was a push for financial gain, said Doug. Reliant on commissions to make "anything above minimum wage," salespeople would eke as much in fees out of their struggling customers as they possibly could. Results were tracked publicly on a whiteboard in the front of one sales floor, Doug said, where employees were judged based on how much money they brought in.
The pressure was intense, and there was one thing that hurt sales more than anything, two former employees said: telling customers the whole truth.
To convince borrowers to pay the steep fees, all four employees said, SLAC's salespeople often misled customers. SLAC management banned sales staff from saying explicitly that they worked "for" the Education Department, but it was a widespread practice, said three employees, to imply that SLAC was connected to the department: Employees claimed SLAC "worked on behalf of" or "had a direct line" to the agency, three employees said. There were other types of deception, too, like implying that borrowers' loans could be forgiven within a matter of months. Three employees said SLAC frequently neglected to tell borrowers that the Education Department's consolidation and income-based repayment plans were free to enroll in — or, if they did, tried to convince them that the forms were far too complex to be handled without paid help.
Doug said he spent several months selling SLAC's services before he tried on his own to enroll in an income-based repayment plan through the government's website. "It was so easy," Doug said. That realization "was mind-blowing." If he had been honest with his customers about that fact, Doug said, most would never have hired SLAC. Instead, he said, "You have to make it sound like it's some premium service you can really only get through them and the ties they have to lenders."
The company's management knew about, and even spurred on, the practices, said three former sales agents. "We were encouraged by management to be dishonest with callers about the details in order to push more sales," said A., another former employee, who is identified by his first initial.
Then there was SLAC's $39 monthly "maintenance" fee, paid every month for the life of the client's loan, which could stretch decades. While many borrowers assumed that the money was going toward their loan balances, it in fact went into SLAC's coffers. That mistaken assumption wasn't always an accident: Salespeople sometimes told clients that their monthly payments went to the Education Department, three of the employees said.
"You could tell people the monthly fee is 'going towards their loans,' and technically it's true, in the sense that you're saving them thousands of dollars," said Doug.
A., who worked on both the processing and sales sides of the business, said he often got calls from clients who were shocked to find they'd been paying $39 for years while their loan balance only grew.
"People would straight-up tell [clients] that the monthly servicing fees were for loans," said A. "I would have to explain, 'Well, your enrollment representative wasn't accurate with the situation.'"
"We let go many contractors who were stating things to customers that they shouldn't have."
Owens, the company's CEO, did not deny that employees had sometimes misrepresented the company or its services to borrowers, but said the incidents were isolated acts of individuals, not part of SLAC's broader culture. "In its infancy, you have an imperfect company where mistakes were being made," Owens said. A group of "disgruntled" former employees, he said, "are taking a few of the worst episodes within an organization and making them out to be normal business practice. I do not agree that the business model was to lie to consumers."
Owens said he took steps to change some of SLAC's missteps. He no longer allows salespeople to determine fees based on income, but charges a flat fee of $699, he said. And Owens said his remaining employees — he laid off dozens late last year — are now salaried, rather than being paid entirely on commissions. He said he "often" purged employees who were found to be violating the rules. "That's part of why my company has such a high turnover," he said. "We let go many contractors who were stating things to customers that they shouldn't have." He said that the company had also stopped using third-party salespeople, who he said were responsible for much of the misrepresentation to borrowers, and had recently hired an outside firm to monitor its compliance.
SLAC's employees and advertisers may have sometimes given customers misinformation, Owens admitted. But every SLAC customer, he noted, signs a 14-page agreement that is clear about the company's affiliation and role. The agreement, which was viewed by BuzzFeed News, notes explicitly that the company is unaffiliated with the Education Department, that the programs are otherwise free to enroll in, that monthly fees go directly to the company and not toward the client's loans, and that the enrollment fee is "based on the loan amount and client income." Those items are noted in bold print, and some are also noted on the company's website.
"At some point, we have to put the responsibility back to the consumer," Owens said.
But problems at SLAC went deeper than how the company sold its services, the former employees said. Once the sale had been clinched and borrowers' credit card information collected, SLAC's employees worked to enroll clients in federal loan programs. The goal, according to three former employees, was to lower monthly payments at all costs, a promise that had been made to many customers to entice them to enroll.
To do that, employees lied on federal documents, said three former employees, by incorrectly reporting borrowers' personal information. Two said they did not participate but personally saw their coworkers engaged in the practices and came across documents that they knew had been altered.

The most common lie was the simplest: changing the size of a borrower's household in order to lower monthly payments. Claiming that someone had two or three children instead of one, employees said, could push a client's payments down to $0 a month under income-based plans. But there were other lies, too: One employee said a colleague doctored pay stubs to lower payments; another colleague, he said, reported that a client was paid monthly instead of biweekly, halving his apparent salary.
"It's easy to fudge these numbers."
In an email viewed by BuzzFeed News, an employee, James, alerted SLAC management in October to a colleague who had been misreporting household size in order to lower a client's payments. James said in the email this was not the first time he'd brought the problem to management's attention. The email showed a chat between James and a colleague, whom James had asked to fill out a recertification form. Twenty minutes later, he asked her why she'd changed the client's household size to three, instead of the correct number, one — a change that made the client's payments fall from $103 to $0. The colleague didn't answer.
James forwarded the chat to several managers, explaining what had happened. "It's easy to fudge these numbers," he wrote in the email. "I have to wonder just how many go unnoticed?"
James sent the email on a Tuesday in October 2017. By Friday, he said, he'd been fired — for poor productivity, SLAC told him.
Owens disputed the former employees' accounts of federal forms that included inaccurate information. Included in the agreement signed by borrowers was the household size and income that would be reported to the government, he said. And a recorded system that asks each client factual questions, including household size and income, "assures that if a salesperson attempts to manipulate the contract, the consumer has the opportunity to answer those questions direct[ly]," Owens said. The compliance department monitors the calls and if the information in the recorded system and the application are in conflict, Owens said, the company does not send in the application.
But that automated system was easily — and frequently — subverted, said two of the former employees. For a year of Z.'s employment at SLAC, he said, employees would simply tell clients in their initial conversations to report a different household size, something people did readily if they were told it was necessary for low payments — including fully grown children, for example, or distant relatives.
Even when there was a mismatch in the system, Z. said, the company's processing department could, and sometimes did, push through the claims through with the inaccurate higher household size. Salespeople offered quotes and estimates based on household sizes of as high as 10 people in order to complete their sales, Z. said, so the move was sometimes necessary in order to keep clients happy.
To thrive at SLAC, said Z., "You had to be kind of callous. I tried to be morally correct, but there were things I did I wasn't proud of. It felt hard to be morally right."
It was the $39 monthly fee, said one employee, A., that bothered him most. The fee was supposed to cover the cost of maintaining clients' accounts, which typically meant the simple once-a-year task of reenrolling them in income-based repayment plans. "There was no reason for people to be paying that much on a monthly basis," A., who is identified by his first initial, said.
But SLAC flagrantly dropped the ball when it came to those basic jobs covered by the fee, said three former employees who worked on the company's processing side, sometimes with disastrous consequences for student loan borrowers.
SLAC customers were sometimes enrolled in the wrong plans, or kicked off of income-based repayment because of incorrectly filled out or missed paperwork, two former employees said. Sometimes they were denied approval on income-based plans because of errors, the employees said, or because the paperwork had been sent to the wrong servicers. It was not uncommon for employees not to follow up after denials "because we were lazy," said Z.
As a result of the mishandling, two employees said, they sometimes saw clients thrown into default on their loans. Told to stop making payments temporarily, or that their payments had gone down to $0, several clients unknowingly defaulted, said James — in large part because SLAC sometimes told people not to communicate with their student loan servicers, or made it impossible for them to log on to their own financial aid accounts. Yet SLAC continued to take $39 a month from people who had gone into default or been rejected from income-based plans, two former employees said.
"There was a case where a client was $8,000 past due, had been negatively reported on her credit, and had no idea," James said.
"As long as they didn't notice and complain, we would keep their money."
When SLAC made a mistake with clients' accounts, said James, employees were told by SLAC managers not to tell the borrower. "If they found out, we would deflect blame," said James. "We would blame the loan servicer."
"As long as they didn't notice and complain, we would keep their money," said A. He said he sometimes went behind administrators' backs and manually stopped clients' monthly payments himself because he knew they were "receiving nothing in return," he said. "I didn't think it was right to charge clients for services we couldn't render."
Owens argued that the company's online reviews contradict the former employees' assertions about shoddy paperwork and fees. "If this was our model, we would not be an accredited business with the BBB," said Owens, pointing to the company's Better Business Bureau stamp, a "B" grade that the company's website says was obtained in December 2017. "We would have far more complaints in four years then we do."
SLAC has some 280 "positive" reviews on the BBB's site, lauding the company's customer service and "easy" process, and only 16 negative reviews. In the space of three years, it has also registered 80 complaints. The complaints include two dozen people who believed that the $39 monthly fees were directed toward their loans, though Owens said that some of those customers were referred to SLAC from third parties who had inaccurately described the programs.
"I was informed by not one, but 3 separate workers, including a manager, that [the $39 monthly fee] was all going towards my loan," reads one complaint, from April 2017. "I should have read the contract."
In 2016, the Washington state attorney general sued SLAC, accusing it of charging illegal upfront fees and collecting outsized portions of borrowers' payments. SLAC paid the state $250,000, but did not admit wrongdoing. In its agreement with Washington, SLAC agreed not to "advertise, distribute or promote its debt adjusting services in any way that is false, misleading, or deceptive."
In the middle of last year, two employees said Owens and other SLAC managers changed their approach and more forcefully told their employees to toe the line, warning them not to inflate household sizes on forms or tell customers they were linked with the Education Department.
Still, "people kept doing it under the table," said Z, in large part because they needed the commissions — and needed to deliver on promises of lowered payments. The company's managers, he said, "knew it was still happening. They'd slap people on the wrist, but they didn't do anything. Nobody ever got fired over it."
After she worked to scrape together her "enrollment fee," Jennie, the SLAC customer who hurriedly refinanced, said she kept waiting to hear that the company had consolidated her loans and enrolled her in an income-based repayment plan. But months passed, and her application seemingly never went through. The process dragged on for so long that her temporary deferment expired, requiring her to begin making steep monthly payments. Jennie didn't realize what had happened, she said, until her loan servicer abruptly pulled some $500 from her checking account to cover the payments she'd missed.
"I needed that money for rent," Jennie said. SLAC ignored her pleas for help enrolling in a program, and, eventually, refused her request for a refund. She took the issue to her bank, she said, who eventually refunded part of the money she'd paid SLAC.
"There are very few things in my life that I'm actually bitter about, but my experience with SLAC was one of them," Jennie said. "It was terrible. It was in such a hard time of my life, and they made everything worse. They were just preying on people who needed help the most." ●