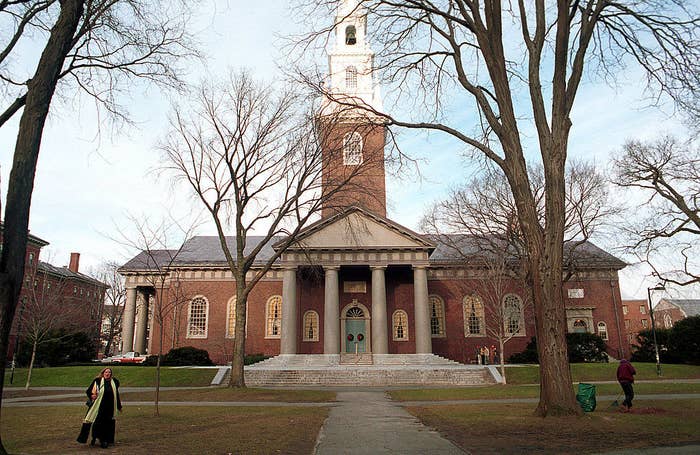 Striking dining hall workers at Harvard University claimed a "historic victory" on Wednesday, saying their three-week battle against the wealthiest university has ended with the school bowing to most of their demands.
The strike had "turned into a struggle for the soul of this institution," said Brian Lang, the local union president, in a press conference Wednesday. "It's a testament to when working-class people make a decision to draw a line in the sand and say enough is enough," Lang said.
As Lang spoke, group of dining hall employees gathered in Harvard Square broke into cheers and cries of "We won!"
Harvard agreed to pay a $3,000 stipend over the summer for workers who were laid off or whose hours were cut, putting dining hall workers over the $35,000 minimum salary they demanded. The university said it would also cover the increased costs of healthcare plans for dining hall workers, the other key union demand. The union did make some concessions: the salary will apply only to full-time workers.
The agreement was reached early Tuesday morning, after a 22 day work stoppage. The strike escalated over the weekend when more than 1,000 workers and supporters marched to City Hall in Harvard's hometown of Cambridge, Massachusetts. On Monday, more than 500 students had walked out of class and into a Harvard office building, where dozens remained until late in the night.
"They really had the support of the entire Harvard community," said Tiffany Ten Eyck, a union spokeswoman. In a statement, Harvard called the end of the strike "a reasonable resolution to negotiations."
The agreement between the union and the university came less than a day after the New York Times published a widely-read essay by a striking worker, "Struggling to Serve at Harvard." The dining hall employee, Rosa Ines Rivera, described losing her apartment after she fell behind on rent and skipping doctor's appointments to save on copays.

Students have been complaining for weeks of shuttered dining halls and reduced food quality. The union said dining hall workers would be back at work Thursday morning.