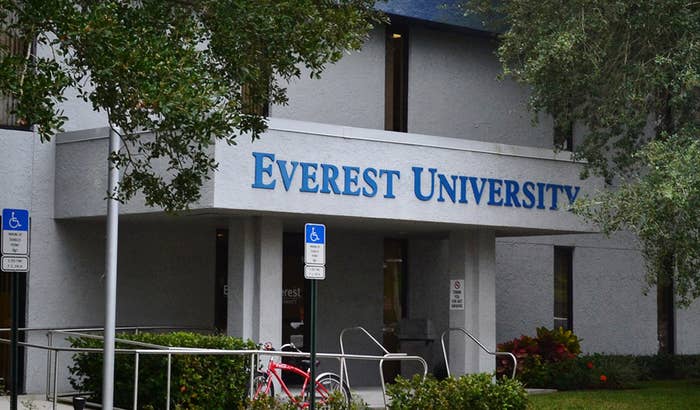 The Education Department will fast-track debt forgiveness for hundreds of thousands of former students at Corinthian Colleges, the government said Friday, in a move that could cost taxpayers billions. Former students at 91 of Everest and Wyotech college campuses spanning 20 states will be automatically granted forgiveness after filling out a simple online form.
In the wake of massive and systemic fraud by Corinthian that led to the company's eventual shutdown, the department had granted automatic forgiveness only to small batches of former students: first those who had attended one of its smaller chains and then to students from a single state, California.
Those groups, the government said, would not have to undergo the typically complex process of debt forgiveness, shouldering the burden of proving that they were individually defrauded like students at other colleges do.
Friday's announcement, made in conjunction with Massachusetts Attorney General Maura Healey, extends that to students nationwide — exponentially increasing both the number of students that can be automatically granted forgiveness and the potential cost to taxpayers. Corinthian, for its part, is long-bankrupt, its shallow reserves drained to pay off creditors. At the school's peak, in 2011, it was raking in more than $1.4 billion in government money a year.
In June of last year, the department said that the total cost to taxpayers could be as much as $3.5 billion, assuming that all 350,000 former students over 5 years apply. But the forgiveness is unlikely to reach that scale. The department has so far discharged the debts of just 8,800 Corinthian students, a total of $130 million.
The department's move falls short of calls by consumer advocates to instantly and automatically forgive all Corinthian students' debts, without requiring even a form to be filled out. So far, only a small fraction of eligible students from California, for example, have completed the forms, leading advocates to say the forgiveness process is shutting out a student body that tends to be poor, transient, and out of touch with current events.
In a statement, Toby Merrill, the director of Harvard's Project on Predatory Student Lending, said that the government's forms are only the beginning of righting the wrongs done to Corinthian students: "We aren't done, this isn't over, and we will not stop until this injustice has been corrected." The project would be holding clinics in conjunction with Healey's office to help borrowers submit the forms, Merrill said.