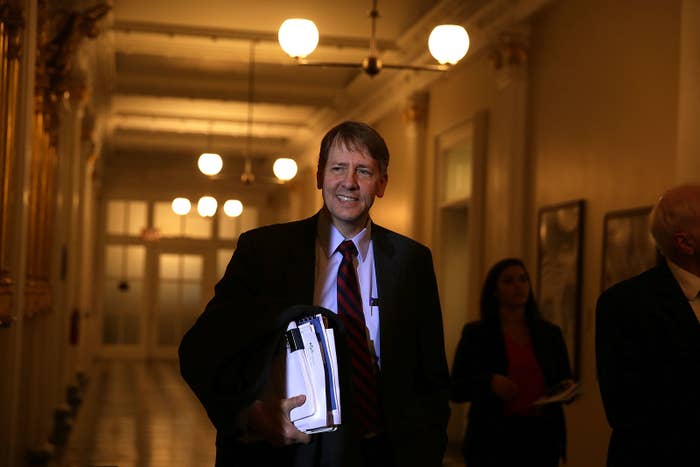 The country's largest student loan company is being sued by the Consumer Financial Protection Bureau, which alleges in a sweeping lawsuit that the company misled students, bungled payment processing, and "cheated" borrowers out of lower repayment rates in favor of its own bottom line.
Navient Corp., formerly known as Sallie Mae, services $300 billion in loans owed by more than 12 million borrowers, the CFPB said in a press release — meaning that one in four Americans who owe student loans has Navient as their servicer. The company has a contract with the Education Department to service 6 million federal student loans, acting as a link between the government and borrowers by processing their payments and providing information and guidance.
The CFPB's lawsuit, filed today, seeks financial relief for millions of student borrowers — a sum that could potentially reach billions of dollars, officials said in a press call.
The suit alleges a raft of violations, including systematically misprocessing payments and misleading borrowers. It claims Navient damaged the credit scores of students whose loans had been discharged — a group of borrowers with permanent disabilities that includes veterans with disabilities, the CFPB said.
Among the most serious allegations is the claim that Navient systematically pushed struggling borrowers away from income-based repayment plans and into a quick, short-term solution known as forbearance, potentially costing consumers money more in interest while saving Navient time and paperwork. Forbearance is designed for borrowers facing a brief period of financial hardship, not those who are in long-term financial distress.
"Navient chose to subvert its obligations as a servicer in favor of shortcuts," said Richard Cordray, the CFPB's director.
In a statement on its website, the company dismissed the CFPB's allegations, saying "The timing of this lawsuit — midnight action filed on the eve of a new administration — reflects their political motivations."

Navient's attempts to steer borrowers into forbearance rather than income-based repayment plans has echoes of the scandal at Wells Fargo last year, said Rohit Chopra, the former student loan ombudsman at the CFPB who now serves as a senior fellow at the Consumer Federation of America, a nonprofit.
"Where servicers can pad their profits by cutting corners with borrowers — that's where regulators have to watch very closely," said Chopra.
Many observers expect the Trump administration and a Republican-controlled Congress to hobble the CFPB, which was created during the Obama administration and has launched a number of actions against payday lenders, student loan servicers, and for-profit colleges.
But attorneys general in Illinois and Washington State also announced lawsuits against Navient alongside the CFPB's, alleging that, dating back to its days as Sallie Mae, the company had operated an illegal subprime lending scheme and debt collection violations. The suit by Lisa Madigan, Illinois's attorney general, accuses both companies of "rampant abuses."
The state-level lawsuits could keep the allegations against Navient alive even in the event that the federal government's suit is hampered by the Trump administration, said Chopra.
Navient was one of a number of companies whose stock shot up steeply in the days after the election of Donald Trump, with investors betting the Trump administration would work to privatize the federal loan system and offer a business-friendly regulatory environment.
CORRECTION
The Washington and Illinois attorney general are suing Navient based on loans made when the company was called Sallie Mae. A previous version of this article said that Sallie Mae was also being sued.