Google's Chromebooks Have Officially Taken Over The Education Market
The search giant's low-cost laptops were the best-selling devices in the K-12 market last quarter.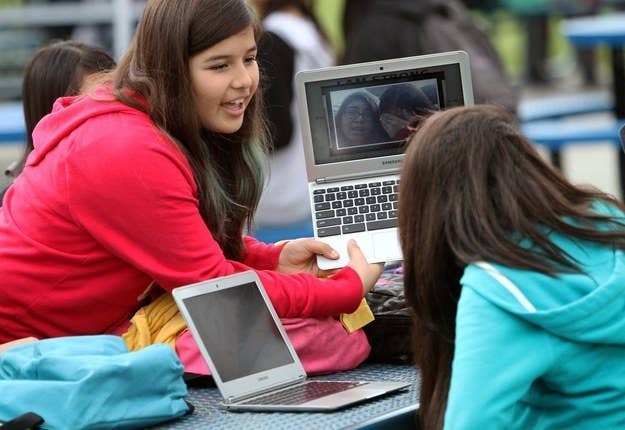 For the first time, Google Chromebooks were the best-selling device in the education market this quarter, beating out Apple's iPad in the K-12 sphere, according to data from market research firm IDC.
The latest data is a high point for Chromebooks in their remarkable surge into the education industry. Two years ago, the Google-powered laptops were barely a blip on the radar, with just 1% of the "mobile computing" market, which includes laptop PCs but excludes desktop computers. Back then, Apple iPads commanded more than 50% market share. In the third quarter of 2014, according to IDC, Chromebooks commanded 32% of the education market, just a fraction more than Apple's 31%.
"iPads have really been stalling, but Chromebooks are only gaining more traction," said Rajani Singh, a senior analyst at IDC.
Apple has proudly touted the strength of the iPad in education, with CEO Tim Cook noting on an earnings call that the company had an 85% share of the tablet market in education. But that obscured Apple's slipping grasp on the overall classroom market in mobile computing.
Chromebooks have two main selling points over iPads, said Singh: they're cheaper, with some falling below $200 apiece, and have keyboards, an important feature for older students who need to type rather than use touch screens. The laptops run Google apps via the internet, rather than software that must be installed on individual devices.
Google itself has been making an increasingly high-profile move into education, releasing a version of its app suite geared for teachers and a learning management tool, called Google Classroom, that allows teachers to distribute assignments and give feedback on student work created in Google Drive.
The company has also been wooing teachers across the country by flash-funding the Kickstarter-like fundraising campaigns of educators in major cities — including key markets for the company like Los Angeles, Seattle, and Kansas City.