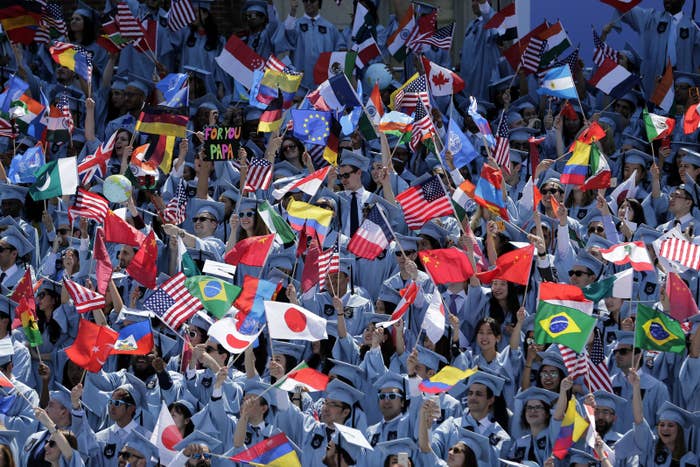 The number of new international students coming to the United States to study fell for the first time in more than a decade this fall, a new study found.
In the first class to apply to and enroll in American colleges since the 2016 election, the number of new foreign students fell over 3%, according to the Institute for International Education — the first time in the report's 12-year history that there was a decline in new enrollment. Almost half of the 500 US campuses surveyed reported declines in new student enrollment, with an average drop of 7%.
The election of Donald Trump last fall prompted widespread fears that foreign students might be deterred from enrolling in US colleges, where, because they usually pay full tuition, they are often a vital source of revenue. It's not clear, however, whether the election and Trump's rhetoric, or other factors — like increased competition from other Western nations — are driving the declines.
While an IIE report earlier this year found no change in the rate at which international students accepted offers of admission, it found high levels of anxiety among students from India and the Middle East, who feared whether they would be able to secure visas and worried for their physical safety. And many colleges told IIE they worried that students who accepted their offers of admission might not actually show up on campus in the fall.

Many of the sharpest declines noted in the report released Monday were driven by countries that reduced their investment in international scholarships — like Brazil and Saudi Arabia. Still, there are indications that international students, especially from places like China and India, are turning elsewhere for college.

In Canada and Australia, especially, many colleges saw dramatic increases in applications and in student visas. Canadian schools that saw sharp gains in applications said those students might otherwise have gone to the US.

The overall number of foreign students in the US continued to rise, however, increasing by 3% as many international students remained in the US on postgraduate training visas.
And some elite colleges — seen as juggernauts for international education — saw sharp jumps in the number of foreign students enrolled, an indication that many are still aggressively pursuing international enrollment. New York University, whose international enrollment dwarfs virtually all other colleges, saw an increase of 11%, to more than 17,000 foreign students. Columbia University's international enrollment grew by almost 10%.