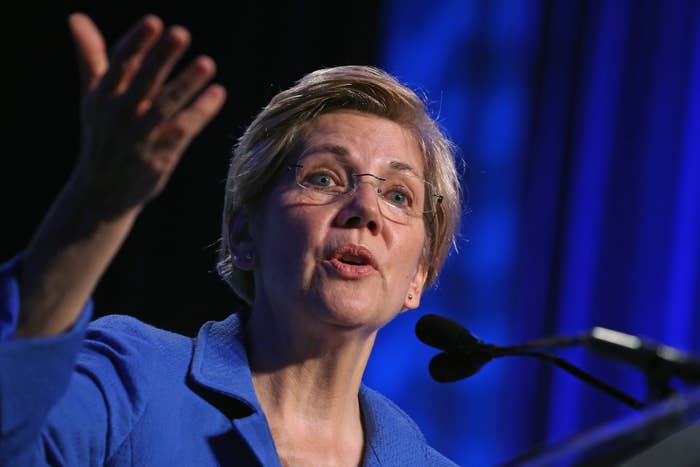 Senator Elizabeth Warren had harsh words Friday for the Education Department over its "weak oversight" of college watchdog agencies, saying it had "wielded a rubber stamp for problematic accreditors."
In a letter, Warren called for the Education Department to change course by taking a "strong, aggressive action" to hold one troubled college watchdog accountable for its "dismal record of failure."
The Accrediting Council for Independent Colleges and Schools, Warren wrote, has amassed an "appalling" track record as a gatekeeper for billions of dollars in federal financial aid. She criticized the accreditor for its role in granting a stamp of approval to campuses of the now-collapsed Corinthian Colleges, as well as sixteen other institutions that faced government investigations into wrongdoing.
ACICS sent almost $6 billion to those troubled colleges in the space of just three years, a report from the Center for American Progress found.
The accrediting agency is up for renewal this month before an Education Department advisory committee. More than a dozen state attorneys general have called for the committee to revoke ACICS' ability to grant approval to colleges.
But Warren also had harsh words for the Education Department oversight committee that will decide ACICS' fate, which she said had done little to hold troubled college accreditors accountable. In the face of the Department's own failures, Warren said, "Students and taxpayers have paid the price."
"ACICS takes seriously all criticisms against our organization and we recognize the need for internal reform in order to better protect and serve student," ACICS executive Anthony Bieda said in a statement. "That is why we have announced several bold initiatives to both reform and strengthen ACICS' effectiveness and its oversight of member institutions." The organization recently announced a temporary freeze on accrediting new schools, and its president stepped down earlier this year.

Alongside the letter, Warren released a report criticizing the Education Department's oversight committee for continuing to approve ACICS, even in the face of potentially serious signs of trouble at the accreditor.
The report cited a BuzzFeed News investigation into an ACICS-accredited college, Northwestern Polytechnic University, which operates as an upmarket visa mill for foreign students. Northwestern Polytechnic, the investigation found, faked hundreds student grades to prevent foreign students from being forced to leave the country.
After the Education Department re-approved ACICS in 2011, the agency "continued to accredit Corinthian Colleges until the day the troubled chain of schools closed its doors and declared bankruptcy, and it continued to accredit Northwestern Polytechnic University," the report said.
Problems in the Education Department's oversight are not confined to ACICS, the report claims. The report found that the department's oversight committee has rarely given any real sanctions to accreditors, and has almost never denied them re-approval, even when it found serious problems. "The Department," Warren's report said, "fails to act in a meaningful way to protect students and to safeguard the interests of taxpayers."