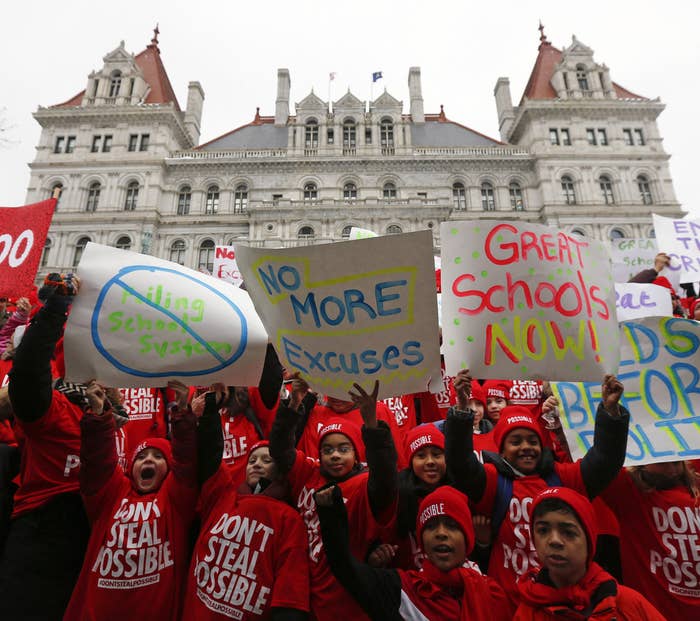 The two biggest-spending lobbyists in New York this year were dueling education groups, according to a report from the Joint Commission on Public Ethics, released yesterday.
Families for Excellent Schools, a pro-charter school nonprofit founded in 2011, spent $9.6 million in lobbying in 2014, the highest of any group in the state. The second-highest spender was on the opposite end of the ideological spectrum: teachers unions, whose two main groups spent $4.6 million.
Unions, which include both the statewide group and New York City's 180,000-member United Federation of Teachers, have long been forces in state and national politics. But Families for Excellent Schools, which outspent the next four highest groups on the list combined, did not even make the top 10 highest spenders in New York in 2013.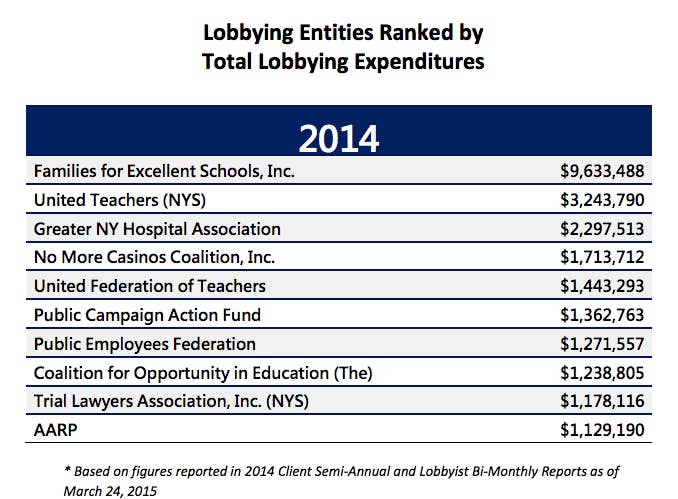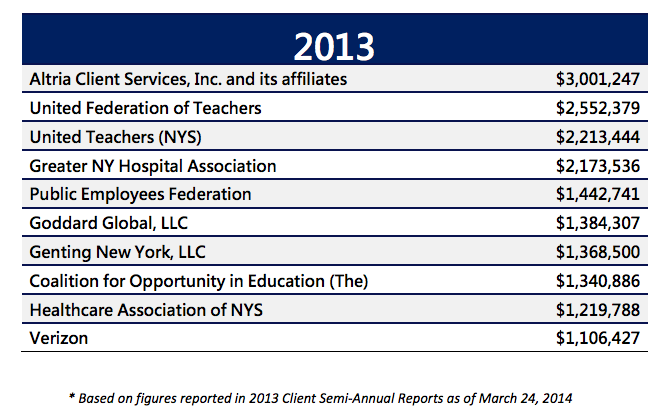 Another education group made the top 10: The Coalition for Opportunity in Education, which spent $1.2 million almost exclusively to advocate for a tax credit for donations to private and parochial schools. The group has major backers in the Catholic church.
Over the past few years, thanks in large part to the dueling forces of FES and the unions, New York has been a hotbed for the charter school debate. With the support of Gov. Andrew Cuomo, there has been a rapid expansion of high-performing charter school chains like Achievement First, Uncommon Schools, and Success Academy, which has 9,000 students in New York City.
New York City Mayor Bill de Blasio, however, has routinely opposed polices that would promote charter expansion, such as allowing the schools free space in public buildings and lifting a statewide cap on the number of charters allowed to operate.
Teachers' unions say charters — whose teachers are not unionized — divert much-needed funding from traditional public schools. Families for Excellent Schools argues that charters like Success Academy significantly outperform their public counterparts, despite serving high numbers of poor and minority students who often struggle in the public system.
FES made a name for itself early last year, when it waged a high-profile battle against de Blasio and the unions, alongside charter advocate Eva Moskowitz. In that campaign, FES spent a reported $3.6 million on advertisements alone.
FES does not release the names of its individual donors; in the past, it has received a major grant from the Wal-Mart founders' Walton Family Foundation.
The group's rallies regularly draw thousands of students and supporters, mostly from large charter school chains. Earlier this year FES organized a massive rally in Albany that coincided with the New York teachers union's dedicated "lobby day."