Education Department To Cancel Debt Of Up To 40,000 Students
In ordering the bulk clearance of debt for 40,000 students of a collapsed for-profit college chain, the department broke new ground. It also set taxpayers back an estimated $500 million.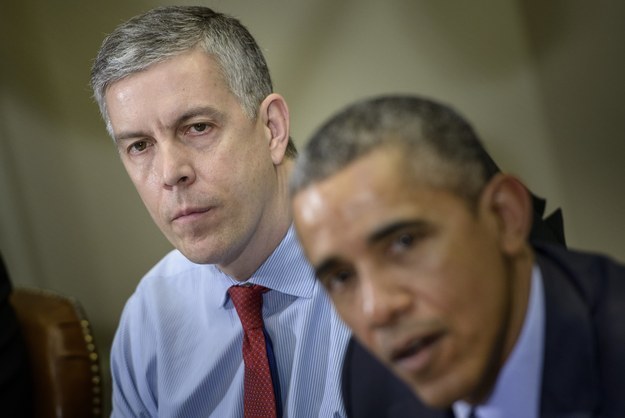 The Education Department today announced steps that will make it easier for students who say they were defrauded by their colleges to have their student loans forgiven.
The move is aimed at helping former students at the collapsed for-profit giant Corinthian Colleges, but sets an important precedent for other students in the future. The department said it would grant bulk forgiveness to a large swath of students whose school was found to have broken the law: some 40,000 people who studied at the for-profit Heald Colleges.
Those students will now be immediately eligible to have their debt discharged by simply filling out a form. Education Department Secretary Arne Duncan said in a press call that more bulk discharges could potentially come in the future for students at other for-profit colleges that the department finds have broken the law.
The department said in a statement it would look to provide relief for large groups of students, as with Heald, "wherever possible."
Heald, a subsidiary of the collapsed for-profit college giant Corinthian Colleges, was slapped with a $30 million fine by the department earlier this year for misleading students about their chances of getting jobs. The government said today that its findings against Heald were enough proof to entitle its students — those who attended after 2010 — to an immediate discharge.
Clearing such loans will not come cheap for taxpayers: For Heald students alone, the tab could total half a billion dollars, according to department estimates.
For now, the department's bulk forgiveness does not include students at Corinthian's largest and most-maligned for-profit college chain, Everest Colleges and Universities, whose numerous misrepresentations to students have been alleged in lawsuits by three different state attorneys general.
Everest students will have to apply individually for loan forgiveness by filing so-called "defense to repayment" claims. The department said it was planning a new, "streamlined" process for those claims, which have long been shrouded in mystery. In the wake of the collapse of Corinthian last year, lawmakers and activists have pushed for clarity around how they can be filed and the evidence that students would need to provide to be granted loan forgiveness.
Corinthian students have taken out a total of $3.5 billion in federal loans since 2010, according to the department — which could mean an even heftier tab for taxpayers if a significant chunk of students file defense to repayment claims.
The department said it would release a form that students can fill out online and develop a new set of regulations to "clarify" the process in the future.

Former students of Corinthian Colleges who submit defenses against repayment will not have to pay back their loans while they wait for them to be approved, the department said. Their loans will be put in forbearance; the department will not pursue collection against borrowers that have already defaulted.