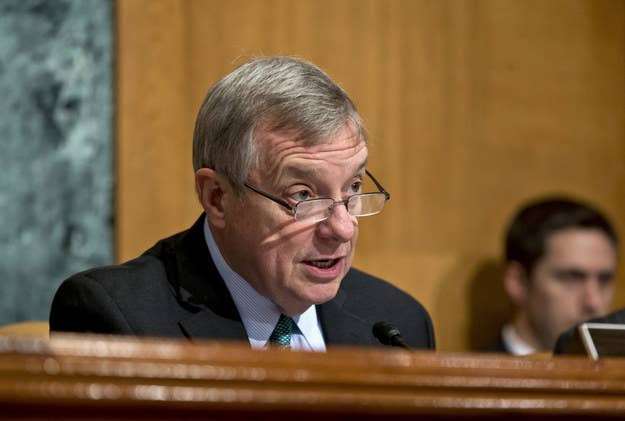 Dick Durbin, a top Senate Democrat, says he "begged" the Department of Education not to intervene in the collapse of Corinthian Colleges, a disgraced for-profit college company that is in the process of being shut down.
"They channelled 370 million taxpayer dollars into Corinthian even after it was clear it was failing," Durbin, who represents Illinois, told BuzzFeed News. "I told them, 'You're sinking these students further into debt to support a losing enterprise.'"
Durbin had sharp criticism for the Department of Education over its handling of Corinthian's collapse from start to finish. Earlier this week, he and other Senate Democrats called publicly for the Obama administration to forgive the federal loan debt of Corinthian students, who lawsuits allege were misled into enrolling in the school — a largely unprecedented step that the Department of Education has so far resisted, in part because it could cost the government hundreds of millions of dollars.
In June, the department penalized Corinthian, long known as one of the industry's worst actors, by temporarily cutting off its access to federal financial aid, the company's lifeblood. But when Corinthian warned it was teetering on the edge of bankruptcy as a result, the department agreed to turn the spigot of federal money back on, allowing Corinthian to remain open for six months — until it was able to find a buyer for its campuses.
The buyer Corinthian found was the ECMC Group, a nonprofit student loan guarantor that operates debt collection agency and has been accused of "ruthless tactics" in court battles it wages to prevent bankrupt people from discharging their student loans. It has never operated a college. The Department of Education publicly praised the sale.
"I'm puzzled and upset by this outcome," Durbin said. "I can't see how students get a break in this scenario. They're now stuck in this debt collection university."
Durbin said there are lessons to be learned from the government's handling of Corinthian's collapse. With other for-profit colleges struggling financially — another giant company, EDMC, was recently delisted from the New York Stock Exchange — Durbin said he believes the Department of Education "owes it to students" to toughen its stance on for-profits.
"i've heard that there's another shoe ready to drop — another major school about to go bankrupt," Durbin said. "You don't want to wait until somebody falls out of the hospital bed to put up the railing. It's time for the department to really zero in."
Durbin said he has "some hope" that oversight of for-profit schools will be more stringent. The administration's recent gainful employment rule, which cuts off access to federal funding for underperforming programs, appears likely to remain in effect, and Durbin has introduced legislation to better coordinate the government's oversight of for-profits. In August, he and other Democrats publicly criticized the Department of Education for its poor financial oversight of the industry.
But with Democrats set to lose control of the Senate next year, Durbin acknowledges that industry oversight may be more difficult. Republicans have historically been far more favorable to the for-profit college industry than their Democratic counterparts.
"The for-profit college industry is clearly the single heaviest subsidized business in America," Durbin said. "More than any defense contractor or any farm operation... So many of them are a horrible waste of students' time and of taxpayer dollars."