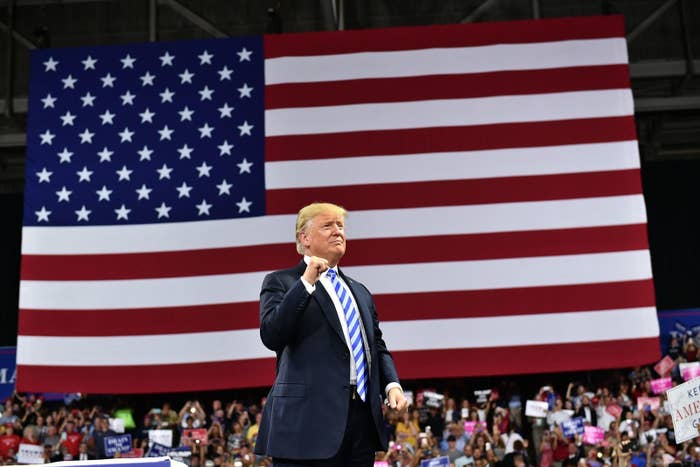 The day after the president was implicated by his former lawyer in a conspiracy to commit campaign finance violations, Democrats working on campaigns across the country huddled to decide how their strategy should shift ahead of November's midterm elections.
Their answer was simple: It shouldn't.
"We've been discussing a lot how this will play out," said one national Democratic strategist. "You're going to see pretty quickly that it's not changing how folks are talking about impeachment."
Among pundits, speculation about Democrats pushing for impeachment swirled after Michael Cohen's plea deal Tuesday, which was coupled with bruising guilty verdicts for Paul Manafort, Donald Trump's former campaign manager, on charges of fraud. One Republican strategist told the New York Times that the impeachment issue could "define the midterms" going forward.
But Democrats in Congress and those working on some of the country's most tightly contested House races said that almost nothing had changed about their midterm strategy in the wake of the Cohen plea and the Manafort conviction. They have no plans, most said, to even mention impeachment.
Democrats fear that impeachment talk could alienate independent and swing voters, they said — and perhaps more importantly, it could divert money and attention from issues where they believe Democrats had a distinct advantage over Republicans, like health care, the Republican tax bill, and the separation of immigrant families.
"I'm not convinced the Cohen or Manafort stuff is going to be moving the dial much," said one Democratic campaign strategist, who said his candidate, in a close House race, had no plans to mention the word "impeachment."
"Most campaigns are seeing that whether we like it or not, the Russia issue is not the winning one for us in November," the campaign strategist said.
Democrats should "focus on winning in November," Rep. Eric Swalwell, a Democrat on the House Intelligence Committee, told BuzzFeed News. "I think most Americans want to know what we're doing to reduce their health care costs, grow their paychecks, and stop corruption. If we focus on that, we can win."
Republicans, though, are eager to pick a fight over impeachment, even as top Democrats almost universally shied away.
"Let them talk about impeachment," said former Trump adviser Sam Nunberg of potential Democratic attacks on the president. "We'll drive up our enthusiasm."
Republicans should continue to focus on the midterms being a referendum on whether Trump should be impeached, said Nunberg, who is working with former Trump official Steve Bannon on midterm messaging. It will energize not just Trump's base, Nunberg said, but also more skeptical GOP voters who see impeachment proceedings as distractions that could hurt the economy and jeopardize national security.
Even White House press secretary Sarah Huckabee Sanders called any talk of impeachment from Democrats a "cheap political stunt."
"The idea of an impeachment is, frankly, a sad attempt by Democrats," she said during a briefing Wednesday afternoon, despite the absence of a renewed attempt by Democrats. "It's the only message they seem to have going into the midterms. And I think it's another great reminder of why Americans should support other like-minded candidates, like the president, that are actually focused on continuing to grow the economy, continuing to secure our borders, continuing to focus on the safety and security of all Americans."
On that, Democrats tended to agree. "I think it's completely unhelpful," said another national strategist of impeachment talk. "We need to stay laser-focused on economic issues."
But even as they steer messaging away from impeachment in order to lure swing voters, Democrats could still find themselves contending with an increasingly tricky situation with their base. Even before Tuesday's revelations, polling showed a strong majority of Democrats supported impeachment.
"It doesn't matter what Democrats are saying publicly right now," said one GOP strategist close to the White House. "All that matters is what their supporters and voters are saying. Democratic leadership is smart not to talk about it — because they know it will help Trump fire up his base — but at the end of the day, how are they going to square that with the fact that their voters want to talk about impeachment?"
A group of House Democrats did introduce articles of impeachment against Trump last November, but they are languishing in the House with only 17 cosponsors and no support from the party's leadership.
Democrats will also have to contend with their top donor, billionaire Tom Steyer, whose group Need to Impeach has been pushing impeachment on Democrats for months.
Initially, Steyer had planned to steer Need to Impeach mostly toward voter turnout in the months leading up to the midterms, said Kevin Mack, the group's lead strategist. Steyer committed $10 million to turnout earlier this month.
"We've rethought that strategy" in the wake of the Cohen revelations, said Mack. "We're going to focus on both things at once." Need to Impeach is planning to spend $1 million on impeachment-related ads in the coming days, Mack said, in addition to a six-figure ad buy it placed in the hours after the news broke.
"Now that the president is a conspirator in fraud, it's a whole different game," Mack said.
But Democratic strategists insist they have little to gain from spending money on advertisements based on the allegations against Trump. "To the extent this stuff hurts [Republicans], it's already baked in — it gets widespread coverage," said the second national Democratic strategist. "That energizes the Democratic base and it helps peel off some Republican voters."
If anything changes strategically for Democrats running for Congress after Tuesday, it will be in an increased focus on the broad concept of Republican corruption, which the party has already zeroed in on as a key issue for them in the midterms and beyond.
Partially lost in the squall of Trump's legal woes was the second indictment in a month of a sitting Republican member of Congress, Rep. Duncan Hunter, who prosecutors said had used campaign cash to fund his and his wife's lavish lifestyle. (Though Democrats are also contending with corruption-related problems of their own.)
But Democrats' focus on corruption is likely to take the form of attacks on Republican incumbents in the House, not Trump's presidency itself.
Asked about impeaching Trump, the campaign of Dean Phillips, a Democrat challenging Republican Rep. Erik Paulsen in a Minnesota swing district, told BuzzFeed News that Phillips "has been talking about corruption in Congress since he launched his campaign over a year ago."
Phillips "has highlighted Paulsen as being the sixth highest recipient of special interest money," a spokesperson said. "Phillips seems to have understood the corruption issue was on the horizon long ago."