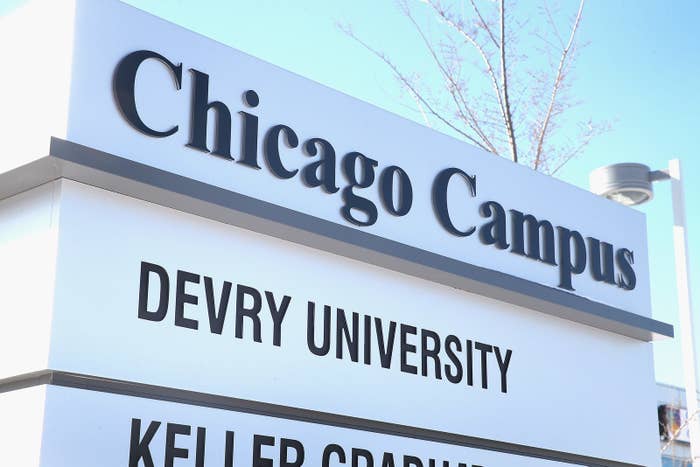 The Education Department has reached a settlement with DeVry University, one of the country's largest for-profit college chains, over allegations the school deceived students with unsubstantiated job-placement claims.
DeVry had long claimed to prospective students that since 1975, 90% of its graduates had gotten jobs in their field of study. The Education Department said this was a statement the school could not back up with facts.

The settlement will step up oversight of DeVry, placing limits on how it can collect federal financial aid money and require it to post a $68 million letter of credit.
Those two penalties are a possible sign that the Education Department sees DeVry, one of only two for-profit college companies in the country still valued at more than $1 billion, as a risk for financial instability or student claims of fraud.
Misleading claims about job placement rates have recently been used by thousands of students at other troubled schools, like the formerly for-profit Everest College, where students have petitioned to have their loans forgiven by the government, saying they were defrauded. While taxpayers are on the hook for loans connected to the now-bankrupt former owner of Everest, Corinthian Colleges, the letter of credit the Education Department is requiring from DeVry would force the school to cover the cost of any claims.

Trace Urdan, an analyst with Credit Suisse, noted that the "substance" and "tone" of the department's settlement release indicated that the department "may be sympathetic to such claims."

"Given that [the Education Department] is the arbiter of any claims made against DeVry, this development should be viewed as discouraging," Urdan said.
DeVry is still embroiled in a lawsuit with the Federal Trade Commission about the same advertising claims. Investors seemed to take the announcement of the settlement with the Education Department as a positive sign, with the company's stock jumping 1.5% in the hours after the news.
In a note to investors, analyst Jeffery Silber, of BMO Capital Markets, said the settlement "could signal progress" on the case with the FTC.
CORRECTION
DeVry University voluntarily removed arbitration clauses from its enrollment contracts prior to the settlement. A previous version of this story said that DeVry was removing the arbitration clauses as part of the settlement.
CORRECTION
Everest University was sold prior to the bankruptcy of Corinthian colleges. A previous version of this story said that Everest was now defunct.