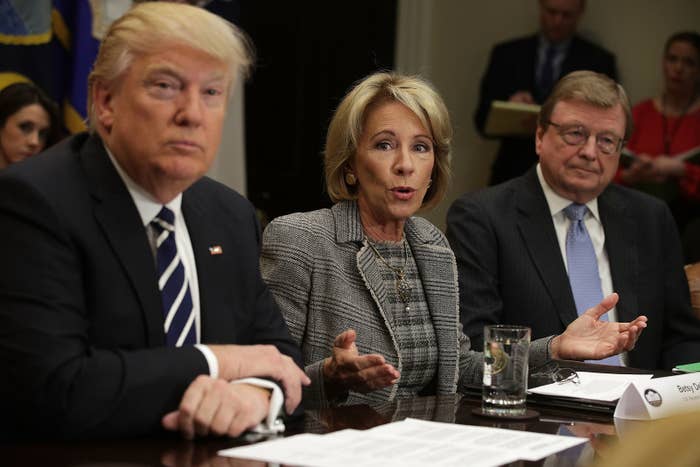 It has barely been two weeks since Betsy DeVos scraped through the toughest confirmation process ever endured by a Secretary of Education, crossing the finish line thanks only to an unprecedented tie-breaker vote from the Vice President. But in speeches and interviews this week, DeVos made clear she is beginning her tenure on the offensive.
"They want to make my life a living hell," she told conservative columnist Cal Thomas, speaking of the people who protested her nomination. "They also don't know what stock I come from. I will not be deterred from my mission in helping kids in this country."
In her first public speech after being confirmed, addressing a conference of magnet school administrators, she took aim at a widely condemned group of protesters that temporarily blocked her from entering a public school building in Washington.
"The protesters' behavior is a reflection of the way some seek to treat our education system – by keeping kids in and new thinking out," she said. "Friday's incident demonstrates just how hostile some people are to change and to new ideas."
She has spoken mostly to conservative outlets, appearing on two right-leaning talk radio shows in her home state of Michigan.
In her interview with Thomas, a writer at Townhall.com, she said she has already uncovered people in the Education Department intent on undermining her. "She pledges to do whatever can be done to render them ineffective," he wrote.
Her first official statement distributed by the Education Department took aim at her predecessors. A small furor broke out last week when the website of the Individuals with Disabilities Act, a federal education law that protects disabled students, went offline. In her hearing, DeVos had stoked critics by appearing to undermine the law, saying she wanted to leave its provisions up to states.
When website was finally restored Friday, the Education Department sent out a statement from DeVos making clear who was really to blame for the site's temporary absence.
"This site and its server. .. were neglected for nearly four years," she said. "This behavior is unacceptable. The restored IDEA.ed.gov site has been moved to a new server, and I've instructed Department staff to begin working with stakeholders to build a new and improved site. This exercise is an example of complacency I won't accept."
DeVos even seems to be hinting, albeit ambiguously, at the worst-case scenario feared by some of her opponents. After her nomination, one of the rallying cries of DeVos critics was that she would eliminate the Education Department altogether — long a talking point of the conservative movement.
When Axios asked if she sees a role for the federal government in education, she replied that "it would be fine with me to have myself worked out of a job," qualifying that only with the catch that Congress might not support such a change. There were good reasons for the government to get involved when schools were racially segregated and girls couldn't play sports, she said, but "I can't think of any now."