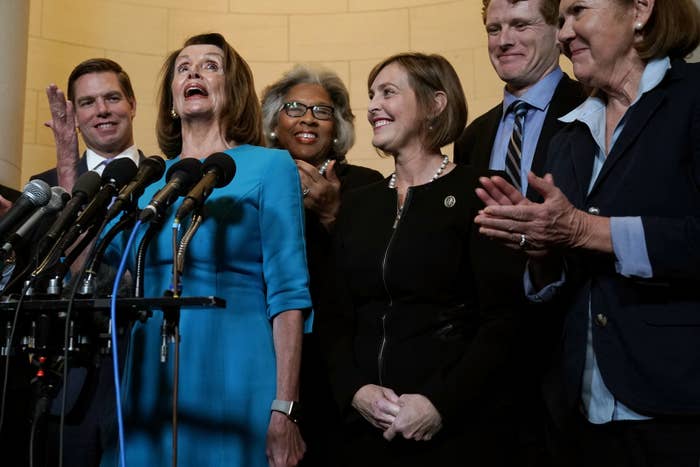 Democrats have now won a California House race that was called, erroneously, for the Republican incumbent on election night, giving the party a net gain of 40 seats in the House of Representatives.
The delayed victory in California's 21st District is likely the final win for Democrats in the November midterms. It ties up a string of wins that has transformed what looked like a modest House victory on election night — some called it a "blue trickle," rather than the predicted "blue wave" — into a Democratic rout, the party's strongest performance in a midterm in decades. Rep. David Valadao conceded the race to TJ Cox on Thursday.

As votes were counted well into November, Democrats have notched win after win in the House since Election Day, picking up seats by narrow margins in Utah, New Jersey, and Georgia in recent weeks and winning a half-dozen seats in California, where votes are typically counted at a slower pace.
In terms of total votes, Democrats have cemented the largest margin of victory in midterm election history — some 9 million votes over Republicans, breaking a record set after the Watergate scandal in 1974.
There's still one more undetermined House race: in North Carolina's 9th District, Republican Mark Harris's 905-vote margin over Democrat Dan McCready has not been certified as election officials try to determine if the race was tainted by election fraud.
Democrat TJ Cox's victory over Valadao, who was ahead by 8 points on election night, is the final notch in a near-wipeout for Republicans in California. Democrats swept Orange County, a longtime Republican stronghold, winning all four seats there.
On election night, Valadao looked like he would be the only Republican in California to hang on to his seat in a district won by Hillary Clinton in 2016: He led Cox by 8 points, enough for virtually every outlet to call the race in his favor. But Cox steadily ate into his margins as votes were counted. Valadao conceded the race in a statement from his campaign on Thursday.
Cox's win will give Democrats 235 members in the House, with 200 Republicans, depending on the outcome in North Carolina.