Democratic Voters Want To See A Fight Against Brett Kavanaugh. Democratic Officials Worry There's Not Much To Do.
"We don't want people to get lost in a wish list of fairy-tale tactics."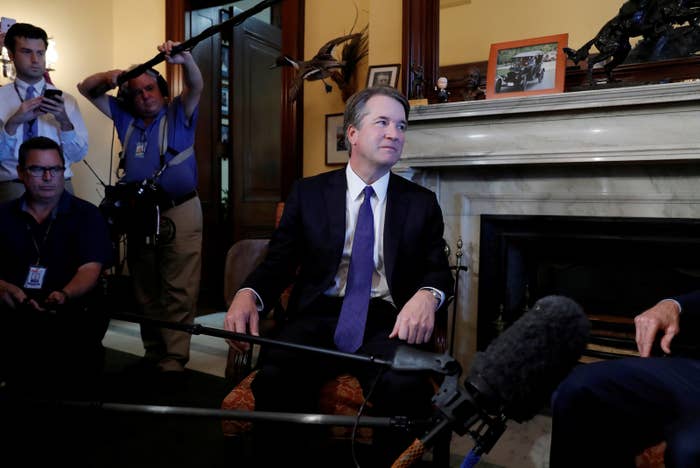 Calls from Democratic voters and some outside groups to stop Donald Trump's Supreme Court nominee by any means necessary have echoed across Twitter, in email campaigns, and in protests the wake of Justice Anthony Kennedy's retirement.

Democrats should "shut it down" — by refusing to show up to hearings or by getting arrested on the Senate floor. They should sue Republicans to "enforce the McConnell rule." The problem for Democratic senators, however, is there's not very much they can do to stop the nomination of Judge Brett Kavanaugh.
The demands to stop Trump's nominee come from a base that has become used to resistance — and in the case of the first major battle the Democratic Senate took on, the repeal of the Affordable Care Act, to results.
Billionaire Tom Steyer, the California progressive who has criticized the party's leadership and who happens to also be the party's biggest donor, has pushed his group, Need to Impeach, to advocate for Democrats employing extreme measures when it comes to confirming Kavanaugh — though the group is vague on what, exactly, those are.
"We see this as a matter of political will," said Kevin Mack, the group's lead strategist. "Who has the political will to step up and stop this from happening? There's always a way to stop things. Republicans figure out a way because they don't care about political consequences."
The grim reality — that Senate Democrats are virtually powerless to stop Donald Trump's Supreme Court nominee on their own — may prove tough for some in the Democratic base to swallow.
"Some of the people have come up to me at parades and said, 'Shut them down; do this and do that,'" said Sen. Dick Durbin, the Senate's minority whip. "It reflects a limited understanding of how the Senate operates."
In hindsight, the early calls from Democratic senators to delay a vote on Kavanaugh were "inartful" and "unfortunate," said Brian Fallon, a former Clinton campaign, Obama Justice Department spokesperson, and the president of the liberal judicial advocacy group Demand Justice.
"That was misunderstood. I think the senators throwing it out there, what they really just meant to do was call to mind the hypocrisy of [Sen. Mitch] McConnell," Fallon said. "People thought they meant they were going to 'pull out all the stops' and try to block it — but they actually have no means to do that."
When Barack Obama nominated Merrick Garland to the Supreme Court in 2016, Democratic voters watched in dismay, powerless, as Republicans refused to hold a vote or even hearings. After Kennedy announced his retirement last month, prominent Democrats quickly called for a vote to be delayed until after midterms, a chorus picked up by voters and outside groups.
The reality, though, is that Democrats remain a minority in the Senate, with no tools at their disposal to stop a vote on Kavanaugh. They no longer have the 60-vote threshold that Garland had needed to reach: McConnell eliminated it to push through Neil Gorsuch last year after Democrats opposed his confirmation. And after years of rule changes from former minority leader Harry Reid, when Republicans wouldn't approve Obama's court nominations, followed by the change from McConnell that essentially ended the ability of the minority party to block Supreme Court nominations, there's not much left to do — besides vote.
That hasn't stopped some Democrats, still feeling the sting of Garland's nomination, from calling on their party to stop a vote on Kavanaugh just as McConnell did.
Actor Debra Messing, a prolific Resistance Twitter presence, has been tweeting repeatedly about shutting down a vote, urging people to tell their senators to "block any Supreme Court nomination til November" and even tweeting an opinion piece that urged Democrats to "sue to enforce the McConnell rule."
It's an idea that in many ways, the Resistance's own rhetoric has fueled. Take, for instance, a term that has become a common refrain among many Democrats keyed into the online Resistance: "withhold consent."

The first result on Google the phrase comes from Indivisible, the anti-Trump group born out of the 2016 election. "The Senate minority is empowered to resist," the site says on its "I Object!" page, arguing that Democratic senators should gum up the everyday operations of the Senate by filibustering and refusing even mundane votes.
"Your senators really do have the power to delay or block much of the Trump agenda," the page says, "but they have to be willing to do more than just vote 'no.'"
But this time, Indivisible is clear: When it comes to the Supreme Court, there's no option to withhold consent or to filibuster. Democrats have just one path to blocking Trump's Supreme Court pick: Convince two Republicans to vote "no" with them, all while hanging onto the red-state Democrats who voted for Gorsuch.
"We don't want people to get lost in a wish list of fairy-tale tactics," said Elizabeth Beavers, a policy director at Indivisible. "If we had a tool at our disposal, we'd be calling for it, but that's not the reality."
Indivisible, a group that usually runs to the left of the Democratic mainstream, sent its members a two-step plan that involved none of those "fairy tales." The plan: Use a deluge of phone calls and protests to make sure every Democrat votes against Kavanaugh, and then convince two moderate Republicans to do the same thing. That kind of intense political pressure, they believe, is the same thing that allowed them to stop the repeal of the Affordable Care Act.
"There is a very narrow path to victory," Beavers said. "That's really all there is."
Democratic senators and liberal groups have been working to fuel that political pressure, talking about health care, abortion rights, and labor rights as issues that are at stake if Kavanaugh were confirmed.
"Rather than getting into a political and process argument back-and-forth, sticking to the substance of what's at stake gives us the best chance — and the only chance," said one top Democratic aide.
The question of what to signal to voters in the face of long odds and tough electoral prospects has divided some moderate Democrats in the Senate — take Pennsylvania Sen. Bob Casey and Virginia Sen. Tim Kaine. Both are likely to win reelection in purple states, particularly the latter.
Before Trump had even announced his nominee, Casey said he planned to vote against whomever Trump picked, arguing that all of the judges on the president's list were too extreme for the Supreme Court. Kaine, in contrast, said he would meet with Kavanaugh before making any decisions.
Fallon was instantly and publicly critical of Kaine, who Fallon said was "engaging in Kabuki theater, where a senator is likely to vote no but pretending to keep an open mind." The path forward for Democrats, Fallon said, is if they "coalesce fairly quickly" against Kavanaugh and focus on putting pressure on moderate Republicans to vote against him.
"The idea of getting Democrats to resort to procedural gimmickry is really just an expression of a desire to see Democrats fight in general. What they really mean is that they don't want to see Democrats respond to this passively."
Paul McLeod contributed reporting to this story.