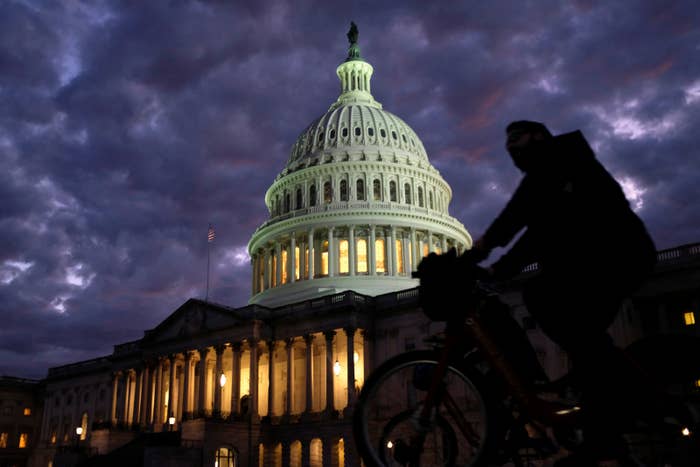 Democrats will take control of the US House of Representatives, capitalizing on widespread dissatisfaction with President Donald J. Trump across suburban districts from New Jersey to Texas in one of the most closely watched midterm elections in decades.

President Donald Trump called House Democratic leader Nancy Pelosi late Tuesday night to "extend his congratulations on winning a Democratic House Majority," Pelosi's spokesperson said.
In a victory widely seen as a rebuke to Trump, Democrats won in many longtime Republican strongholds that had flipped to Hillary Clinton in the 2016 election and where the president remained historically unpopular — especially among college-educated women.

It was not the blue tsunami that Democrats had hoped for: Democrats struggled to expand the map to districts where Trump won by big margins in 2016. Republicans held Kentucky's 6th District, despite the fact that Democratic challenger Amy McGrath had outraised Rep. Andy Barr to the tune of $3 million heading into the final weeks of the race. North Carolina Rep. Ted Budd, another Republican outraised by his Democratic opponent, also won reelection.
But Democrats picked up two seats they have been trying to win for years: Jason Crow felled Rep. Mike Coffman in suburban Denver, and Jennifer Wexton bested Rep. Barbara Comstock in Virginia's DC suburbs.
And they also won in areas where they had not even been able to compete in recent years: Texas Rep. Pete Sessions, a former National Republican Congressional Committee chair and formidable fundraiser, lost to first-time candidate Colin Allred in the Dallas suburbs. In Oklahoma's 5th District, Democrat Kendra Horn ousted Rep. Steve Russell in an upset that was on almost nobody's radar.
With the House of Representatives, Democrats have gained a powerful tool both to stop Trump's agenda — preventing things like a repeal of Obamacare — and to fight back against the president, something the party's frustrated, angry base is clamoring for.
As the majority party, they'll control the agenda of the House Judiciary Committee, which will enable them to launch probes into Trump's tax returns, family businesses, and dealings with Russia — a playbook similar to the one Republicans used during the Obama administration to investigate things like Benghazi.
In the final weeks before the election, Trump worked to rally the base that had helped him win the presidency in 2016 with divisive, race-fueled rhetoric about immigration — a campaign strategy that was embraced by many in the Republican Party, who cut ads about open borders and dangerous migrants headed toward the country in hordes.
"Even though I'm not on the ballot, in a certain way I am on the ballot," he told supporters this week.
Record numbers of voters in both parties said they were enthusiastic about the midterms. Democrats needed to flip a total of 23 seats controlled by Republicans, a prospect that seemed inconceivable before Trump's election. But the ensuing increase in Democratic enthusiasm made dozens of once reliably Republican districts in vastly different areas across the US into competitive seats — from mostly white areas in rural Iowa and Maine to Latino districts in Florida and districts that were both wealthy and working class.
That Democrats had a chance to win in so many districts was mostly thanks to unprecedented Democratic enthusiasm in the wake of Trump's unexpected 2016 victory, flooding the party with money, volunteers, and high-quality candidates.
Democrats raised historic sums of money, much of it from small donors — the left-leaning group ActBlue funneled more than $1 billion to Democratic candidates this year. That money allowed them to run ads that relentlessly pushed a message of protecting health care, hammering Republican candidates for voting against coverage for preexisting conditions.