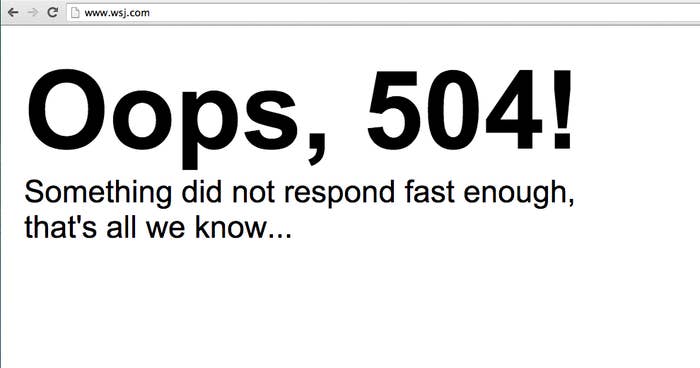 The New York Stock Exchange halted trading, United Airlines grounded flights across the globe, and the front page of the Wall Street Journal was unavailable Wednesday morning, in a cascade technical glitches.
United flights were grounded worldwide for more than an hour because of a computer problem, the airline said. Though flights have now resumed, a ripple of delays is likely to affect fliers throughout the day and into Thursday.
Meanwhile, the New York Stock Exchange halted trading at 11:30 AM across all ticker symbols due to technical problems, grinding a major segment of the global financial system to a halt. Trading has yet to resume.
And anybody hoping to check on the status of the market via one of the country's leading business news outlets were out of luck. The front page of the Wall Street Journal's website was down, showing only the image above. "Oops, 504! Something did not respond fast enough, that's all we know," said a placeholder.
That placeholder later replaced, with WSJ.com being redirected to a temporary homepage, http://onlinedr.wsj.com/dr. "WSJ.com is having technical difficulties. The full site will return shortly," the temporary homepage said.
There's no sign yet that the glitches are connected. A Department of Homeland Security official told the Huffington Post there was "no indication" so far that any of the problems were caused by a cyber attack. A White House official told BuzzFeed News that President Obama has been briefed on the NYSE outage, and that Treasury and White House staff are monitoring the situation.