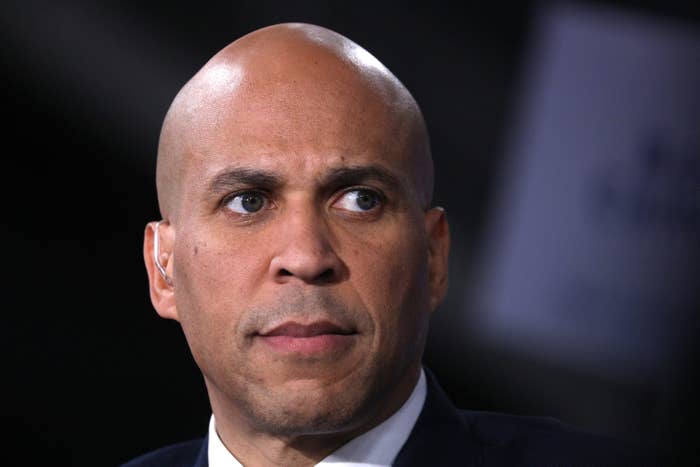 Sen. Cory Booker's first reaction to Kamala Harris dropping out of the presidential race this week was "anger," he said Wednesday morning.
"I've seen the bile, the anger, from my family members, to people in the Congressional Black Caucus, to leaders of color across this country who just don't understand how we've gotten to a point now where there's more billionaires in the 2020 race than there are black people," he said on BuzzFeed News' AM to DM.
Harris dropped out of the Democratic presidential primary on Tuesday, facing both fundraising trouble and disarray within her own campaign. "My campaign for president simply doesn't have the financial resources we need to continue," Harris said in announcing her exit. Her departure leaves Booker and former Massachusetts governor Deval Patrick as the only black candidates in the 15-person race. There are two billionaires currently in the primary: Tom Steyer and Michael Bloomberg.
Her exit from the race has frustrated other minority candidates in the presidential race, as well as some black and Latino activists. Julián Castro on Tuesday night told BuzzFeed News he believes the media held Harris to "a different standard."
Booker and Castro both expressed particular frustration with the ability of billionaire candidates like Steyer and Bloomberg to stay in the race. Steyer, unlike Booker or Castro, has qualified for December's primary debate.

Booker lamented the dynamic "at a time when one of the very themes of the Democratic Party is that billionaires and millionaires shouldn't shape the rules to benefit them." The Democratic field should be more oriented, he thought, toward "folks like Kamala, who have authentic connections to millions of voters around this country."
Booker has not yet caught on in the presidential race. He's currently polling at an average of 2% nationally — he has until Dec. 12 to both get more than 200,000 donors for his campaign and four polls showing him with at least 4% support to meet the Democratic National Committee qualifications for the December debate.
Booker attacked those qualification thresholds Wednesday.
"To have our race for the first time ever be artificially shaped by DNC rules and not folks that have legitimate campaigns," Booker said on AM to DM, pointing to what he sees as his own campaign's strengths and qualifications in the early voting states. "And to have some artificial rules that would've cut out Jimmy Carter, that would've cut out Bill Clinton likely, that even Obama, who was 20 points behind Hillary Clinton at this point, in terms of what the polls say is viability, the polling has never predicted who would go on and win from our party," he added.
"So again, it's a damn shame frankly that Kamala Harris's voice is no longer in this race."