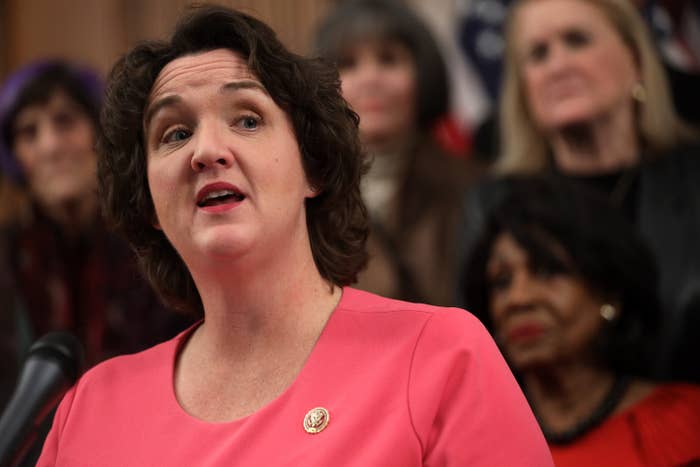 California Rep. Katie Porter exacted a commitment from the director of the Centers for Disease Control and Prevention to pay for coronavirus testing for uninsured Americans, grilling the Trump administration official repeatedly in the middle of a congressional hearing until he agreed the government would pay for the tests.
When CDC Director Robert Redfield agreed to Porter's demands, she quickly turned to the American public to urge them to get tested.
"Everyone in America, hear that. You are eligible to go get tested for coronavirus and have that covered, regardless of insurance."
Porter cited a provision in federal administrative law to ask Redfield if he would commit to "using that existing authority to pay for diagnostic testing free to every American regardless of insurance."
Redfield began, "Well, I can say that we're going to do everything to make sure that everyone can get the care that they need—"
"Nope, not good enough," Porter responded, in a clip that quickly went viral on Twitter.
Redfield deferred committing to Porter for several more questions, saying he was waiting for the CDC to "operationalize" payments for testing.

"You don't need to do any work to operationalize," Porter said. "You need to make a commitment to the American people so they come in to get tested."
"I think you're an excellent questioner, so my answer is yes," Redfield finally said.
A spokesperson for Porter's office told BuzzFeed News that Porter "expects the CDC to keep the commitment that it made in this hearing."
The CDC did not respond to a request for comment. The office of Vice President Mike Pence, who is heading up the administration's coronavirus response, likewise did not immediately return a request for comment.

Porter is a protégé of Elizabeth Warren's, who is known on Capitol Hill for just the strategy that Porter employed with the CDC: finding pathways within existing law and using public pressure to exact commitments from government officials to follow them.