Everest University Campuses To Be Sold To Controversial Student Loan Guarantor
The for-profit-college operator, plagued by complaints from students and regulators, is shutting down. But the planned new owner of its schools has problems of its own.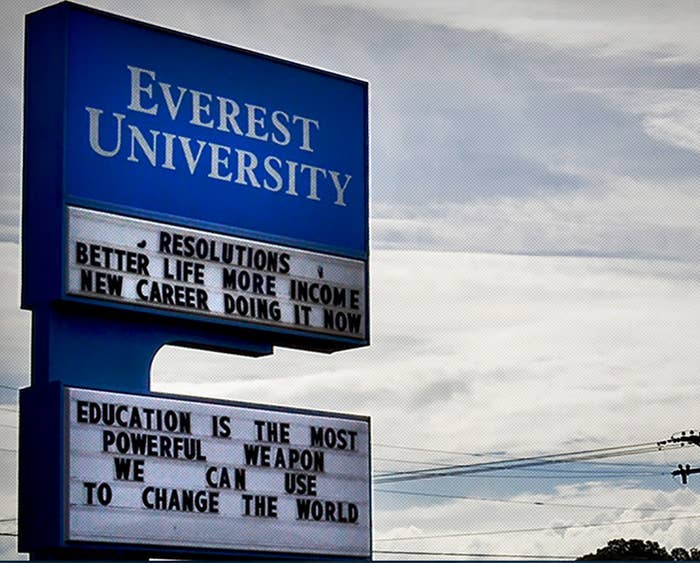 Corinthian Colleges, the disgraced for-profit college operator that is being forced out of business by the Department of Education, announced today that it plans to sell most of its campuses to a nonprofit that has been accused of "ruthless tactics" in its handling of student debtors.
Corinthian said it plans to sell 56 of its Everest and Wyotech College campuses to the nonprofit ECMC Group, a student loan guarantor, for $24 million. The for-profit colleges will become nonprofits after the sale, creating the largest nonprofit career college chain in the country, according to the Chronicle of Higher Education. The sale includes all of the Everest and Wyotech College campuses outside of California.
ECMC group has been widely criticized for its handling of some student loan debtors. The government has frequently turned to ECMC Group to fight student loan debtors who try to discharge their federal loans in bankruptcy. In order to discharge those loans — they are usually excluded from bankruptcy proceedings — debtors must prove that they face "undue hardship."
A New York Times article earlier this year revealed that ECMC had fought to prevent a bankrupt cancer survivor inundated by medical bills from discharging her loan debt, arguing that because she was younger, she was more likely to survive her pancreatic cancer.
In another case, ECMC fought in court to garnish the Social Security payments of a woman who had already paid off her student loans in full. The nonprofit was eventually sanctioned by a judge for "abusing the bankruptcy process," the Times reported.
Bloomberg News highlighted the salaries ECMC paid its top debt collectors — one made $454,000 in the same year the nonprofit's CEO took home $1.1 million. Both salaries were paid for with taxpayer money, the article said.
ECMC immediately announced its intentions to make the campuses, which constitute all of the Everest and Wyotech chains outside of California, more affordable, cutting Everest's notoriously high tuition by 20%. It also said it would no longer use the aggressive and sometimes misleading recruiting strategies that have brought many for-profit colleges under fire.
The sale is likely to face opposition from critics of ECMC. But the Department of Education has already announced its support for the deal. "We are glad that Corinthian has reached an agreement with ECMC Group and believe that this transition will allow students to maintain progress toward achieving their educational and career goals and protect taxpayers' investment, while Corinthian moves out of the business," said department Under Secretary Ted Mitchell in a statement.
The Education Department stands to profit from the deal: it will get $12 million of the purchase amount, according to a Corinthian filing.
Corinthian is being sued by the Consumer Financial Protection Bureau and attorneys general in California, Massachusetts, and Wisconsin, and faces investigations by the Securities and Exchange Commission and six more states, as well as a criminal probe in California.