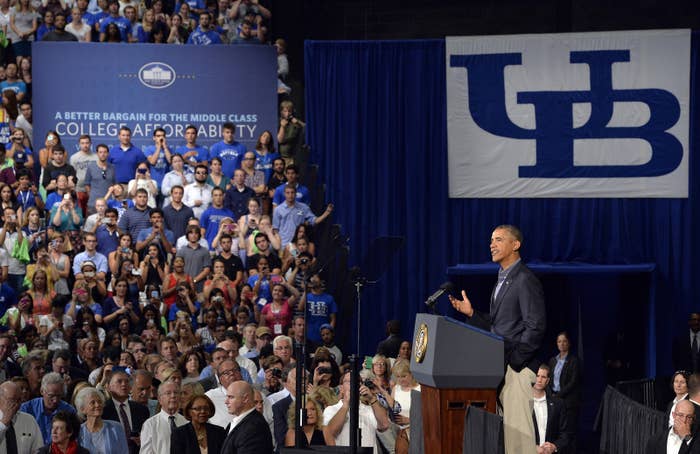 College tuition is free in New York for students whose families make less than $100,000 beginning this Fall under a groundbreaking plan passed Tuesday that could set a precedent for other liberal states.
The Excelsior Scholarship would essentially fill the gap between current state subsidies and the cost of tuition at New York public colleges. Families who make under $100,000 will be eligible for the scholarship to cover tuition. The threshold for family income will be increased to $110,000 in 2018, reaching $125,000 in 2019.
"Today, college is what high school was—it should always be an option even if you can't afford it," New York Governor Andrew Cuomo said in a statement. "There is no child who will go to sleep tonight and say, I have great dreams, but I don't believe I'll be able to get a college education because parents can't afford it. With this program, every child will have the opportunity that education provides."

The plan echoes what was proposed by Bernie Sanders and Hillary Clinton during the Democratic primary campaign, and its ultimate $125,000 income limit is the same as the one suggested by Clinton. Its backers hope it will become a model for others around the country.
Hillary Clinton praised the program in a tweet on Saturday calling it "something important done" and a "great step for progressives."
A handful of other states, like Tennessee, have made it possible for students to attend two-year community colleges for free, with many other legislatures weighing similar proposals.
While New York is the first to make all of its public colleges tuition free, families will still be responsible for fees and room and board costs. It also requires students to work in New York for the amount of time they received a loan after graduation or the benefit is converted into a loan. That means a student who received the scholarship for four years must work in New York for four years.
Cuomo's office said roughly 940,000 middle-class families and individuals making up to $125,000 per year would qualify to attend college tuition-free at all CUNY and SUNY two- and four-year colleges in New York State. The Average household income in New York state is just under $60,000, according to the US Census Bureau.
The Excelsior Scholarship could save New York students significant chunks of money. At the 30,000-student University at Buffalo — the largest campus in the State University of New York system — more than half of students take on debt, borrowing $26,000 on average, according to The Institute for College Access and Success.
CORRECTION
The largest campuses in the SUNY system is the University at Buffalo, which has 30,000 students. A previous version of this article misstated its name and enrollment size.