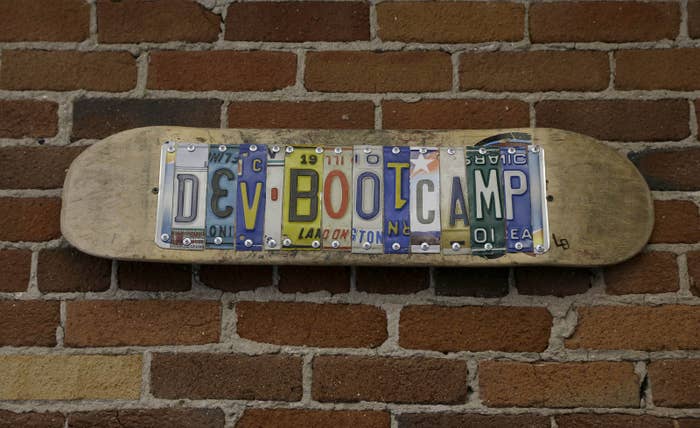 Two industry lobby groups have been selected to oversee the government's latest experiment in higher education, which will allow alternative providers like coding boot camps to access federal financial aid money.
The pilot program, announced Tuesday, will test out partnerships between traditional nonprofit colleges and alternative providers like the Flatiron School, a bootcamp where students learn computer programming, or the online-coursework company Straighterline. Until now, strict accreditation rules have prevented government financial aid from being spent on such programs, making them inaccessible to low-income students.
The Education Department will task a number of third-party groups with overseeing the experiments, which will create their own standards to measure a program's success. (Because they are all attached to traditional colleges, the programs will still be monitored by traditional accreditors, too.) If the eight-college pilot is successful, the government might eventually open up access to federal financial aid — and allow third party groups to oversee the nontraditional programs.
The Education Department picked two lobbying groups to act as overseers: the American Council on Education (ACE), the country's largest higher-education trade organization, and the Council for Higher Education Accreditation, a group that represents traditional college accreditors.
The choice led to raised eyebrows among those skeptical of the industry's ability to self-regulate.
"There's an obvious conflict of interest when a trade organization is overseeing its own members," said Alexander Holt, a policy analyst at the New America Foundation, a left-leaning think tank. "One of [ACE's] main jobs is to lobby the federal government so that their members receive more federal money. Why would they then get to determine whether a member should receive federal dollars?"
Both ACE and CHEA would typically be barred from acting as accreditors under federal rules, said Holt, which say that industry groups cannot accredit schools. But those rules don't apply to the new experiment.
ACE will judge the success of the partnership between Northeastern University, a private college in Boston, and General Electric, which will provide GE employees with fast-tracked bachelor's degrees in manufacturing. Northeastern is an ACE member; its president, Joseph Aoun, was the chair of ACE's board of directors in 2013.

Holt compared the selection of ACE as an overseer to allowing a major agricultural lobbying group to oversee the federal farm subsidy program. "It's crazy in every instance," Holt said.
An ACE spokeswoman said the group had a long history of providing quality oversight. Oversight, of the Northeastern program, she said, "is being done by independent subject matter experts in their fields, using established protocols and relying on quantitative data provided by the institution that will be tracked and measured throughout the program. There is no room for subjectivity or favoritism, period."
In a press call Tuesday, education undersecretary Ted Mitchell said the department had "built in a lot of safety for students and taxpayers." Quality overseers like ACE, he said, will offer "a rigorous evaluation of how things are going and, if necessary, will work to wind these programs down."
Some, however, are concerned the experiment could lead to abuses reminiscent of those in the traditional for-profit college industry.
Many of the alternative education providers chosen by the government are for-profit companies: Flatiron School, Maker Square, and Epicodus, all coding schools, and the websites Straighterline and Study.com, which aim to provide general-education classes at cut-rate prices. Traditional for-profit college providers, like Apollo Education, which owns the University of Pheonix, have themselves invested in coding bootcamps in recent years.
"It's perplexing for the Obama administration to be proposing this because they've spent the entirety of their tenure fighting for-profit schools," Holt said. "And now they're opening another door."
CORRECTION
The experimental programs will still be overseen by traditional accreditors in addition to the new quality assurance groups. A previous version of this story said the new groups would oversee the programs instead of accreditors.