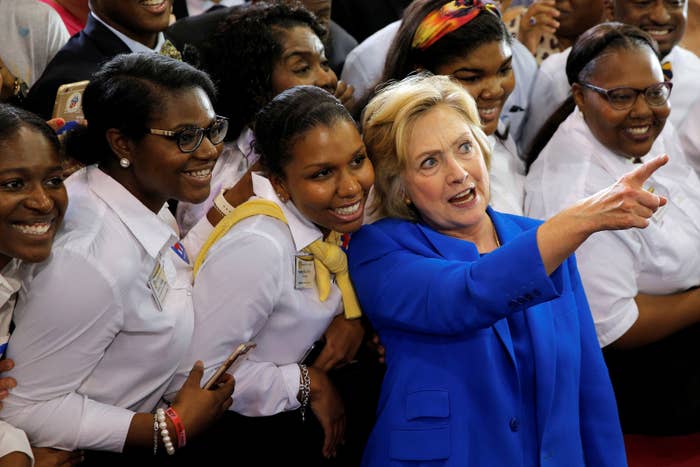 Hillary Clinton's campaign is emphasizing her embrace of Bernie Sanders' free college plan, releasing a tool for students to calculate how much they would save on tuition and loan payments under the proposal.
A middle-class student attending a four-year public college will save more than $37,000 with Clinton's free-college plan, according to the tool — attending school without paying any tuition fees.
After first rebuffing Sanders' proposal to allow students to attend college for free, Clinton embraced her former rival's idea in July, saying she would make public universities free for all in-state students whose families made up to $125,000 a year.
But Clinton has done little time promoting the plan since it was announced, especially in the face of criticism that it is short on specifics, such as how much it will cost and how she will pay for it. Some critics say the plan will harm private colleges by drastically driving down attendance, while others have warned that if the federal government promises to pay the cost of tuition, public colleges — unchecked by students concerned about affordability — will inflate tuition fees, costing billions.
Unlike the Sanders plan, Clinton's also calls for a special $25 billion provision for historically black colleges, many of which are private schools that would otherwise not be included in the free system. But there are no accommodations for other private colleges, many of which are already struggling in the face of declining enrollment.

The tool released today also allows students to calculate how much they can save on their monthly loan repayments, based on their income, loan balance and current interest rate. But the savings the tool offers are mostly based on programs that already exist, like income-based repayment and public service loan forgiveness. Clinton has promised to make enrolling in those plans simpler and, in some cases, automatic.
Enrollment in income-based repayment plans is increasing, federal data shows, but is doing little to help low-income borrowers who are already in default. The process of enrolling is complicated and can leave students prey to debt scammers.