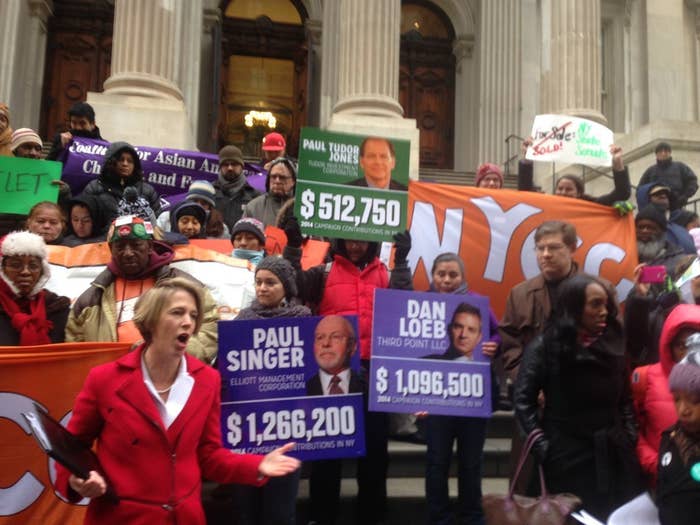 A small group of parents and activists targeted hedge fund billionaires Dan Loeb, Paul Singer, and Paul Tudor Jones in a protest today over New York state education funding.
Led by Zephyr Teachout, an anti-corruption activist who ran against Andrew Cuomo in the recent New York governor's race, the protestors decried the political influence of New York's wealthiest financiers on public education — namely through the billionaires' longstanding political and financial support of charter schools.
The group's rallying point was a rumored special session of the New York legislature, which Teachout said was likely to take place next week. At that session, Teachout said, Governor Cuomo will push to raise the maximum number of charter schools allowed by the state, at the urging of charter advocates like Loeb. If the cap is not raised, as it was in 2010, there will likely be just 17 slots left for new charter schools in New York City.
At the protest, drenched in freezing rain on the steps of Tweed Courthouse in New York City, demonstrators held signs printed with the faces of hedge fund billionaires. Beneath were the campaign contributions each had made in New York, mostly to pro-charter advocates. Protestors chanted, "Hey hey, ho ho, these hedge funders have got to go," and "Hey governor one percent, who do you represent?"
Teachout said today's protest would be the beginning of a week-long effort to fight against increasing the charter cap and advocate for more funding of public schools. In coordination, she released her first white paper, "Corruption in Education: Hedge Funds and the Takeover of New York Schools."
Teachout pointed to the pro-charter group Families for Excellent Schools, which spent almost $6 million in a lobbying blitz in the first half of 2014, largely on a fight for charter school space, which the group won. The New York Teachers' union spent $2.6 million in the same period.
As with most education debates in New York City, rhetoric at the protest quickly turned to Eva Moskowitz and Success Academy, a charter school that has long been a lightning rod for pro- and anti-charter advocates. Moskowitz's charter school group is poised for a massive expansion in New York City, adding 14 schools in the next two years and bringing Success to a total of 50 schools in the city.
Loeb, the CEO of Third Point Capital, has been an outspoken supporter of charter schools and especially of Success Academy, where he chairs the board of directors. He has a net worth of $1.5 billion. Tudor Jones, Singer, and the billionaire Carl Icahn have all prominently backed other charter schools and legislation.
StudentsFirstNY, a nonprofit lobbying group that counts Loeb, Tudor Jones, Moskowitz, and Icahn among its board members, released a statement condemning Teachout and the protesters' attack on hedge fund managers and comparing their spending spending to that of teachers' unions, which the group said was "trying to defend [a] failed status quo."
"After spending more than $8 million on this year's elections alone, it is the height of audacity for the special interests that created our broken education system to attack civic-minded individuals who are standing up for students," said the group's executive director, Jenny Sedlis. "The teachers' unions have been spreading around millions in campaign cash for years — all to protect the financial interests of their members at the expense of the educational needs of our children, especially the most vulnerable of them."
Two months ago, the group Families for Excellent Schools and other charter school backers organized a rally at Foley Square, around the corner from the site of today's protest. More than 10,000 protestors turned out for an event DJ'd by the musician Questlove.
This post has been updated to include a statement from StudentsFirstNY.