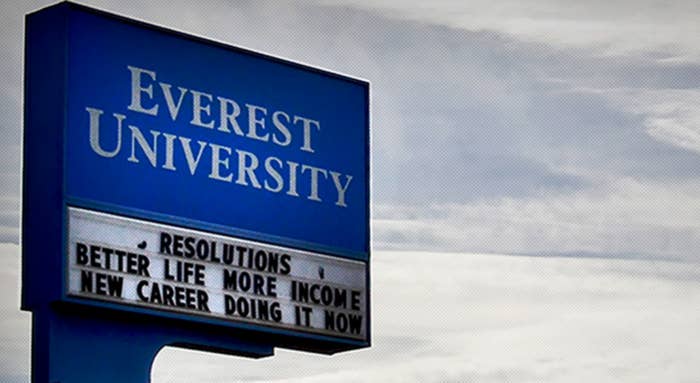 The California attorney general has won a $1.2 billion judgment against Corinthian Colleges, with a judge ruling the company, which operated the Everest University chain of for-profit colleges, lied to and defrauded its students.
The judgment includes $800 million in compensation to former students — an amount that the shuttered and bankrupt Corinthian will almost certainly never pay. The little money that was left in the company's coffers has been doled out to hungry creditors.
The judge ruled in a default judgment that Corinthian had misled students with false claims about its job placement rates and targeted them with predatory lending and unfair debt collection tactics. The judgment is the second ruling against Corinthian; in October of last year, a judge ruled in favor of the Consumer Financial Protection Bureau, finding Corinthian liable for $500 million in damages because of its predatory lending.
The attorney general's lawsuit included revelations that Corinthian had described its target audience in a company PowerPoint as "isolated," "unable to plan well for the future" with "few people that care for them." The school even recruited, the suit said, a pair of homeless students, who moved their tent to an empty lot across campus and got by in part on leftovers from their student loans.
And it showed that many of Corinthian's executives were well aware of many of the school's problems, including an PowerPoint presentation that declared, "We have a [job] placement compliance problem now." As part of its private student lending scheme, the documents showed, company executives recommended "best practices" that included calling students weekly and not allowing students to attend class until they had paid their loans.