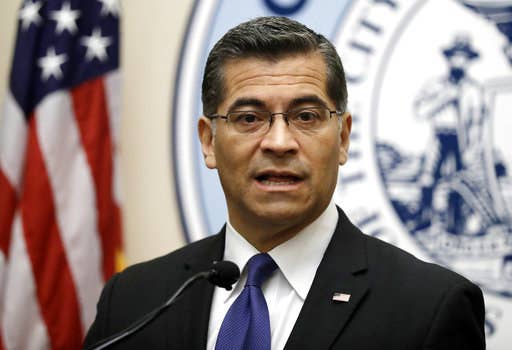 California's attorney general is suing the giant for-profit college Ashford University and its owner Bridgepoint Education over allegations that the company misled thousands of low-income students into enrolling and taking on student debt.
Ashford now has some 42,000 students, according to its last corporate filings, but it enrolled 80,000 in its online courses at its peak in 2012. A quarter of the school's current students are veterans.
Bridgepoint and Ashford employed an "army" of salespeople and recruiters, California's lawsuit alleges, who were under enormous pressure to enroll students — leading to widespread and systematic practices of misleading people about the cost of attending the school and their chances of getting a job after they graduated.
The suit is another sign of how liberal states are taking up the mantle of regulating and targeting for-profit colleges as the Trump administration signals a desire to ease up on the industry. On the federal level, Education Secretary Betsy DeVos has promised to roll back and replace Obama-era regulations of for-profit colleges. A top DeVos official, Robert Eitel, is currently on unpaid leave from Bridgepoint, where he worked as chief compliance officer.
"Ashford University preyed on veterans and people of modest means," said California Attorney General Xavier Becerra in a statement. "This for-profit college illegally misled students about their educational prospects and unfairly saddled them with debt."
In a statement to BuzzFeed News, Bridgepoint said it "intend[s] to vigorously defend this case. We look forward to sharing the facts and success stories of our students and our school, because we're proud of our work and confident that we'll be fully vindicated."
"We are extraordinarily proud of our well-deserved and hard-earned reputation for improving the lives of thousands of students by providing a high-quality education that serves communities and gives families the opportunity to succeed," the statement said.
Former admissions workers called Ashford's culture "brutal" and "ruthless," the suit claims. Some counselors, expected to cold-call up to 1,000 prospective students a week, were allegedly "forced to stand at their desk when they missed enrollment targets." One manager saved the key cards of employees who had been fired for missing targets, according to the suit, and "rattled them in front of reports to remind them of their obligations to hit their metrics or else."
The company's own internal metrics, according to allegations in the lawsuit, found that its admissions counselors made thousands of misrepresentations a year, telling students that the vast majority of the school's credits could transfer when they frequently did not, or falsely claiming that Ashford degrees would qualify them to become social workers, teachers, and nurses. Though the school never offered any degrees in a state-approved teaching program, the lawsuit said, prospective students were regularly told they could become teachers by studying at Ashford.
The California suit is not the first time Bridgepoint has been targeted by government agencies. It was investigated in 2016 by the Justice Department for violations relating to financial aid revenue, and before that, in 2012, for allegations about how it compensated its admissions staff. That probe was closed.