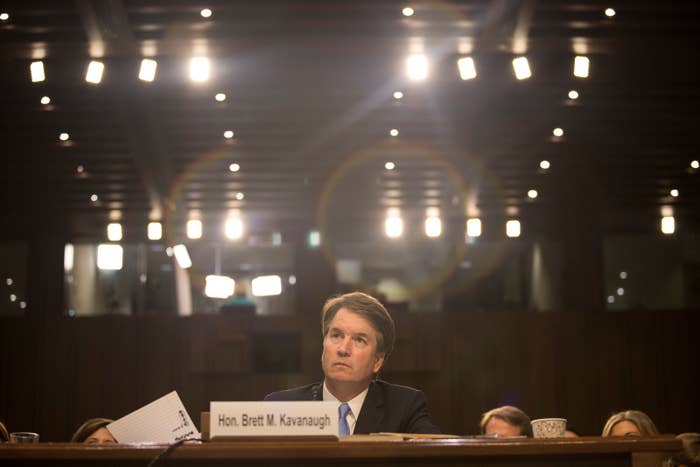 In his college years, Brett Kavanaugh was ingrained in a social world that centered around alcohol, according to classmates who knew him at Yale, joining a notorious fraternity on a campus where few took part in Greek life and an all-male secret society that had a reputation solely for members' heavy drinking.
It's an image that contrasts with the that one Kavanaugh, President Donald Trump's Supreme Court nominee, has sometimes presented of himself.
Kavanaugh turned Monday night to Fox News to defend himself against multiple allegations of sexual misconduct, including an allegation from his time at Yale, where a classmate, Debbie Ramirez, said Kavanaugh had exposed himself to her during one alcohol-soaked night their freshman year.
In the interview with Fox, Kavanaugh said he had "never" drunk alcohol to the point of blacking out — ruling out the possibility that he had forgotten about any incidents of misconduct. Some of his Yale classmates, though, said their memories of Kavanaugh as a heavy and frequent drinker conflicted with the judge's assertions.
Kavanaugh, who will testify in a Senate hearing Thursday, has repeatedly denied any allegation of wrongdoing, calling the allegations against himself "smears, pure and simple" in a letter to Senate Judiciary Chair Chuck Grassley on Monday.
BuzzFeed News reached out to dozens of Kavanaugh's former Yale classmates, fraternity brothers, and society members, many of whom did not return requests for comment. Most of his closest friends, pursued by countless reporters across the country, had phones that were not accepting calls or voicemail boxes that were full.
One college friend of Kavanaugh's, who asked not to be named, said she had frequently been drunk with him at parties. She hadn't seen him become belligerent, she said — instead, he could often be found slumped over, asleep, during and after parties.
"He drank a lot — he wasn't falling asleep reading a book," the former friend told BuzzFeed News. "I would suggest that very few people in the '80s in the circles we were in did not sometimes go" to the point of being blacked out.
James Roche, Kavanaugh's freshman year roommate, released a statement Tuesday that said Kavanaugh was a "notably heavy drinker" who often became "incoherently" drunk and, at times, "aggressive and belligerent."
Chris Dudley — a close friend of Kavanaugh's from Yale, and a former NBA player and Republican gubernatorial nominee in Oregon — strongly disputed that characterization to BuzzFeed News. "When he went out Friday nights, I was usually with him," Dudley said of Kavanaugh. "I never, ever saw him blacked out, never... Brett would drink, but he'd also be the guy who never missed a class. There's a reason he was top of his class."
S. Christopher Winter, who said he lived in a suite with Kavanaugh their freshman year in Yale's Lawrance Hall, remembered Kavanaugh running "in a very drinky crowd."
"I was an out gay kid, and Brett was a conservative frat boy," Winter said. "We did not socialize."
In the wake of the allegations against Kavanaugh, many of his Yale classmates said a churning rumor mill had left them racking their brains for memories of his time there. But most described him as largely unremarkable: a sometimes-shy "frat boy" who, for many who spent time with him, left little lasting impression.

"I could name 50 people who lived" in Kavanaugh's freshman year dorm, said Jim O'Donnell, one of Kavanaugh's classmates. "He's not one of them that comes to mind."
Kavanaugh was a member of Delta Kappa Epsilon, a campus fraternity that many associated with debauchery and heavy drinking. A 1985 photograph in the Yale Daily News, taken during Kavanaugh's time, showed a group of DKE pledges waving a flag they had made of women's underwear as they paraded around campus.
As a senior, Kavanaugh joined Truth and Courage, an informal "secret society" that stood in sharp contrast to the imposing traditions of Yale societies like Skull and Bones. Three former members told BuzzFeed News this summer that the group was mostly organized around fraternity life and drinking, meeting in members' houses and fraternity basements to cook and, as many Yale societies do, to tell each other their life stories.
"It was nothing like Scroll and Key, nothing like Wolf's Head," said one woman who graduated a year after Kavanaugh and said she knew members of Truth and Courage. "They just drank a ton. They got drunk." She paused. "All I remember is them drinking."
To Fox News on Monday, Kavanaugh painted a picture of himself as a mostly straightlaced student, particularly in high school, despite occasionally attending parties where he said "people might have had too many beers on occasion."
In high school, he said, "I was focused on academics and athletics, going to church every Sunday at Little Flower, working on my service projects, and friendship, friendship with my fellow classmates and friendship with girls from the local all-girls Catholic schools."
But a New York Times article Monday night also chafed against that characterization, digging up a high school yearbook entry where Kavanaugh declared himself a "Renate Alumnius" — a reference to a girl at a neighboring school, Renate Schroeder, who appeared 14 times in the yearbook's pages.
Kavanaugh's lawyer said the reference was to a high school event he had attended with Schroeder, "and nothing else."
The woman, who had been among 65 women from neighboring schools who signed a letter in support of Kavanaugh, told the Times that the "insinuation" in the yearbook entry "is horrible, hurtful and simply untrue."
The yearbook also appeared to reference drinking, listing Kavanaugh as the treasurer of the "Keg City Club."
On Fox Monday night, Kavanaugh said he remained a virgin throughout high school and "many years after" — something that another Yale classmate quickly and publicly disputed.
Stephen Kantrowitz, who had lived in Kavanaugh's dormitory as a freshman, tweeted Tuesday morning: "Perhaps Brett Kavanaugh was a virgin for many years after high school. But he claimed otherwise in a conversation with me during our freshman year in Lawrance Hall at Yale, in the living room of my suite."
In a follow-up statement to BuzzFeed News, he said he had brought up the conversation he had with Kavanaugh because he believes it "raises doubt" about what Kavanaugh had said on Fox. He remembered the conversation, he said, "because it was the first time I had had such a conversation with an acquaintance who was not a friend."