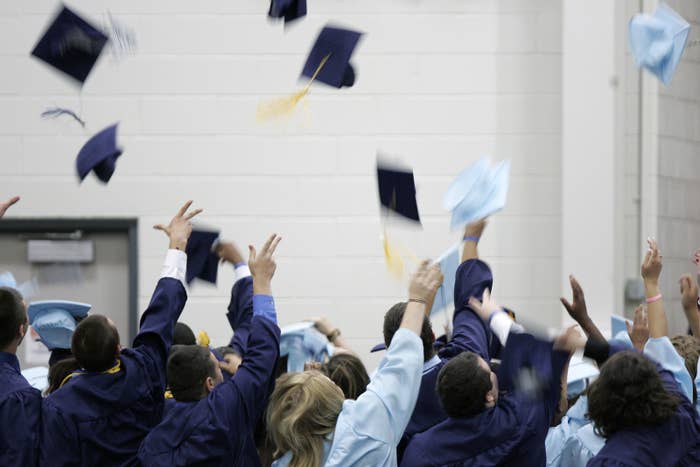 Black students who started college in 2003 had a 50-50 chance of defaulting on their federal student loans, according to a new analysis of government data — a virtual coin-flip of default that stands in stark contrast with a 21% default rate for white borrowers.
A staggering 75% of black students who attended for-profit colleges had defaulted on their student loans by 2015, according to the analysis by the left-leaning Center for American Progress. The analysis is based on first-of-its-kind data from the government, released earlier this month, that breaks down long-term student loan defaults and repayment by race.
"I don't think there's an overall student loan crisis," said Ben Miller, the director of postsecondary education at the Center for American Progress. "But when you look at this data, that's a crisis for African-American borrowers."
Twelve years after entering college, the analysis found, the median black borrower had not paid down a single dollar of their student loan balance. In fact, because of swelling interest, they owed 113% of what they'd originally borrowed — a number that was just 65% among white borrowers.
"The size of the disparities are pretty shocking," said Matthew Chingos, the director of education policy at the Urban Institute and the coauthor of the 2016 book Game of Loans: The Rhetoric and Reality of Student Debt. "The numbers cry out for an explanation. Clearly something is wrong if the typical black borrower is as likely to default as not, and is still underwater on their loans."
There is a common narrative that student loan problems are fueled by people who drop out of college and don't get the benefit of a degree, said Miller. That's true for white borrowers. But black borrowers with bachelor's degrees still struggled to even begin to pay down their student loans.

After 12 years, black borrowers with bachelor's degrees owed 114% of their loan balance, while white borrowers owed less than half — 47% — and Latino borrowers owed 79% of their original loan total.
Moreover, a quarter of black borrowers who started college at a four-year public institution in the 2003–2004 school year had defaulted by 2015.
The Education Department did not respond to a request for comment on the data.
At the root of the deep inequalities between black and white student borrowers are systemic issues like employment discrimination and a lack of any family wealth, the report said. Middle-income white families have nearly eight times as much wealth as black families, meaning that black students must borrow more money, and often have much less of a safety net in case of emergencies, which leads to default.
Black borrowers may also be more likely to attend colleges that have fewer resources and less name recognition, making it more difficult for graduates to benefit from their degrees.
The yawning gap between black and white students should have policy implications, said Chingos of the Urban Institute. If grants and other forms of financial aid were targeted at people with less family wealth, rather than simply those who are low-income, he said, it could be more effective in helping black families and borrowers.
It's unclear how things have changed for people who borrowed money for college more recently than the 2003–2004 school year, but it is unlikely they've improved, Miller said.
The borrowers in the federal data set analyzed by the report graduated just as the 2008 recession hit, placing a drag on incomes. But many black families have yet to recover from the recession. And for-profit colleges, whose students are disproportionately poor and far more likely to default on their loans, saw huge surges in enrollments in 2009 through 2011.