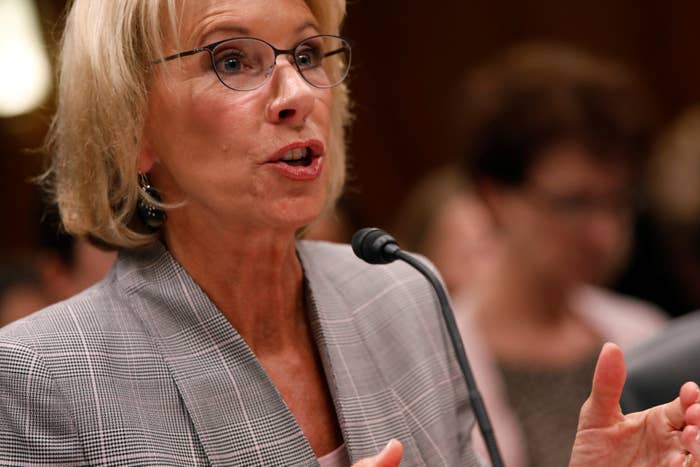 After days of controversy surrounding meetings with stakeholders in the campus sexual assault debate, Education Secretary Betsy DeVos said Thursday that she wanted to help both victims of assault and those who have been falsely accused of rape — a striking departure from the rhetoric of the Obama administration, which has focused primarily on survivors.
DeVos strongly suggested that she was planning to overhaul the way that the government deals with campus sexual assault, calling the current system of enforcing Title IX broken.
"We need to get this right, we need to protect all students, and we need to do this quickly," DeVos told reporters.
For perhaps any other education secretary, the meetings would have been run-of-the-mill events. But earlier this week, DeVos angered advocates for victims of sexual assault by agreeing to meet with members of a men's rights group, which argues that men accused of assault are treated unfairly by colleges under the Obama administration's Title IX guidance. The National Coalition for Men has a history of intimidating victims by publishing the identities of women who they say made false accusations.
As DeVos sat with victims' groups Thursday morning, protesters and advocates, including Sen. Kirsten Gillibrand, stood outside in the muggy heat, reading stories of sexual assault survivors.
"This should be about justice, not false ideology," said Gillibrand, a New York Democrat. "So I urge Secretary DeVos and everybody else to works in the Department of Education to listen, to listen to these survivors' stories. Listen to what happened to them."
DeVos said that the stories of those falsely accused of rape "are not often told," repeatedly mentioning them alongside victims of sexual assault. "I saw a lot of pain today," Devos said of her meetings.
Accused students and their attorneys, who have long insisted the system is failing them, told BuzzFeed News that the fact that DeVos welcomed them to the table was remarkable.
"This is the first time there's an acknowledgment [by the department] that the equation here is more than just victims of sexual misconduct," said Andrew Miltenberg, an attorney who works with the groups invited to the accused students meeting.
DeVos's top civil rights chief, Candice Jackson, stirred outrage Wednesday when she told the New York Times that "90 percent" of accusations "fall into the category of 'we were both drunk,' 'we broke up, and six months later I found myself under a Title IX investigation because she just decided that our last sleeping together was not quite right."

The remarks drew ire from Democratic senators, who called them "deeply disturbing." Jackson, herself a sexual assault survivor, later apologized, saying her words were "flippant" and telling a group of survivors Thursday that they did not represent her views, according to three people present at the meeting.
Fatima Goss Graves, president of the National Women's Law Center, said she told DeVos and Jackson that the department should do more than apologize, encouraging them to take the lead in dispelling rape myths.
"The more important thing for [Jackson] to do, and for the secretary to do, is demonstrate repeatedly that these sorts of myths and outdated ideas are not guiding their policy," Goss Graves said.
DeVos would not answer several questions from reporters about whether she agreed with Jackson's comments. She said instead that the department was "listening" and knew it "needed to get it right."
In the meetings Thursday, neither DeVos nor Jackson tipped their hand at what specifically they planned do about Title IX mandates, according to sources who attended. DeVos declined to tell reporters whether she would keep a key 2011 directive from the Obama administration about sexual assault cases, called a "Dear Colleague letter," in place. That letter laid out what schools must do about sexual assault cases to comply with Title IX, but it's been the subject of controversy.
The groups working with accused students all would like to see the 2011 directive withdrawn, saying that would allow schools to use a higher standard of evidence in determining someone's guilt, and would allow students bring attorneys into campus tribunals. But advocates for sexual assault survivors say withdrawing that 2011 letter would give license to schools to dismiss complaints from rape victims. In the third meeting, full of higher education lawyers and lobbyists, many university officials said they want to keep that 2011 directive in place too, according to sources present.
"There are elements of the Dear Colleague letter that just don't seem to be working," said Jonathon Andrews, a 23-year-old former Hanover College student, who told DeVos on Thursday that he attempted suicide in 2015 after being falsely accused of assault. "For a long time, the victims have not been paid attention to and that's a serious problem. Now we've swung the pendulum so far that's it has become guilty until proven innocent."
Activists gave DeVos a binder of stories from sexual assault victims about how their schools. They are pushing DeVos to conduct a nationwide listening tour, visiting college campuses and high schools to hear from students, before making a final decision on Title IX rules.
DeVos needs "to meet with students where they are," Goss Graves said. "She shouldn't make people have to come to DC."