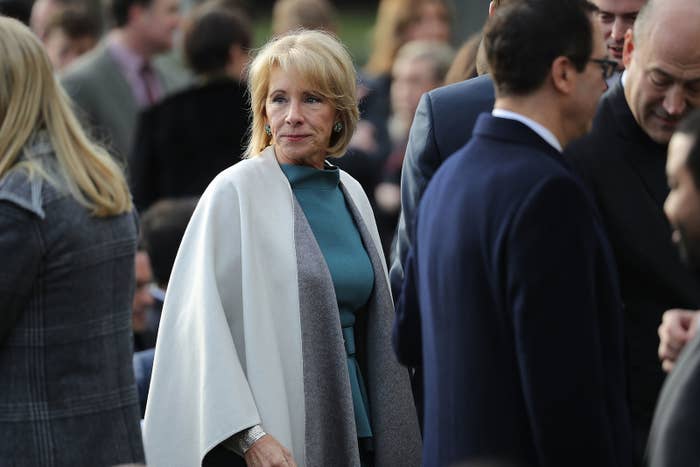 The Education Department is planning a pilot program that would put students' federal aid money onto prepaid debit cards, a move that could alter how student loan borrowers spend their financial aid.
The prepaid card will allow the Education Department to monitor, and potentially even control, how and when student aid borrowers spend their excess student loan and grant money — a sharp change from how the federal aid program has typically operated. The program could include as many as 100,000 students, beginning later this year.

A spokesperson for the Education Department, Elizabeth Hill, told BuzzFeed News that the government would not "exercise" any controls on the spending of students' loan money.
When it comes to federal financial aid, the government's standard practice is to disburse grant and loan money directly to colleges, who then pass on any excess money not spent on tuition (called "refunds") to students, usually as checks or bank deposits.
The prepaid card, however, would allow the Education Department to act more like a bank, providing money directly to students and overseeing its usage, and even managing outside money, like funds transferred onto students' cards from parents and peers, according to a January notice in the federal register.
The notice also said the card would have the capability to "restrict the types of products and services" the money could be used for. It would come with a text messaging service to warn students about the long-term "ramification" of spending their money.

In an interview with the website Inside Higher Education last year, A. Wayne Johnson, then the Education Department's head of financial aid, said the prepaid cards would allow the government to control "when and where and how much" federal loan money was spent. "We will have controls," Johnson said.
The prepaid cards are part of an effort that Education Secretary Betsy DeVos has pushed to "modernize" and "streamline" the government's student aid operations. In a speech late last year, she called for a "next generation" system that she said would be "the most significant change to the student aid process ever."

Student loan refunds are intended to cover education-related expenses, such as textbooks and computers. These funds can also help students, especially nontraditional ones, pay for living expenses like rent, as well as things like food and daycare. There are, in practice, no limits on how the money is spent.

Johnson, whom DeVos appointed in June 2017, left his role as the head of Federal Student Aid last week to head an innovation initiative. A former private lending CEO, he lasted some seven months as the head of the government's massive student lending operation.

But Johnson's ambitions to create a "next generation" financial aid system are likely to continue. The prepaid card would work alongside a mobile app, a government posting said, which would allow students to monitor their federal aid money.
UPDATE
This story has been updated with a comment from Education Department spokesperson Elizabeth Hill.